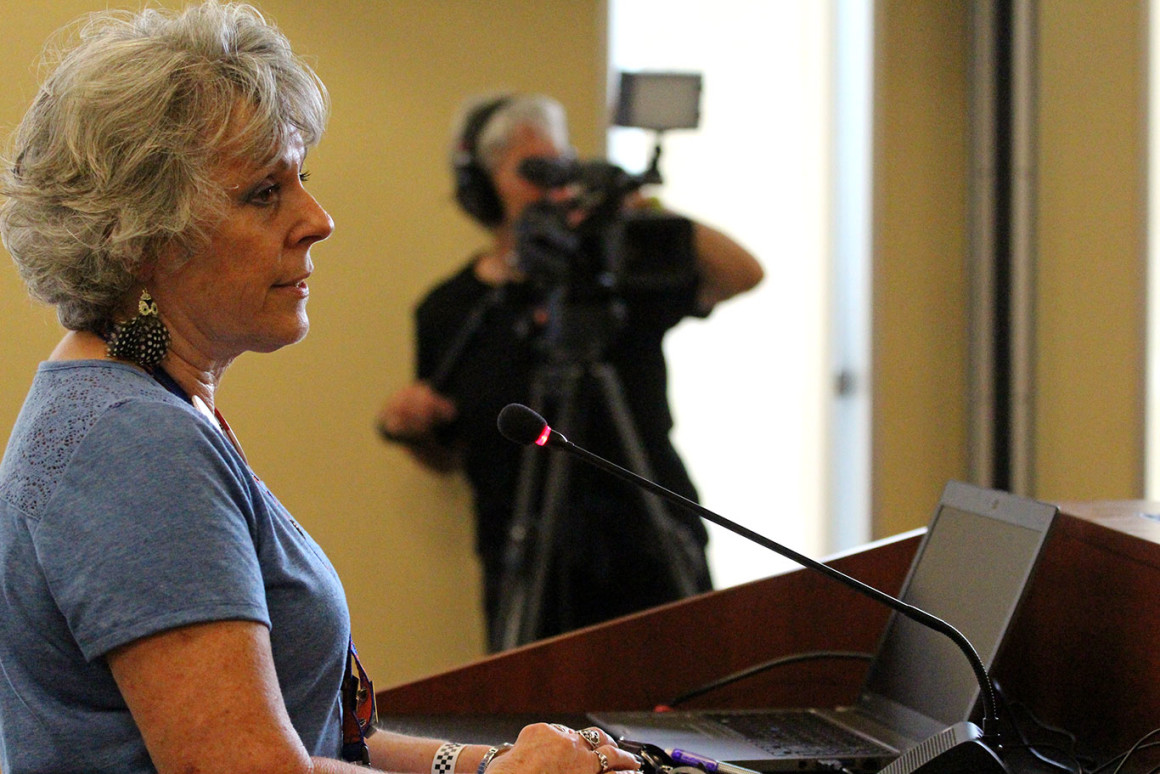 ---
CSEA Public Relations Officer Cathy Day speaks to members of the Board of Trustees in an open forum on Tuesday 21. Day and the classified union have been negotiating their contract with the district for nine months with no agreement reached yet. (Evan Solano/Clarion)
With their leaders calling for equal treatment and a fair contract, a standing room-only crowd of classified union staff members thronged into the July 21 meeting of the Citrus Community College Board of Trustees.
Outside the doors of the boardroom, members of Classified School Employees Association Citrus Chapter 101 rallied in support with placards and boisterous applause.
"This is what we were hoping for," said Cathy Day, public relations officer for CSEA Citrus Chapter 101. "If you're going to fight for something, you need to have your numbers there."
The district and CSEA Citrus Chapter 101, which represents approximately 245 classified employees including maintenance, clerical, finance and trade workers, have been negotiating unsuccessfully for nine months without a reaching a successful agreement.
Classified employees say the district is not being equitable because they do not receive several benefits afforded to other campus groups.
The full-time and part-time faculty unions recently signed contracts which include raises over three years of 3-2-2 percent.
"These people really feel like they are being undervalued here at the college," said Robert Coutts, president of CSEA Citrus Chapter 101, who also addressed the Board during the open forum.
"They feel they are not being treated equal, and are standing up for themselves," he said.
According to a statement from CSEA, the college's confidential employees and supervisors get five percent longevity raises while the classified staff's longevity rate is half that.
According to Coutts, the district is also proposing to remove a parity clause, commonly known as a "me too" clause, from the classified union contract unless the union agrees that it cannot be applied to administrative raises.
A "me, too" clause is included in some labor contracts to ensure that one union does not negotiate better benefits than another in the same region or job class.
"We cannot invoke the 'me, too' clause and say we should get a similar raise, because [district negotiations say] it would break the district," Coutts said.
Michael Bilbrey, a Citrus College bookstore operations coordinator and statewide president of CSEA, who also addressed the Board during the July 21 meeting, said that the meetings turnout is indicative of a larger issue.
"I've been with Citrus as a full-time employee for about 26 years, and classified employees have been engaged with the district, but not to this magnitude," Bilbrey said.
"[Classified employees] are speaking from the heart. I know these people who are speaking, and it is not easy for them to get up and say what they want to," he said.
The proposal to remove the parity clause stems from what the district calls "budget issues," Bilbrey said, adding that this is not a new topic.
"We went through it with the recession," Bilbrey said. "We all tightened our belts and acknowledged that there was going to be extra work we needed to do without extra pay, without extra resources. To take the parity clause away now doesn't make any sense."
Classified leaders say the district's proposed contract does not have language in place to ensure the district keeps its part of the bargain.
According to the Ralph M. Brown Act, members of the public have the right to address the board on any item of interest before or during a meeting, but the board is prohibited from discussing or taking action on any item that is not in the agenda for that day.
Tuesday's rally was more about voicing the classified union's frustration, Day said.
"We're being told 'no' to everything we ask," Day said. "[The district's] responses are very calculated and very detached. What we are trying to do is let them know we're talking about people who make this campus what it is."
The classified employees of Citrus are dedicated to working with the district to reach an agreement, according to a statement from the CSEA.
"We hope that the administration recognizes this not as hostile act, but as a way to create a better and more respectful relationship. That's what we are negotiating for our members," Coutts said.
Negotiators representing the district and classified staff union are set to meet Aug. 10 to continue negotiations.
"We are not asking for anything extraordinary," Coutts said in a statement.
"Without us, the college would come to a halt. The services we provide to the students are very important and we want the college to acknowledge that by giving us a fair contract."
---
---