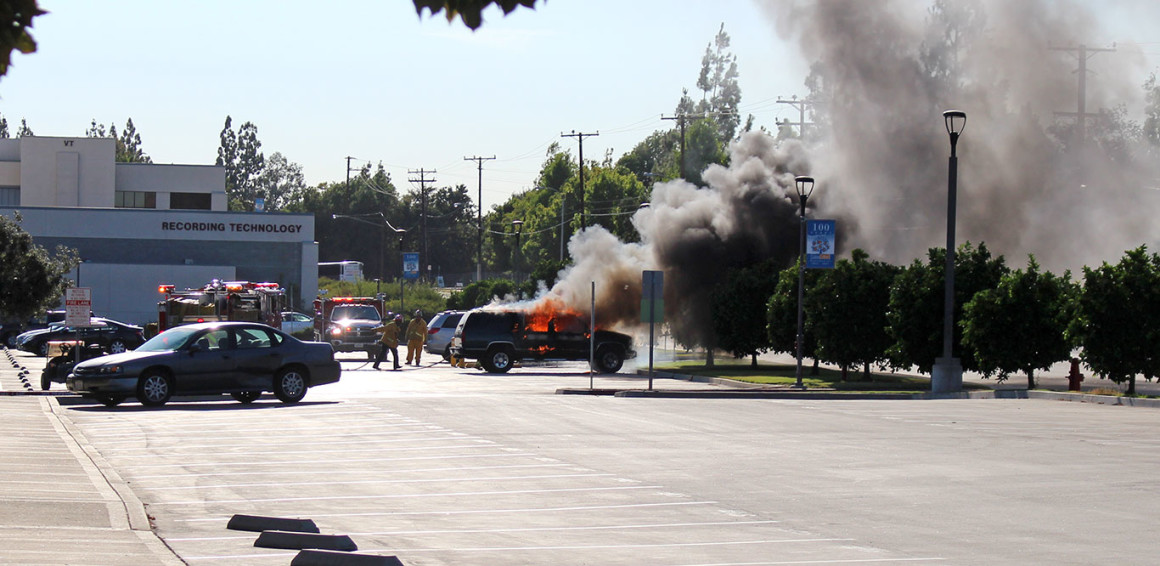 ---
Glendora Fire Department battle a vehicle fire that sparked in the Administration Building parking lot on Friday, August 14. There were no injuries reported and investigators are still determining the cause. (Evan Solano/Clarion)
Local authorities are currently investigating the cause of a vehicle fire in the Administration Building parking lot near the Recording Technology Building late Friday afternoon.
The incident was reported around 5:18 p.m. with Glendora Police Department arriving first on the scene. The westbound side of Foothill Blvd was temporarily blocked off as Glendora Fire Department worked to control the blaze and heavy smoke that billowed from inside the grey Chevy Suburban.
Authorities for Glendora P.D. say it is unclear what started the blaze but said they have an arson investigator on scene to assess the damage.
Firefighters were able to extinguish the fire a little after 6 p.m. No one was in the vehicle at the time of the fire and no injuries have been reported.
More information as it becomes available.
edit: The vehicle fire was located by the Recording Technology Building.
---
---