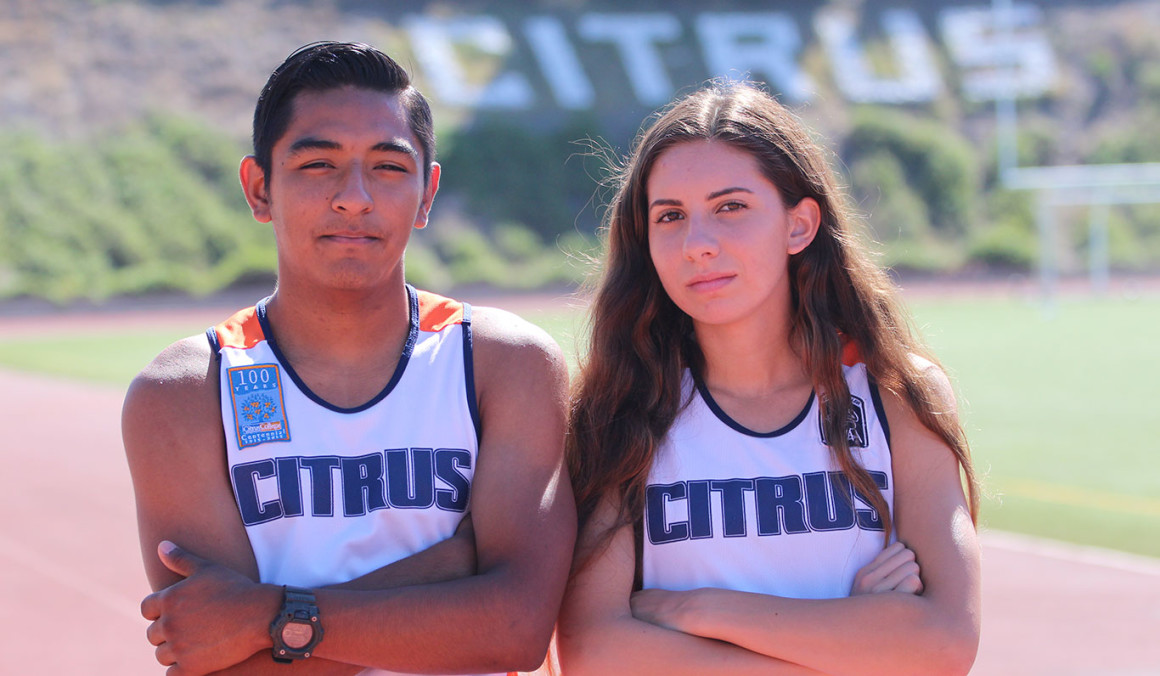 ---
The Citrus College women's cross country team placed first at the 2015 Tour de Cuesta at Cuesta College on Sept. 4.
The women's team took first place in the 5k run and the men's team placed second in their 4-mile run.
The women's team compiled 31 total points to finish first while Cuesta's team finished with 35 points and received second. Cuesta's men's team finished with 37 points compared to Citrus' 55 combined points.
The Owl's competed against 4 other teams at the 2015 Tour de Cuesta.
Alicia Longyear, head coach and athletic counselor, said that this was her first team win as a head coach and she is happy to share it with a special group of girls.
Longyear took up the head coach position in 2013.
"This was definitely a huge confidence booster," team captain and lead male runner, Daniel Hernandez-Cabrera said.
Lead female runner, Antonella Curinga, ran a 21:11.92 5k and placed first.
According to the Citrus Athletics website, Curinga outran Cuesta runner Aly Voth by 0.14 seconds. Hernandez-Cabrera ran a 22:53 4-mile and placed second individually.
"We barely beat Cuesta," said Curinga, who said Cuesta is their biggest competition and school rival.
"I recently informed the Lady Owls that I felt like they had the potential to win this invitational," Longyear said. "When I saw that five of my girls were in the top 10 runners of the race at the first mark mile, it hit me that they believed in their ability too."
Longyear is aiming for both the men and women to place in the top half of the state championships this year.
Last year at the 2014 California Community College Athletic Association State Championships in Fresno, the men's team finished 17th out of 28 other colleges while the women's team placed 24th out of 27 colleges.
"This group has developed into a brotherhood that not only trusts each other but also challenges each other," Longyear said. "I think the Tour de Cuesta has given them the confidence and the fire they need to continue to have a successful season."
Longyear said she believes recovery is one of the biggest challenges for a competitive runner.
"We have been focusing on really 'recovering' this season," Longyear said. "In the previous season, our recovery was not relaxed enough and it lead to injuries and burnout."
Longyear see's a higher level of trust, friendship and loyalty this year due to the fact that the team is mostly made up of experienced sophomores.
Longyear said she expects the team to be able to handle higher mileage, relax in the heat of intense workouts and have the maturity to know when they need to recover.
With a great start, the Owls are still setting high standards for the duration of the season.
"I'd really like to break 19:30 in the 5k and get top 15 at the Western Conference," Curinga said.
Curinga placed 18 out of 96 women with a time of 21:21 at the 2014 Western State Conference Championships (WSCC).
She said she is proud to be the top runner this season but feels the team, as a whole is strong.
Hernandez-Cabrera finished in 86th place at the 2014 CCCAA State Championships with a time of 21:47.4 and is tied for the 15th fastest time in program history.
"As team captain I try to help the team, stay uplifted," said Hernandez-Cabrera. "They are my biggest motivation and I run for them."
Hernandez-Cabrera said he aspires for his team to place third overall at the WSCC.
The Owls will compete in the Southern California Preview at Mission Bay Park in San Diego on Sept. 18.
---
---