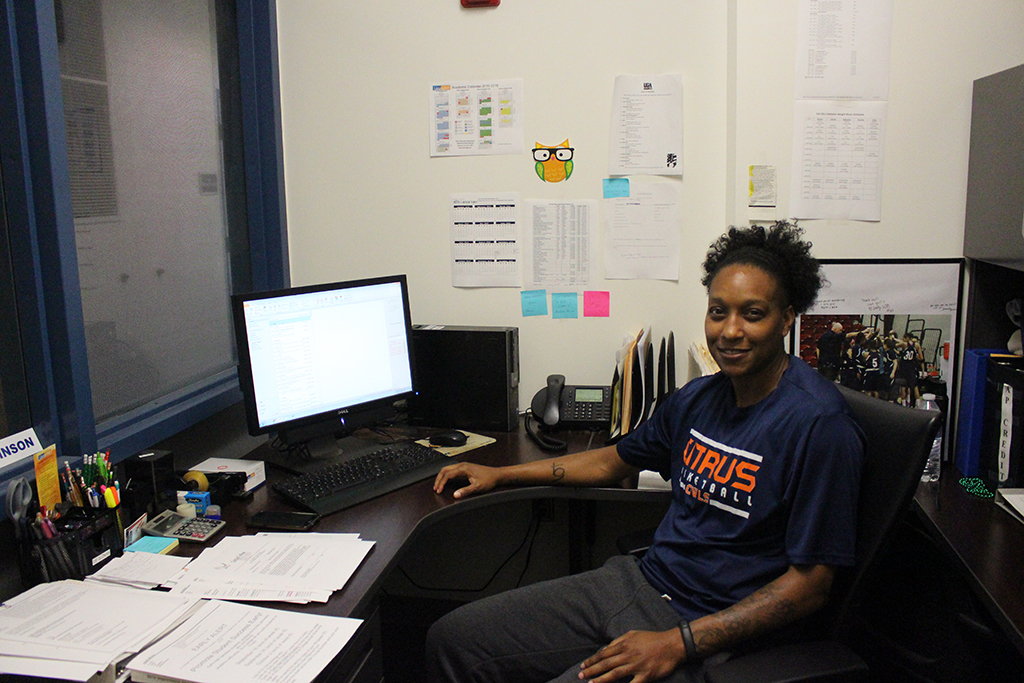 ---
The Women's Basketball team at Citrus College has found new leadership without looking far from home.
Loree Moore, a previous assistant coach, has stepped up as the interim head coach.
She brings with her a decorated professional women's basketball athletic background. Moore discovered basketball when she was 4 years old.
"I did YMCA co-ed basketball and after playing at that age I knew I liked it," Moore said. "I did not play organized basketball till around 8 or 9."
Her athletic career began to pick up speed in her high school years.
Moore was a starting player throughout her career at Narbonne High School in Harbor City where she played under her most influential coach, James Vanderson.
"He taught me everything I know and was a very good player back in his day," Moore said. "All of my basics and who I am I got from him."
According to Citrus Owls Athletics, Moore helped lead her high school team to two California State Championships and two USA Today National Championships.
Moore holds the record at Narbonne for the most steals and assists.
Moore was heavily recruited during her high school career and originally planned on attending the University of Notre Dame in Indiana.
She ended up attending the University of Tennessee under Hall of Fame coach Pat Summit.
"Summit attended one of our games to recruit my team mate," Moore said. "Then she saw me and that's when all the recruitment letters from her came."
During Moore's collegiate career she saw the Lady Vols through four consecutive Final Fours.
From 200-01, before her freshman year at UT, Moore played for the U.S. Junior World Championship team that received a gold medal in Argentina.
In the summer of 2003, Moore played for the USA team in the Pan America games in Santo Domingo and helped bring in a silver medal.
Moore ranks tenth in steals and sixth in all time assists per game at Tennessee.
Then, 17 games into her junior year in 2004, Moore suffered a torn anterior cruciate ligament. She did not complete the season.
Moore said she never fully recovered and spent most of her professional career injured.
She was drafted in 2005 for the WNBA as the overall tenth pick and played five seasons under the New York Liberty.
During that time she also played internationally for the Turkey team Galatasay from 2006-07, then moved on to play for Russia from 2001-2011.
In 2012, Moore found herself at Citrus College as an assistant coach for previous head coach, Tamara McDonald. She held that position for three years.
Moore is looking forward to sharing all the knowledge and experience she has gained over her years as a professional player.
"I couldn't believe she was actually coaching junior college," Linnae Barber, assistant coach to Moore and close friend, said when she heard Moore accepted the position. "I've been around a lot of division 1 players who end up coaching division 1 basketball."
Barber admires Moore for her humble character and dedication as a coach.
"Her name speaks for herself," Barber said. "For her to want to coach junior college student athletes proves how humble she is."
Barber was an assistant coach at the University of Hawaii from 2012-13 and then moved on assistant coach at the College of the Canyons in Santa Clarita, CA from 2013-15.
Moore brought in Barber for the 2015-16 season at Citrus College.
For Citrus guards Janae Chamois, 19, and Gabriela Ixtepan, 22, Moore's patience is what stands out in her coaching.
"She helped me become a more offensive player." Ixtepan said although this is her first year with Moore.
Chamois said Moore has expanded her knowledge to get her ready for the next level of athleticism.
"She's allowing us to be ourselves." Chamois said. "She's not forcing us to be a certain type of player."
Ixtepan said she see's Moore as a coach she'll always keep close to her heart and who is always there for her players.
"I'm all about the basics," Moore said. "I want everyone on our team to be able to produce on the level that a star player can."
Barber said that Moore puts her players in the best position to score and play as a team and allows her players to openly communicate with her.
"She relates a lot of the game to life," Barber said. "And I think that's why the girls will really push because they're fighting for their life and who they want to become."
Moore wants her players to be more focused on locking in and concentrating on what they need to do.
"I want none of them to ever be considered a weak link," Moore said. "I have 18 girls now and all 18 girls are capable of the fundamentals and basics."
The first home game of the season for women's basketball is set for Nov. 24 at 5 p.m. against Grossmont.
---
---