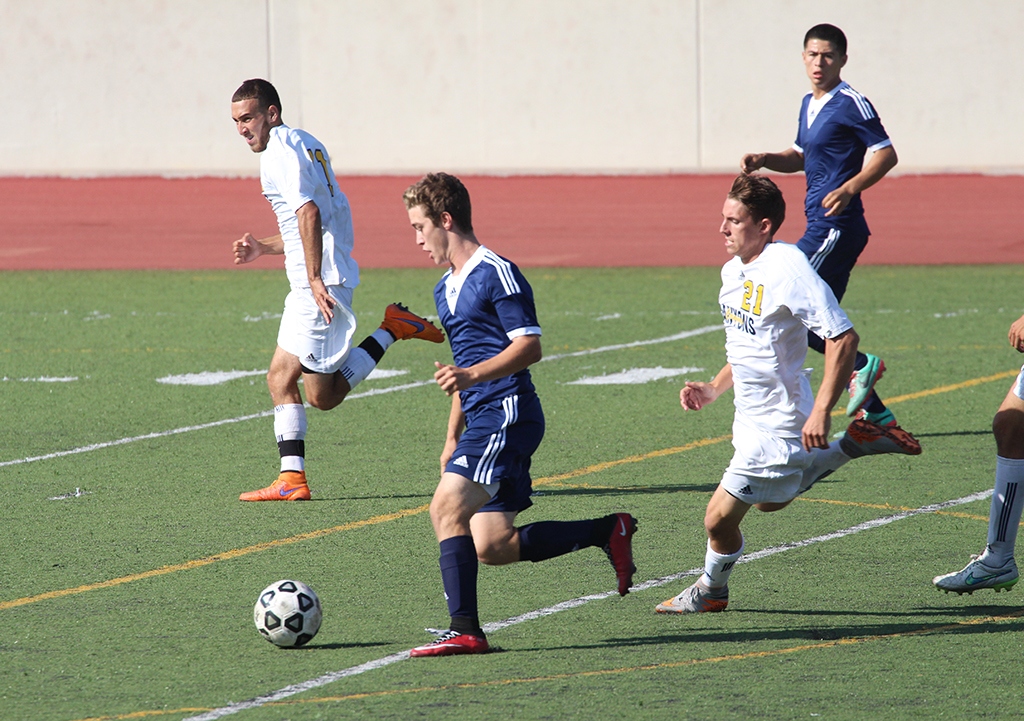 ---
College of the Canyons defeated Citrus Men's Soccer 4-0 at Citrus College Friday afternoon. Canyons started off quickly with the help of sophomore forward Andy Ruiz finding the net three minutes into the game.
The goal provided the Coyotes with the spark of having the lead early in a game; something Canyons has not had as of late.
"I know I think for us, first halves have been keys," College of the Canyons head coach Philip Marcellin said. "We've been not conceding a lot of first half goals, but we hadn't been scoring any."
It was not the start the Fighting Owls had hoped for coming off their first win of the season earlier in the week.
"Concentration more than anything else, you know," Citrus head coach Fred Bruce-Oliver said. "A lot of times you thing nothing's going to happen early. Anything can happen from beginning to the end. You've just got to be alert. And guys weren't."
Ruiz found the net once again on an assist from sophomore forward/midfielder Oscar Sanchez for Canyons in the 30th minute to send the Coyotes into the half with a 2-0 lead.
"It feels great, you know," Ruiz said. "Going and scoring goals for the team, getting us ahead. Keeping us ahead, keep fighting for the ball. Those two goals were just something I had to do to put it away."
College of the Canyons picked up where they left off starting the second half when freshman forward Iban Alaniz took a pass from freshman midfielder Adrian Arguello and found the back of the net, giving the Coyotes a 3-0 lead over the Fighting Owls in the 55th minute.
Alaniz followed up his first goal with another goal twelve minutes later to give College of the Canyons a 4-0 win over Citrus.
Canyons outshot Citrus 13-5 and controlled the pace of the game. Citrus sophomore Bryan Landgreen goalkeeper, who had three saves in the game, did not question the team's effort.
"Towards the second half, we were picking it up even more," Landgreen said. "And then the third goal, it kind of got harder and we're still working hard. It doesn't matter what the score is, we work hard. New game Tuesday, we'll ball."
The Citrus Fighting Owls (1-7-1, 1-4-0) head back out on the road for a match versus the Santa Barbara Vaqueros (5-3-2, 1-2-2) on Tuesday October 6 at 7:30 p.m.
---
---