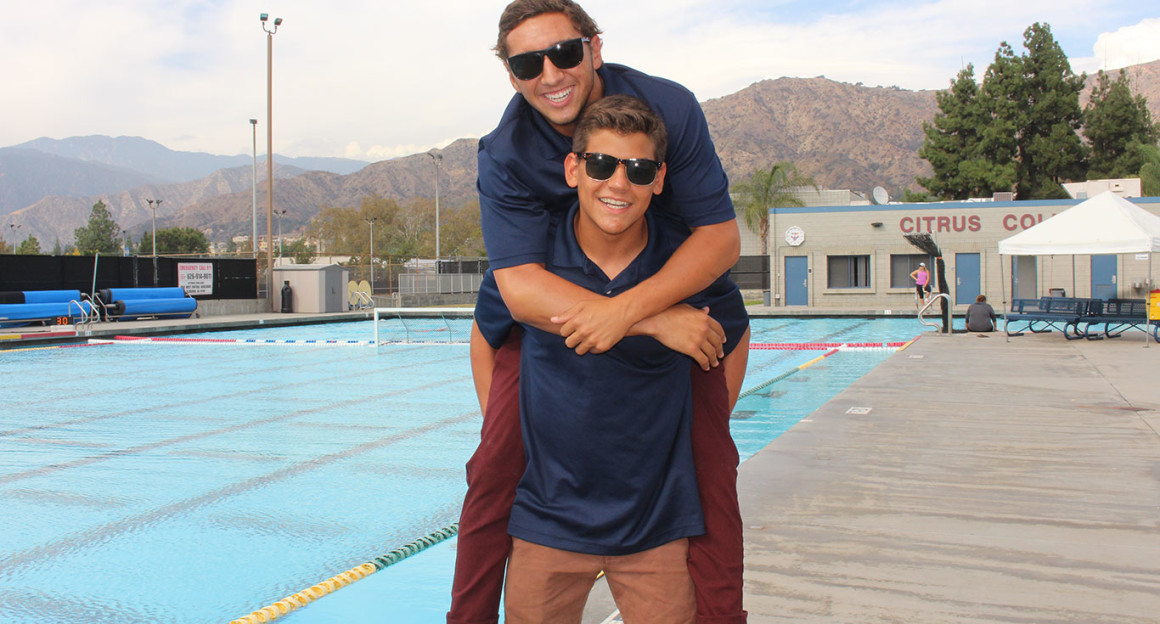 ---
Some brothers don't always have to share the same DNA but sometimes a passion for a particular sport can create bonds.
Citrus College water polo players Mark Cordts, 19, biology major, and RJ Renteria, 19, business major, prove just that.
Of course, some teammates share special bonds. Cordts and Renteria share a different story, their bond started eight years ago.
Cordts and Renteria first began to play together at CHAWP Water Polo Club, a club for water polo and swimming based in the Inland Empire, when they were just 11 years old.
Playing with each other led Cordts and Renteria to share a bond, which not only stays in the pool.
"We're like brothers. We do everything together,"Renteria said. "We go rock climbing, surfing, off-roading and I make him play video games."
"We also play a lot of board games," added Cordts.
Their chemistry in and out of the pool is noticeable even by their teammates.
"They are two of the closest guys I've ever seen," Owls' water polo player, architecture major, Jonathan Lotero said. "Their chemistry in and out of the pool is unmatched by anyone else." 
Cordts and Renteria give credit to their longtime coach and Citrus College alumnus, Gareth Pandy for shaping them into the athletes they are today.
Pandy began to coach Cordts at 13 years old and Renteria at 11 years old.
"He really brought us up," Renteria said. "He made us play at a higher level even though we were put down at times."
"He was our biggest mentor," Cordts said. "Coaching them I learned a lot about my coaching style," Pandy said. "Mark and RJ are part of the reason why I still coach. Watching athletes grow up and succeed because of something I did and the work they put in is remarkable."
Although they didn't play together in high school together, they both went on to have a successful athletic career.
Cordts, who played for Chino High School, played as a varsity player for three years and was a 1st team All-Mt. Baldy League selection as a junior and senior.
Renteria, who played for Ayala High School, played three seasons as a varsity player and was an All-Sierra League honoree.
Upon graduating, Cordts received an offer from California Lutheran University to play but decided not to attend due to not wanting to take out loans.
"When I found out [Renteria] was coming here, I said, [You know what, I might as well come to Citrus, play two more years with my best friend and have a good time]," said Cordts.
In fall of 2014, Renteria started in all 28 games, scored 33 goals and handed out 25 assists and was second on the team with 34 steals.
Cordts started in 26 games for the Owls, scored 28 goals and handed out 23 assists.
This season, Renteria has started in 22 games and has played a total of 23 games and scored 36 goals.
Cordts has started and played in 18 games and has scored 32 goals and handed out 18 assists.
The Owls' water polo assistant coach, Greg Salvinski, who also coached them at CHAWP, has nothing but praise for the two.
"Both are very hardworkers, they never miss workouts, they are very disciplined, goal oriented and easy to coach," Salvinski said in a statement. "Their chemistry out of the pool definitely translates to their play and teamwork inside the pool."
Their achievements in the pool not only stems from hard work but also each other's encouragement.
"We've always been there to push each other, we make each other play well," Cordts said.
"Together we have learned that you don't give up," Renteria said. "Even when you're having a tough time, you play through it and you always do your best, just play a great game and stick to it."
The duo has high hopes for what will ultimately be their last season as Owls.
Both are hoping to win conference and eventually win state along with the other water polo Owls.
As to their academic future, both are looking into Redlands University.
"They have our majors and it would still be fun to play together," said Renteria. "Ultimately, it's going to come down to where he gets in and where I get in."
"[Renteria and Cordts] are a good reflection of a student-athlete committing to long practices and still succeeding in the classroom," Pandy said.
Currently, the Owls' water polo team has an overall record of 18-5.
You can catch  them in the pool  at 3:30 p.m. Oct. 28 playing against Ventura.
---
---