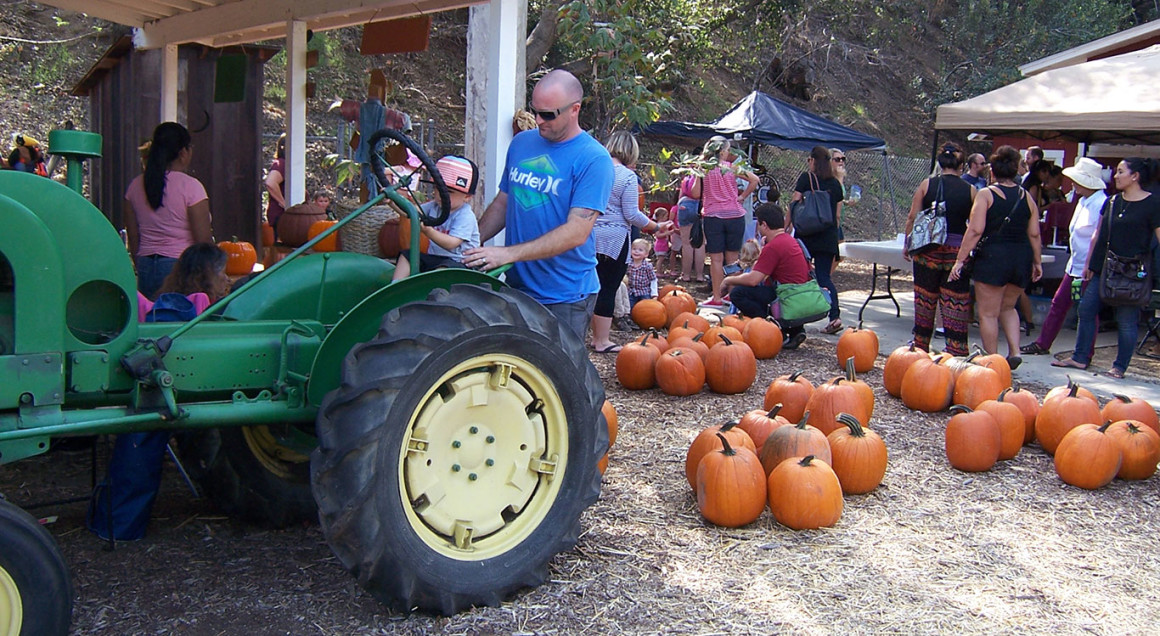 ---
This year's 23rd annual Pumpkin Festival at the Centennial Heritage Park in Glendora, had a constant flow of visitors and received great support.
The Hamilton House acts as an interactive museum for visitors to experience life in the 19th century.
People can walk through the authentically furnished and decorated farmhouse, observe how corn meal was ground and pump water and clean clothes with a washboard.
Breakfast at the festival included pumpkin pancakes as well as freshly made apple pancakes, bacon and eggs.
Members of the Glendora Preservation Foundation sold bread, cookies, Halloween-themed treats, and other baked goods.
Food vendors such as Mustache Mike's Italian Ice and Knights of Columbus graciously donated their profits to the Hamilton House.
Families ate under the oak trees while gramophones played vintage music in the background.
It was a picturesque scene with serene orchards and the traditional farmhouse, a light hearted, warm atmosphere where children could play games and adults could relax.
Next to the pumpkin patch was an art booth where children could paint ceramic pumpkins, bats, and other sculptures.
Children ran about the festival with bags of handouts and toys they had won, many of them had face paint and carried Italian ice or marshmallow sticks.
Despite the drought's impact on produce this year the Festival had pumpkins the size of basketballs or larger, and all were priced at $5.
Mike Peterson, a member of the Glendora Preservation Foundation, explained the 19th century printing process and made free bookmarks for visitors with the old machines.
The print shop had a variety of antique instruments, such as a Golding hand leather press, Paragon paper cutter, a bookbinder, proof press and a large printing press.
"Every thing in here still functions," Peterson said, "you just need to clean the rust off and oil them up."
The Festival had much to offer its guests but the Glendora Preservation Foundation hopes to make improvements.
Valerie DeAlazzro wants to bring back hayrides to take visitors up the road to the House, but insurance is too expensive for the nonprofit foundation and they are currently assessing their options.
The hayride was not only scenic and fun for kids, but also supported the elderly and disabled who needed aid going up the rocky road.
DeAlazzro hopes to add more events for the children, such as a petting zoo to go along with the pony rides.
While the site hosts the annual Pumpkin Festival, weddings, and various photographers, both DeAlazzro, Tim Rienberger and the Glendora Preservation Society secretary, hope to have more events at the Hamilton House such as craft fairs and a farmers market.
The society needs more funding and new members to carry these ideas through.
Donations to preserve the site pay for essential supplies and repairs.
If the Glendora Preservation Foundation can meet their financial and recruitment goals future pumpkin festivals and beautiful events may be hosted at the Hamilton House.
"I'm devoted," DeAlazzro said, "This is something we've been doing since '77. We want to see it thrive."
---
---