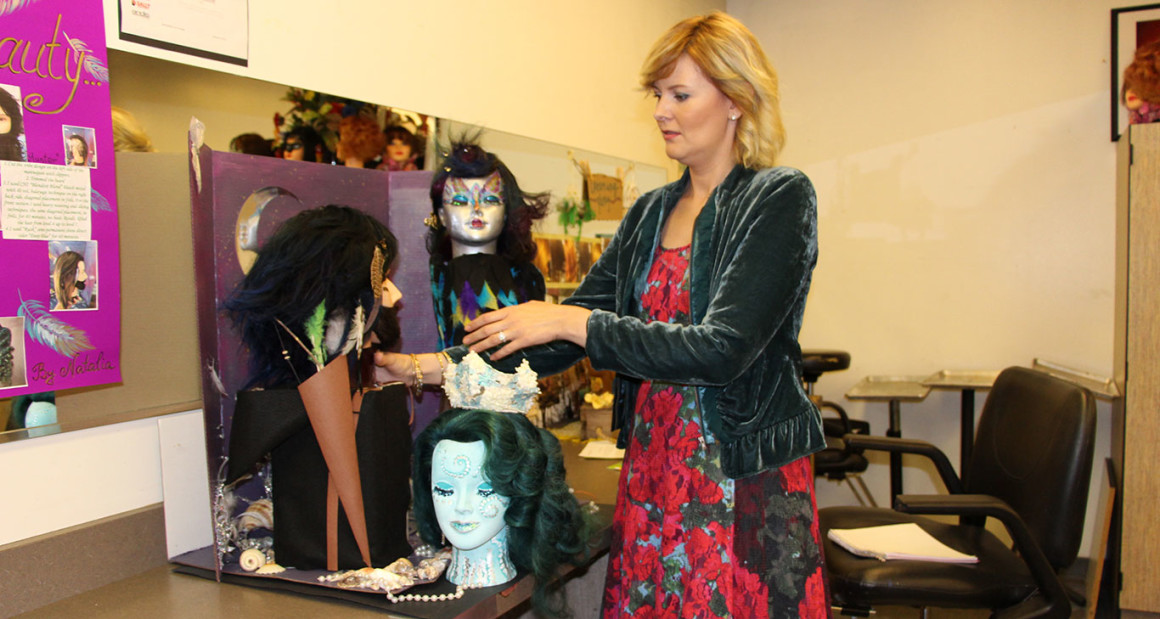 ---
The Citrus College Cosmetology Program is home to the best hair stylist in California.
Natalia Pryannik, 38, cosmetology student, entered the California State Hair Show Individual Student Championship in 2015.
With the guidance of Albert Graciano, professor of hair color and hair design, she won first place in the statewide competition.
Pryannik said wanting to push herself convinced her to participate.
"Natalia's enthusiasm, determination and her passionate approach to cosmetology led her to the art of hair competition," Graciano said.
As a freshman with no previous experience, she is also successfully maintaining a 4.00 GPA.
Maria Morrish, instructor of hair style at Citrus, said Pryannik is serious about studying cosmetology and has a special desire to learn. 
"I enjoy every school day because I have the opportunity to learn from talented and creative people who are as passionate about beauty as much as I am," Pryannik said. "I feel like I found myself and what I truly enjoy to do."
Graciano said he discovered true talent in Pryannik when she attended his class.
"I saw the passion, eagerness and creativity that she has in the program," Graciano said.
Christian Chuc, 20, cosmetology major, describes Pryannik as talented, enthusiastic, happy and welcoming.
Pryannik was born and raised in St. Petersburg, Russia. She graduated from Saint Petersburg State University and earned her bachelor's degree in international relations in 1999.
Pryannik grew up during the occupancy of the Soviet Union. She was constantly traveling because her father worked in the military while her mother was a stay-at-home mom.
Even though the country was strictly closed, she was able to go abroad to places like Germany and Slovakia.
In Russia, she worked at a tourist company, Internet associate company and for private business companies but quickly grew bored of these jobs.
Her husband, Andy Ghandour, is an American citizen who has a private business in Russia.
Pryannik said after getting married, she wanted better opportunities for her children in the future, so she decided to move to the United States, regardless of having a career in St. Petersburg.
"Russia is so unpredictable," Pryannik said. "I did not feel safe."
As an immigrant to the United States, it was difficult for her to overcome cultural and language barriers. 
"I am blessed with my family: my loving supportive husband and three beautiful children who are my biggest fans," Pryannik said.
After moving to the United States, Pryannik did interior and design and refurbished antique furniture for her friends. 
"My friends are amazed with how I am able to see the creativeness in old pieces that are basically trash," Pryannik said.
However, this passion did not generate any income.
Pryannik said the decision to go to the cosmetology came naturally because her passions being creativity and art.
Graciano said the relationship between theoretical concepts and hands-on technical skills are no problem to grasp for Pryannik, which is challenging for other students.
"She always wanted to go above and beyond," Morrish said. "When she was able to enroll in the class, her tears of excitement and gratitude told me everything about how passionate she is."
When she first enrolled in the cosmetology program, she felt a little pressure because of her age, but being an older student turned out to be an advantage because she knows what she wants.
"At first I thought about the convenience with flexible hours," Pryannik said. "Then it turned into a joy to be able to express my artistic gift and get paid for making people look stylish."
She is now getting ready to compete for the North American Hairstyling Awards 2016 on July 24 in Las Vegas.Pryannik will also be showcasing in the International Salon & Spa Expo on Jan. 31, 2016 in Long Beach.
Pryannik said that she is always ready to work hard and hopes to reach high levels of professionalism.
"I know what I want and I want to get it as fast as I can," Pryannik said. "The basic is not enough for me."
---
---