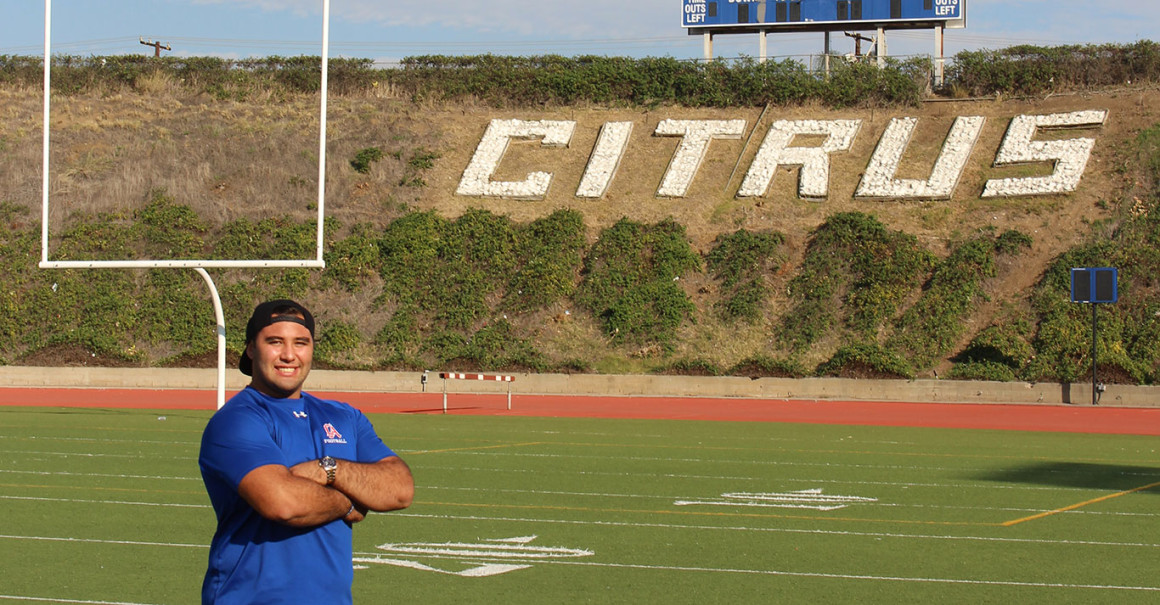 ---
Defensive lineman Brandon Hayashi is easy to spot. His 6 foot 300-pound frame is an intimidating sight for opposing teams. He is a beast.
Off the field, he could not be more different.
"Don't let his big structure give you the wrong idea," said Brandon Hayashi's younger brother Matt Hayashi. "We call him the Jolly Green Giant. He is humble, loving and all-around a great football player and a great brother."
Brandon Hayashi's love for family, friends and football comes from being brought up in a strict household. Part Egyptian and part Japanese, he credits his family for shaping him into the man he is today.
"I have a great-grandmother that lived through World War II, and she had 14 kids," Brandon Hayashi said. "That bond they had after that and overcoming all that kind of made us as close as we are today."
Brandon Hayashi's drive and motivation to play football comes from his family. His goal is to ease the stress on his parents and to reward them for the sacrifices they have made for him and his brothers. Matt Hayashi plays football at the University of Redlands.
"He has always been my big brother and a great motivator to both me and my little brother," Matt Hayashi said. "He is the one who really inspires me to push myself to new limits, to achieve greatness in football as well."
Outside of school and football, Brandon Hayashi said he enjoys spending his free time with family.
"Most of the time, I'm with family," Brandon Hayashi said. "We're always up to something: cooking, eating, basketball, shot put, discus, driving to hang out with my bro."
One of Brandon  Hayashi's closest friends on the football team is freshman defensive lineman David Jimenez. The Citrus tandem from Los Altos High School are as close as brothers.
"Man, words can't describe him," Jimenez said. "He's one of my best friends. He's that friend that will do anything for you. Give you a ride somewhere, let you borrow money; he's a great friend and big family person. He always tells me how much his family means to him. He'll do anything for them. Every morning his mom calls him to make sure he is safe at school and always ends the call with, 'I love you, mom.'"
Brandon Hayashi said he enjoys the competitive nature of football and the responsibilities that are asked of him.
"Football is a lifestyle where it teaches you how to get your work done on time, be places on time, how to follow directions from coaches and executing what we are taught," Brandon Hayashi said.
Citrus head coach Ron Ponciano called Brandon Hayashi a leader on the team and well respected by his teammates.
"Oh, he's a true warrior," Ponciano said. "He's the epitome of a student-athlete. You know, he's a great student, but he's extremely tough. He is a great guy that is an incredible young man."
Brandon Hayashi finished the season with 63 total tackles, three sacks and five tackles for a loss, ranking in the top three for the team in each category. He thanked his teammates and coaches for his growth as both a player and person.
Matt Hayashi praised his brother in helping him grow as a person and football player.
"He is the one who really inspires me to push myself to new limits, to achieve greatness in football as well," Matt Hayashi said. "When I'm on the football field playing for Redlands, I think of my brother. Of how he is putting in work at Citrus and making a name for himself. No matter what, he looks for new ways to become a better football player and at the same time, a better person."
Brandon Hayashi in return credited the love and support from Matt Hayashi and their younger brother as motivation.
"Him and my young brother, they're the ones that have kept me going and allowing me to continue doing what I love," Brandon Hayashi said. "Especially football's kept me in line and it's kept me to be true to who I am."
Brandon Hayashi has many goals for his future and has his family in mind with his plans.
"I would love to play college football at a Division I level, Division I-AA level and also earn my business degree," Brandon Hayashi said. "And then even after that, I want to open up a couple of restaurants and start my own companies."
In Citrus' final game of the season, a couple dozen of Brandon Hayashi's family and friends were on hand to cheer him on as the loudest group of fans in the crowd. He turned around a few times during the game to acknowledge that their love and support was appreciated. And there he was engaging with his teammates on every big play. Brandon Hayashi is a star both on and off the field.
---
---