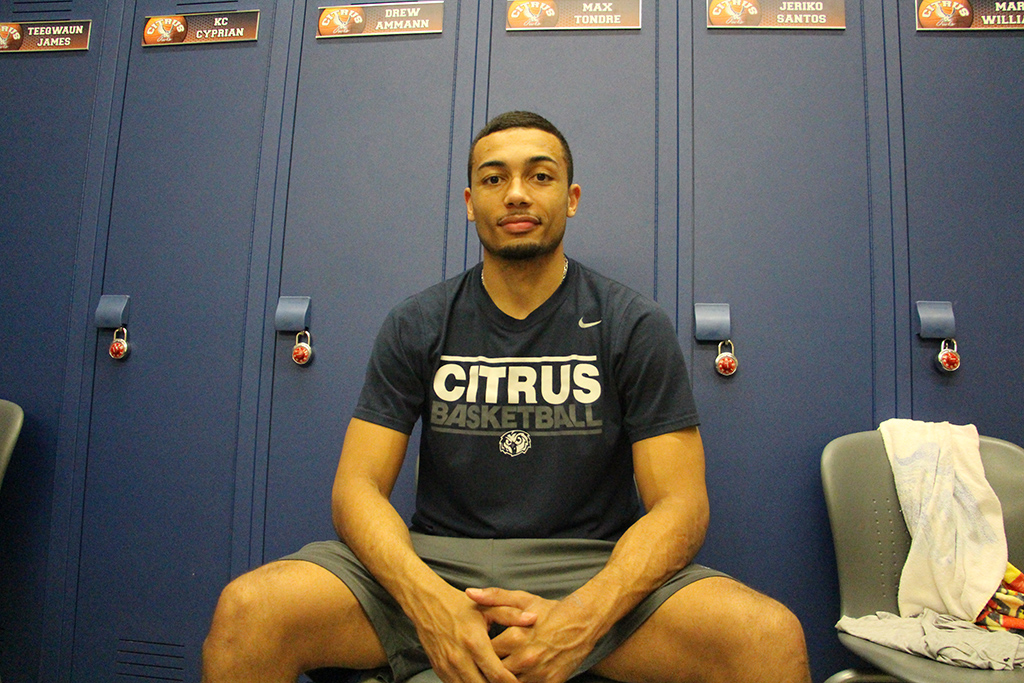 ---
Despite being the only foreign student on the Citrus College men's basketball team, Maxime Tondre has found communion playing men's basketball with his peers.
In fact, during last year's terrorist attacks in Paris, France, his hometown, Tondre found that a basketball team can offer unity even when you're this far away from home.
Tondre came to the United States because of basketball, a move that has shown him a different part of the world 5,625 miles away from his hometown to Southern California.
What began as peer pressure from his middle school friends, a group of individuals that he described as "crazy, high-energy kids who did everything together,"  eventually brought Tondre into a family-like environment.
He had never liked the idea of sports.
Growing up in France, Tondre said his friends in middle school persuaded him to join the basketball team, giving him enough reason to try out for the school team.
Tondre says that at the time, he was into Judo, a modern martial art that is solely reliant on an individuals self strength.
"I never really thought about the idea of playing in a team sport like basketball, I was more about Judo, because I didn't know how I felt about a sport that required a collective effort from everyone." Tondre said.
Although not able to find meaning to the sport at the time, a calm and intent Tondre understands it now.
On November 13, 2015 Paris, France was attacked by a group of terrorists that targeted a combined six locations across the city, killing 130 people and wounding hundreds more.
The attacks tested Maxime's fortitude even thousands of miles away from his hometown. Maxime remembers that evening when he received notification of the news via the Le Parisien app, a newspaper centralized in Paris.
"I got really worried, obviously, I got in touch with all my family and friends, calling my mom immediately on FaceTime," Tondre said. "She reported that she was okay."
Tondre describes that his mother, who appeared shaken up, was considering not taking public transportation or getting out of the house at all — out of fear of future bombings.
Not able to find real meaning for the cause of the attacks, Tondre shared that he felt confused and frustrated, with an incapacity to be there with his family.
"I also felt that the citizens had no right to go through such deadly acts of violence, people who held no political views, just living life, you know," Tondre said.
He was in San Diego at the time where he was participating in the team's annual visit to the Knights tournament.
Head Coach Patrick Johnson said the events allowed Tondre's teammates and coaches to grasp a deeper understanding of what was going on in Paris.

"They approached me, asking me if my family was okay," Tondre said. "My family lives 40 minutes away from where the attacks happened, so my family was safe."
The attacks on Paris gave Maxime's teammates a deeper understanding of what the city of Paris had just gone through.
"I told them, because it was crazy for me too, because it was an eye-opener for me," he said. "So I told my teammates that it was really nothing that I have seen before, targeting completely innocent people."
The bombings allowed Tondre and his teammates a better opportunity to come closer together.
The team goes out to eat together, finds time in their schedules to practice or hit the gym or simply be friends out in the city.
Coach Johnson serves as a great example of the family father figure within the team, who Tondre described as a caring individual.
"He provided me support every day, asking me if I'm doing okay, not missing my family and such, and I've grown to appreciate this, because its always nice to know that there are people that care about you, and your well-being," he said. "It really goes a long way when you're this far away from home, and in such strange circumstances."
Tondre emphasized there really is no safe place after what unfolded and said he looks to cherish the time with his family that much more in France.
The events remind him that his time with his family is not to be taken for granted, and any slip in contact could result in the disastrous.
---
---