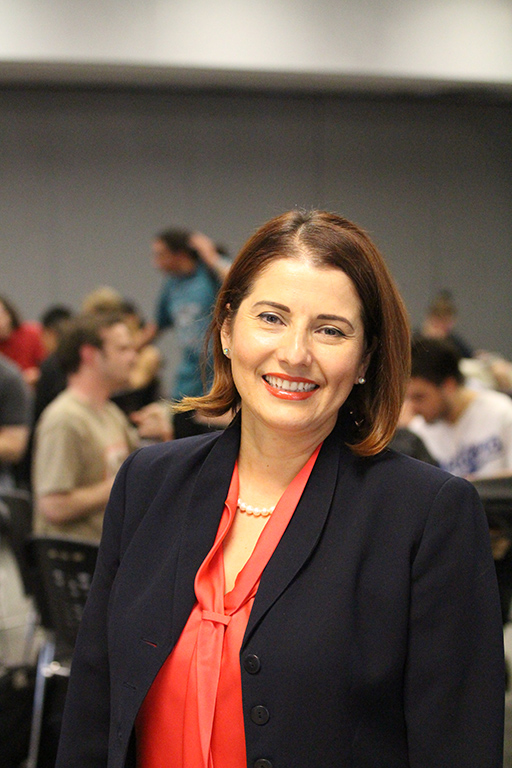 ---
Maryann Tolano-Leveque is the Dean of Students at Citrus College. Tolano-Leveque grew up as a first generation college student who returned to higher education to give back to students. (Evan Solano/Clarion)
The new dean of students at Citrus College loves to encourage others to learn, but did not realize the  importance of quality education until her college years.
As a  first-generation college student, Maryann Tolano-Leveque's story is one that most college students can relate to.
Tolano-Leveque's parents, both from Sonora, Mexico, have second and sixth grade educations.
For them, working to support the family was a main priority instead of schooling.
Their philosophy was, "As soon as you could work, start working and help out," Tolano-Leveque said.
Born in Baldwin Park and raised in La Puente, almost everyone she knew was also first-generation student.
Tolano-Leveque soon realized that she was not very familiar with American culture, which was a challenge growing up. She would hear other students use American expressions that made no sense to her because she grew up on Spanish expressions.
"Sometimes people would talk about Sesame Street but I grew up watching El Chavo del Ocho," Tolano-Leveque said, describing a Mexican sitcom about a group of immature adults from the 70s.
She also realized that the Spanish she was speaking was not exactly correct.
"There's words my parents taught me that are considered Spanglish, not necessarily actually Spanish," she said.
In addition to some of these challenges, Tolano-Leveque said she felt unprepared for college.
When she attended California Polytech University of Pomona, she realized what she learned in 12th grade was not on the same as what students in other school districts had.
Because of cultural differences "maybe people assume that you're not as intelligent," Tolano-Leveque said. "It's just a whole different style of upbringing and I didn't realize that until college."
Tolano-Leveque transferred straight from Workman High School, City of Industry, to Cal Poly Pomona where she wrote for the Poly Post student newspaper and joined student government.
During her time there, she worked internships for the New York Times and the Daily Bulletin.
Tolano-Leveque earned two degrees at Cal Poly Pomona, a Bachelor's degree in communications with an emphasis in journalism and a Master's degree in educational multimedia.
Being a first-generation student in journalism is what drove Tolano-Leveque to create connections with other people right away.
Being bilingual in addition to this made Tolano-Leveque feel she was able to relate to more people like her.
"Because I knew I was different in some way," Tolano-Leveque said. "Sometimes it didn't matter what the difference was to the people I was talking to, I just felt like I could connect."
Though Tolano-Leveque enjoyed journalism, when she found out that her salary would not be enough for her own apartment, she switched her focus to student affairs, Tolano-Leveque said.
"Though she was a very solid student journalist, I think her leadership skills were even more of a strength, and those skills certainly have served her well in her career in higher education," said Tim Lynch, adviser for the Poly Post at the time.
From Cal Poly Pomona, Tolano-Leveque went to Chaffey College as a student to complete her general education, where she realized the value of community college.
The switch from a Cal State to a community college was "a very different experience, smaller, and the professor knew my name," Tolano-Leveque said.  "The lessons that I learned were not necessarily in human sexuality or psych. It was student government and how the world works."
While working an internship in the athletics department at Cal Poly Pomona, she realized her love of working with students.
"If I did something that somehow helped them or encouraged them, it just felt so good," Tolano-Leveque said. "What I was doing mattered, even if it was one person."
Tolano-Leveque went to USC, where she earned her Ed.D. in educational psychology before working at community colleges.
In 2005, Tolano-Leveque became the Director of Student Life at  Mt.Sac, where she was able to experience a more "close-knit environment," she said. "I got to work with more students that I related to, and I really felt a connection."
"She believed in improving and clarifying processes which are difficult to interpret," said Donna Balducci-Lopez, secretary of student life at Mt. Sac. "Her knowledge of technology and creativity also helped to streamline a number of programs in Student Life."
Tolano-Leveque was hired in January 2016 to serve as dean. She said she is excited to be working at Citrus College because of all the positive comments she has heard about students and faculty. "It feels like everybody knows everybody here, and it is just awesome," Tolano-Leveque said.
As dean of students, Tolano-Leveque is in charge of student affairs and activities. She will also be working closely with student government.
"It might be simplistic to say that she is an example of the American Dream, but there is no doubt that her focus and hard work changed her life's trajectory," said Lynch.
---
---