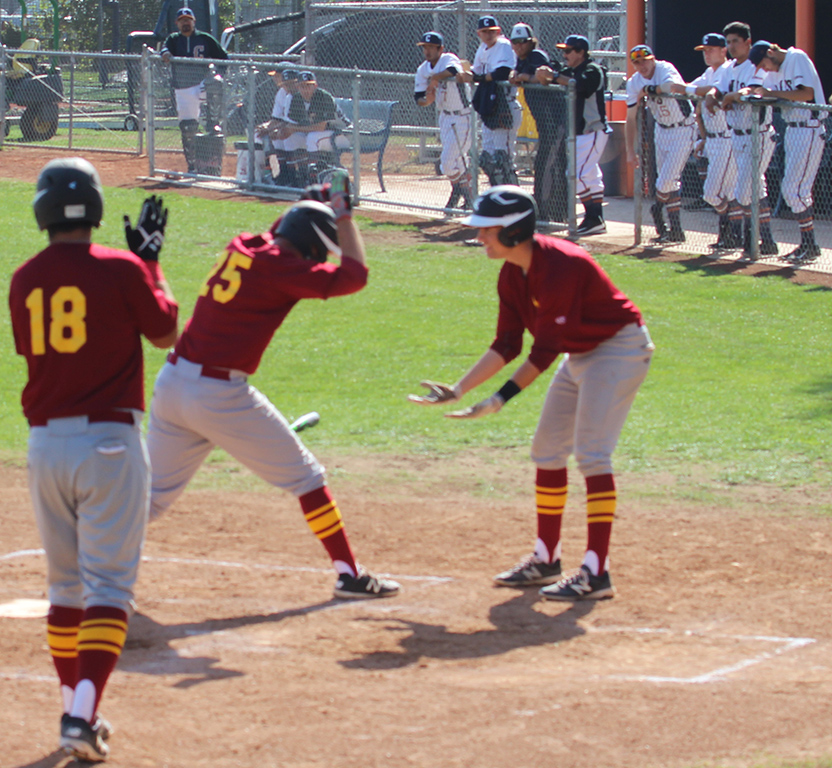 ---
Lancer RF Anthony Rabito celebrates after crushing a 2-run home run in the second inning. PCC beat Citrus 15-5 on March 1.. (Stephen Im/Clarion) (Megan Bender/Clarion)
Two crooked numbers in the first and second inning proved to be too much for the Owls to make a recovery.
The Pasadena City College Lancers beat the Citrus College Owls 15-5 in Citrus' last non-conference game.
Lancer outfielders Brandon Benson and Anthony Rabito blasted two-run homers as part of a six-run second inning that ended the day early for Owls starting pitcher Brennan Piceno.
Down nine runs after two innings, the Owls struggled offensively and did not have a hit until the sixth inning.
Starting pitcher Phil Nava (W, 1-0), went five and a third innings allowing three hits and two runs while striking out two.
The stout PCC lineup continued to score runs and had a 13-0 lead at one point in the game which left a comeback seemingly insurmountable.
The top of the lineup was the only highlight for the Owls during this one-sided affair. The one through three hitters each had multi-hit games and were responsible for almost all of the Owls run production.
It took the Owls five different pitchers to get through nine innings. The brunt of work following Piceno's short outing, belonged to Davis Radcliffe who this season has been solid in relief. He went four and a third innings allowing four runs with three strikeouts.
The Owls will take a week off before beginning conference play. They finished non-conference play with a winning record going 7-5-1.
Next on the schedule is a three-game set against College of the Canyons March 8th, 10th, and 12th. The Owls will be at home for the March 10th game at 2 p.m.
---
---