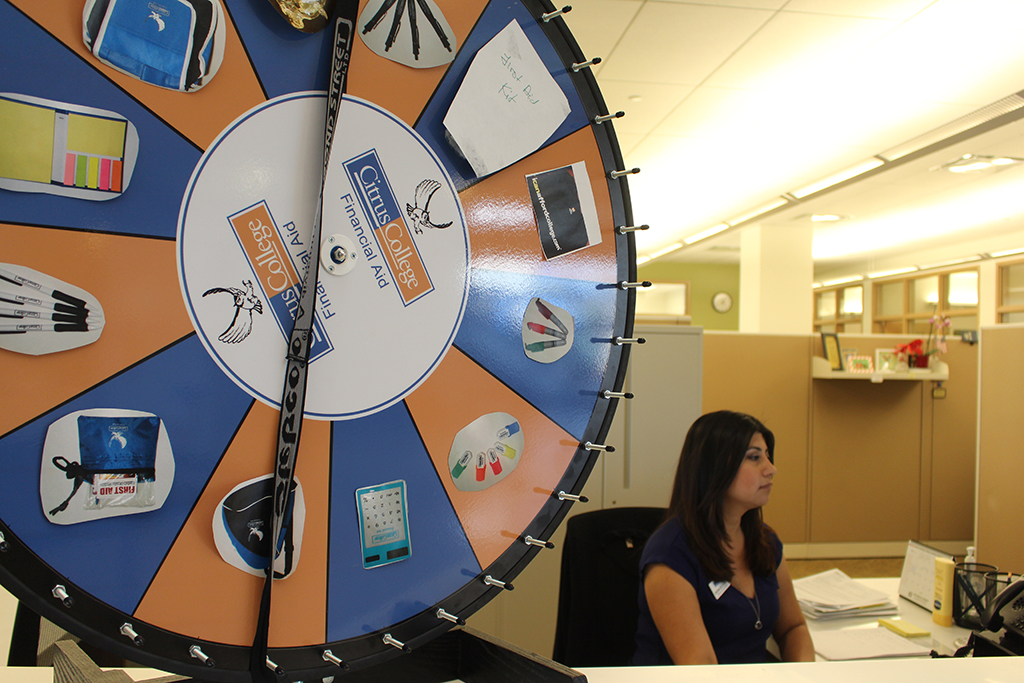 ---
Students will have the opportunity to win prizes and eat a free lunch from the Carl's Jr. food truck thanks to the Financial Aid Office.
The FA office is hosting a financial aid literacy awareness fair from 11 a.m. to 2 p.m. on April 21 at the Campus Center Mall to give students an inside look on financial aid.
The radio station KIIS FM 102.7 will be providing music for students and fair games will include a bean bag toss, soccer games, football throws and a raffle table. After playing each game students will receive stamps and once a certain amount is reached students gain eligibility for a free lunch.
There will be information from external vendors such as H&R Block, Options Child Care, Covered California and programs from Citrus such as EOP&S, Study Abroad and others.
The Covered California booth will be available to help students sign up for health care and the Education Credit Management Company will explain loan debt forgiveness options to students.
Financial Aid Technician Cindy Villagas said the fair is a different and less stressful environment than the FA office and an opportunity to get questions answered.
"People in the financial aid office are approachable," Villagas said "students can come and ask us questions and we do have fun, we are human."
One of the most important steps a student can take to receive money for college is to fill out the Free Application for Federal Student Aid.
"I think students think the FAFSA application is really difficult and daunting and it takes too long," Villagas said, "but it doesn't."
Communications major Tyler Covington is one of many students who procrastinate filling out the FAFSA and plans on going to the Fair to ask questions.
"I also want to find out about other scholarships I can apply for," Covington said.
She shares the feeling of doubt that plagues other students about whether or not the FAFSA is worth applying for.
"I think students don't fill out the FAFSA because they don't think they will qualify." Villegas said "The worst that can happen is they say no, but you qualify for the BOG waiver if you fill it out. You could possibly qualify for financial aid but you do need to apply to find out."

Villegas has experienced coming back to school as an older student and had to teach herself how to complete it.
"If this old lady can do it," she said. "It's definitely easy for students who can so easily learn about their new smartphones."
The FAFSA deadline for the 2016-2017 aid year is June 30. The FA office is located in the Student Services building to help students fill out the form before then and clarify the process. Office hours are Monday and Thursday from 8 a.m. to 5 p.m., Tuesday and Wednesday from 8 a.m. to 7 p.m., and Friday from 8 a.m. to 4:30 p.m.
---
---