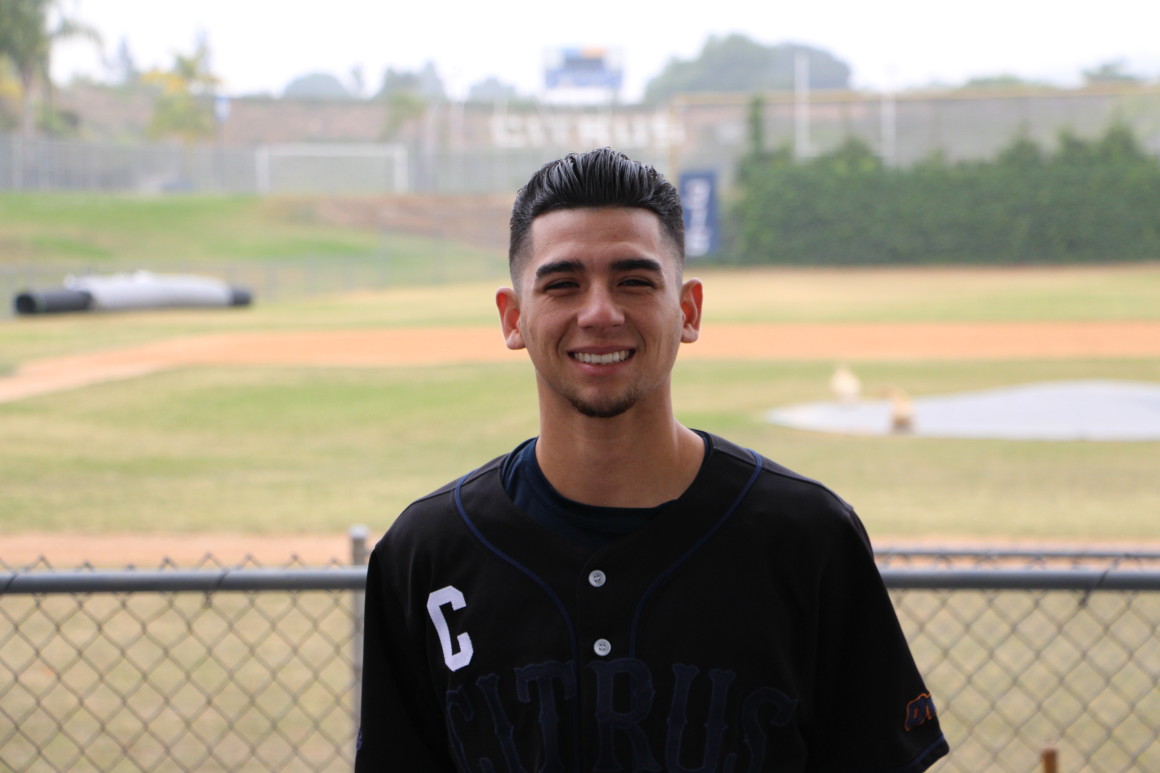 ---
Citrus College sophomore Michael Carlos is a captain on the baseball team, but the 21-year-old shortstop is motivated to succeed beyond the baseball field.
Carlos, who is majoring in criminal justice, is on track to earn his associate degree by the end of the summer. He hopes to transfer to Simpson University in Redding, California where he plans to continue playing baseball.
"I'm very dedicated when it comes to baseball and to school," Carlos said.
Carlos is determined to become a sheriff, but plans on earning his Bachelor's degree and enlisting in the Navy for four years. Carlos plans to work as a corrections officer before ultimately becoming a sheriff.
"I've always wanted to become a cop, ever since I was younger," Carlos said.
Freshman teammate Dominic Baca, who has been Carlos' teammate since their freshmen year at Northview High School, smiled when thinking about Carlos becoming a sheriff in the future.
"Seeing Mikey as a cop, it's hard to see," Baca said. "Because he is so funny all the time. He is so happy, I can't see him serious."
Carlos said seeing his parents struggle at times to provide for him and his siblings is his motivation, as he pursues his plans for the future.
"I have really strong parents," Carlos said. "That just makes me want to succeed so bad. I give so much of a reflection from them."
After graduating from Northview High School in 2013, Carlos immediately wanted to find a job to help his parents. But Carlos found himself away from baseball, the game he had been playing since he was 3, and realized if he was going to truly better his future, he had to go back to school.
"I graduated high school and took a year off and it was the worst ever," Carlos said. "I missed it. I missed it all and had to come back."
Although Carlos has taken a serious approach in pursuing his future plans, his teammates see another side of him. An easy-going and funny person, always looking to lighten the mood.
"He's just a great guy to have around the team," Baca said. "He's a funny dude. He's a great captain, great leader."
Despite the Citrus College baseball team finishing with a 14-21-1 record in the 2016 season, Baca said Carlos did a great job of keeping the team loose during a tough season.
"He's always joking around, it's very rare you will find him serious," Baca said. "He's always with a big smile on his face, smiling like his eyes are shut."
Carlos appeared in 61 games in two seasons for the Owls, with a .246 batting average and a .928 fielding percentage at shortstop.
"He can be pretty serious when he needs to be and is determined enough to succeed in everything he wants to," freshman teammate Cooper Hughes said.
With Citrus losing many players from last season and the team needing leadership on the field, Carlos and sophomore Rudy Casarez III were named captains for the 2016 season. With new faces coming in, Carlos, much like with his siblings wanted to be a role model, but knew he had to earn the respect of his teammates.
"A lot of guys didn't like me, because they didn't know me," Carlos said. "I've gained so much respect. They even tell me now, 'We look up to you.' It's a good feeling to know that guys a couple years younger than me have respect for me. I hope that next year, they take on my responsibility."
Being one of the new players on the team, Hughes said Carlos was always there to encourage his teammates and also helped them correct mistakes on the field.
"If I ever needed some advice, I'd go to him," Hughes said. "Even when I don't want advice, he makes sure to let me know what I'm doing wrong."
Sophomore teammate Joshua Chua said Carlos has a "fantastic work ethic" and is very passionate about reaching his goals.
"He is a very loyal friend and teammate and will always stick up for you," Chua said.
Chua said Carlos' willingness to work hard and his leadership will benefit him in his pursuit of becoming a sheriff in the future.
"He is someone who will work as hard as he can to achieve his goals," Chua said. "If he truly wants to do it, he will succeed in doing so."
Although Baca joked about picturing Carlos as a sheriff someday, Baca said that Carlos' determination will help him achieve his goals.
"He can definitely do it," Baca said. "He can do anything he puts his mind to. That's just the way he is."
As Carlos prepares to transfer from Citrus in the near future, he credits the support he has from his family, his girlfriend, Kaitlyn, and his teammates.
"I feel like if I can do it, then anyone else can do it," Carlos said.
---
---