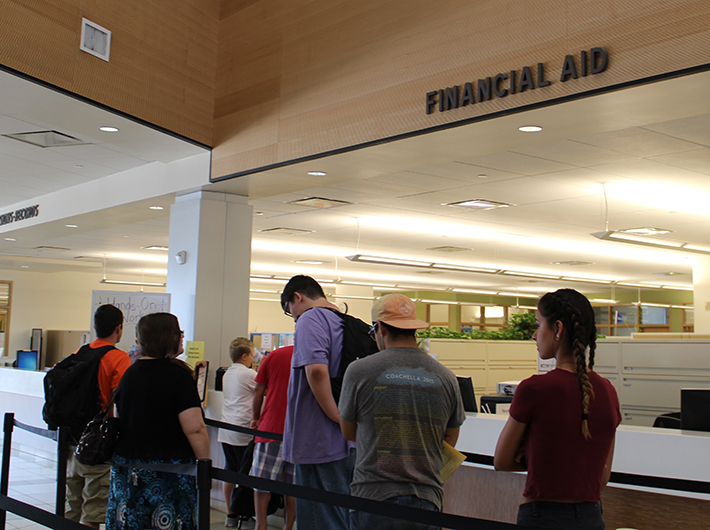 ---
Beginning this fall semester, students who do not reach academic requirements  may find themselves paying in full for their units.
In January 2014, The California Community Colleges Board of Governors passed regulations that require students to follow minimum academic standing requirements to keep their B.O.G. fee waiver.
This waiver allows students of lower income to waive credit fees and pay only for student and health fees.
This is the first semester the new policy has gone into effect.
Before this semester, students were able to keep their waiver regardless of their academic standing.
Now students must maintain a 2.0 minimum GPA for two consecutive semesters and complete at least 50 percent of their course work in order to remain eligible for the waiver.
A press release in January 2014 from the CCC Chancellor's Office said the policy is a key component of the Board of Governors' Student Success Initiative."
The press release also said that foster youth are exempt from the policy and the B.O.G. may consider other exemptions in the future.
"We will do everything in our power to help students on financial aid succeed, but students need to know that they have a responsibility to keep up their end of the bargain," California Community Colleges Chancellor Brice W. Harris said in the press release. "This policy provides students with incentives to meet standards that will ultimately help them achieve their educational goals. It benefits students and it is responsible stewardship of state resources."
Director of Financial Aid Carol Thomas said about 260 of Citrus College students faced the loss of  their B.O.G waiver out of  the 11,000 who qualified.
A student can regain eligibility by meeting academic progress standards, sit out for two consecutive terms, improve their GPA or successfully appeal the loss of the waiver.
Students would have to meet with their academic counselor and submit a form to Admissions and Records Office if the reinstatement is approved.
"Its unfortunate this happened but we are here to help students," Thomas said. "You really have to keep up to receive the waiver and the students have to be accountable and so do we, so it is utilized well."
Students worried about the potential loss of their B.O.G. waiver can check the financial aid link on the Citrus College website for additional information or check in with the Financial Aid office directly at 626-852-6460 or at financialaid@citruscollege.edu.
---
---