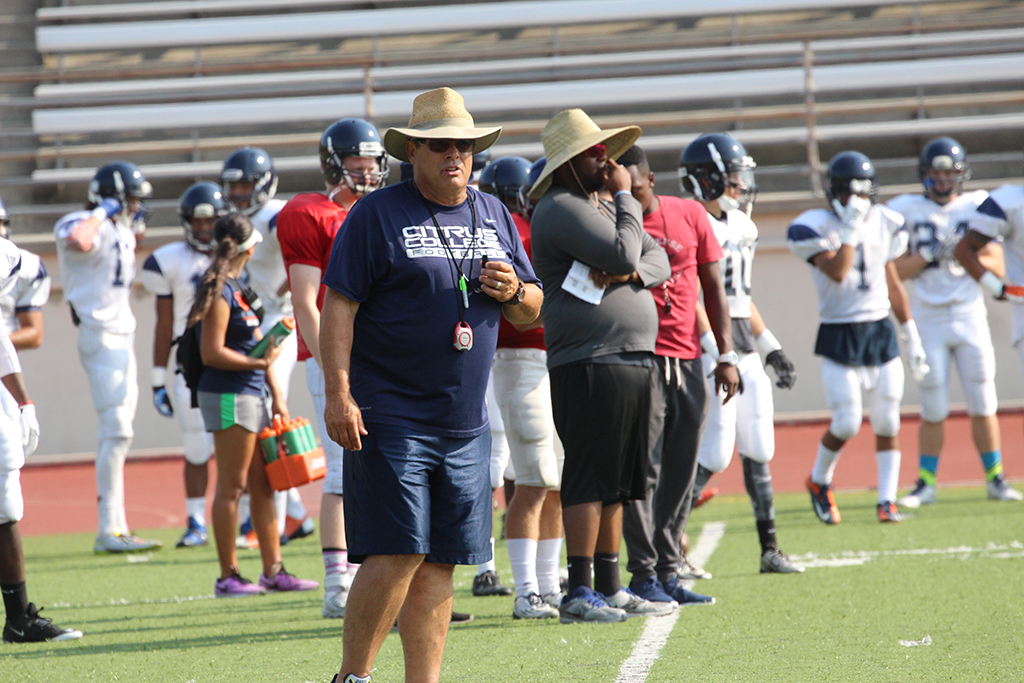 ---
The Citrus College Owls football team's 2015 season got off to a bad start before it began when seven starters were lost to injury before the first game. Head coach Ron Ponciano said at the end of last season that number had grown to 23 over the course of the season.
The constant reshuffling of the lineups resulted in a 2-8 finish last season. The team will hope for better luck this season, but Ponciano said it has not happened yet.
"Kind of where we left off," Ponciano said. "We have way too many guys missing practice right now."
Despite the team being banged up heading into their first scrimmage against Mt. San Antonio College, Ponciano likes what he has seen from the team.
"We have an awesome group of kids," Ponciano said. "I think we will be very talented on offense."
About 90 percent of the starting offense is returning. Led again by sophomore quarterback Brian Meyette, Ponciano likes what he sees in Meyette's improvement from last season.
"He is definitely faster," Ponciano said. "He kind of thinks like he's Michael Vick in college. But he's had a wonderful camp, he's thrown the ball well, he knows the checks."
As a freshman, Meyette completed 54 percent of his passes and threw for 2,372 yards, with 17 touchdowns and 12 interceptions.
Along with Meyette, Ponciano said sophomore running back Abel Morales and the entire offensive line have had good camps.
"Everything is going to be coming off that offensive line," Ponciano said. "We have a very good offensive line."
Ponciano said freshman wide receiver Jacob Bystry has stood out to him.
"Just been exceptional on offense," Ponciano said. "He's made real big plays."
Ponciano said maturity is important and when he has coached successful teams at Citrus, it was when he had older players leading the team with their play on the field. With a young defense, the defense will be tested early.
"The defense has to play catch up in a hurry, because of the youth," Ponciano said. "We expect young guys to step up, but we have a lot of work to do on the defensive side right now."
Despite the inexperience on the defensive side of the ball, Ponciano called the season "a season of optimism."
In the scrimmage against Mt. San Antonio, Ponciano will be looking for guys to compete. He also hopes everyone will be able to finish the scrimmage and be healthy enough to practice the following day.
"Those are the facts of life with football," Ponciano said.
Citrus College will host Chaffey College in the season opener at 6 p.m Saturday, Sep. 3.
"Chaffey is one of the closer teams we play," Ponciano said. "A lot of the kids know each other, Chaffey and Citrus has always been a good game. I'm sure this year won't be any different."
---
---