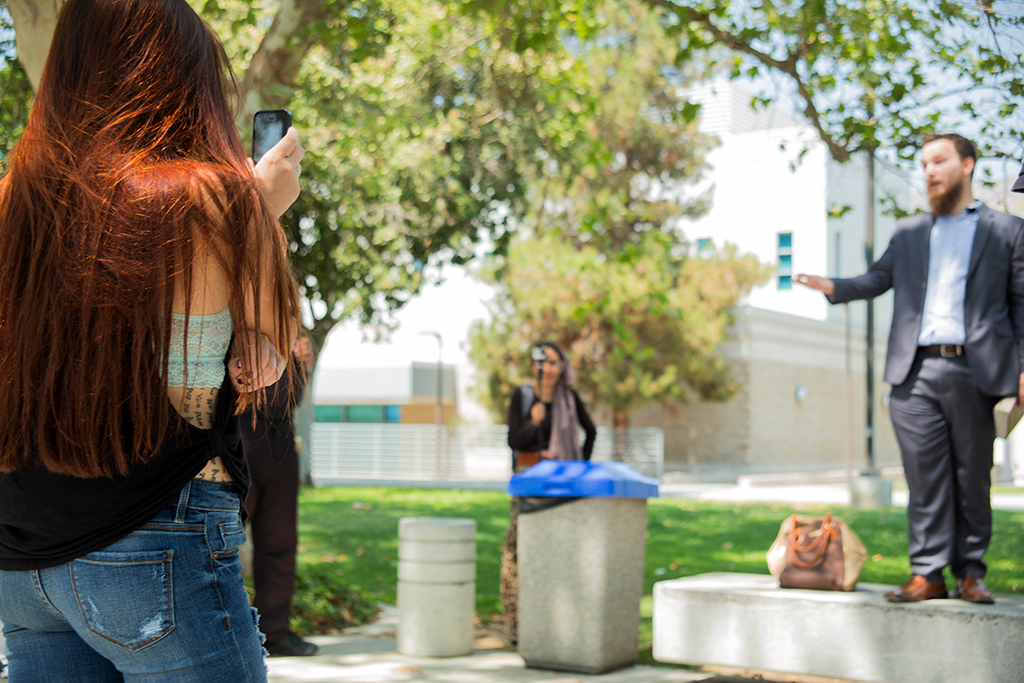 ---
Students already dealing with overcrowded parking lots and adding classes on the first week of the fall semester found themselves loudly interrupted by a man shouting scripture in the Campus Center Mall.
Sebastian Bryan, a preacher for In Christ Is Life Ministries located in Upland, loudly expressed his personal beliefs in front of passing students, leaving no controversial subject untouched.
"I believe women should be educated," he shouted, next to his wife Karla Bryan who was filming him. "So I made sure my wife got a few cook books…" His remarks would occasionally tie back to the Bible and even support other claims with hymns that quoted verses.
Other shouting matches included generalized harsh statements on topics such as homosexuality, sexually transmitted diseases and love gathering a crowd of students who decided to shout back. Students Jacob Gomez and best friend Ryan Grosjean held hands and sat next to Bryan while he preached on as a sign of peaceful protest.
"I understand we go to a community college, people are allowed to say what they want, but this is just flat out disrespectful," Gomez said.
Gomez said even though he is straight he wanted to support his friend , Grosjean.
For Bryan, Citrus is just one stop on a tour of colleges and high schools that he chooses to visit.
The ministry website has an itinerary of colleges and high schools from Pasadena, Irvine and Riverside. Currently the ministry is only made up of Bryan and his wife.
"Well my general purpose here is to speak the truth," Bryan said. "I'm an open air preacher, I'm confrontational by nature and it's on purpose because it sparks dialogue."
Bryan said he preaches at colleges because of the influence students will grow up to have on the world.
"There is a multiplicity of different cultures," Bryan said. "Different people from all kinds in the world are coming here for education. These are going to be our world leaders, these are people that are going to be taking care of us."
"All these people that are going to be influencing the world around us and so this is a place of higher learning so trying to be there to influence the most important learning of all, to love God."
As Bryan continued to practice what he calls "open-air preaching," students crowded around him grew visibly uncomfortable with his presence on campus.
As tempers grew short and tensions were high, students questioned why Campus Safety was only standing by instead of engaging the preacher and removing him from campus.
"We're simply there to make sure if we need to respond to make sure there's no violence that occurs," said Campus Safety Supervisor Ben Macias. "We're not there to shut things down or end or have them stop speaking."
Board Policy 3900 on "Speech – Time, Place and Manner" states, "Acts shall not be considered 'hate violence' based on speech alone."
In order for Campus Safety to get involved, the speech must contain a threat of violence against specific people, the person expressing the speech must cause reasonable fear of violence or must cause concern of violence because of the speech.
It also states "the person threatening violence (has) the apparent ability to carry out the threat."
Macias said so long as the person exercising their right to free speech follows this policy, it is allowed.
Changes to the Citrus College free speech policy was a result of former Citrus student Vincenzo Sinapi-Riddle filing a lawsuit against the college for infringing on his First Amendment rights in July 2014.
Prior to the lawsuit, the campus had a designated "free speech zone" that was located within the Campus Center.
Sinapi-Riddle, former president of the Citrus College chapter of Young Americans for Liberty, a Libertarian political activist group, with the aid of the free speech advocacy group Foundation for Individual Rights in Education, sued the Citrus College School District. Administration threatened to have him removed for stepping outside of a free speech zone while soliciting signatures.
The 2014 lawsuit was settled out of court, with Citrus paying both FIRE and Sinapi-Riddle a cash settlement of $110,000 and agreeing to expand the free-speech zone to cover the entire campus.
This allowed anyone to speak their mind as long as they were within behavioral administrative procedure codes and 25 feet of doorways opening to outdoor areas of campus, all indoor areas and anytime free speech disrupts the normal educational process.
Macias suggests exercising self-restraint and ignoring those who have opposing or conflicting beliefs or try to use free speech to draw attention from students.
"Sometimes the type of speakers that want to get a reaction from people do things on purpose to upset people or get them outraged because they want that reaction or interaction," he said.
"The person that's utilizing and evoking that right, if students or employees don't like what they're saying, they can simply walk away."
---
---