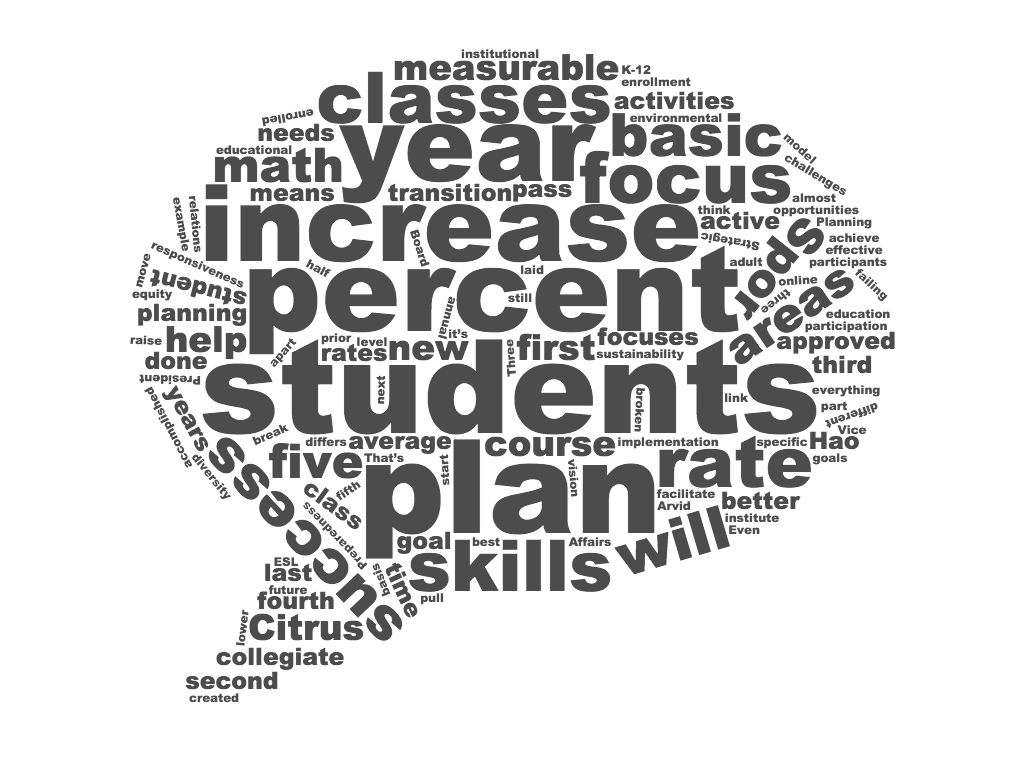 ---
A lot of planning is involved to keep Citrus College students up to speed and to remain an institute of completion. The plan for the last five years has ended and a new plan has been created and approved for 2016 to 2021.
The new plan was approved by the Board of Trustees on Aug. 18 and is now published online on the Citrus website.
The vision statement for this new model is to "provide excellent educational opportunities that are responsive to the needs of the community and help students meet economic, social and environmental challenges to become active participants in shaping the world of the future."
The institutional goal this plan is supposed to accomplish is to increase student success and completion.
This plan differs greatly from the last plan, featuring 18 measurable objectives and to achieve these goals there will be 95 measurable activities for students.
"This time I think it's going to be more effective because we put more into giving us something measurable," said Vice President of Academic Affairs Arvid Spor who is apart of the Strategic Planning Work Group.
Three out of the first four objectives focus on course completion, the other objective focuses on English as a Second Language.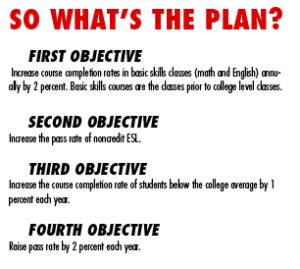 The first objective is to increase course completion rates in basic skills classes in math and English annually by 2 percent. Basic skills courses are the classes prior to college level classes.
There are 2,000 students in math and English basic skills courses this semester.
"The college wide success rate is 71 percent but with basic skills math class is 46 percent,"  Hao said.
"That's why we say a 2 percent increase per year and increase 10 percent for year five to reach a success rate of 56 percent."
Even if the goal is met, 56 percent means almost half of the students in basic skills math and English classes are still failing.
The reason this objective is so important is because if the basic skills classes are not passed, then students cannot move on to take the classes they need to graduate.
The second objective is to increase the pass rate of noncredit ESL.
The third objective is to increase the course completion rate of students below the college average by 1 percent each year.
"The college average is in the 70s but we have some courses with a 90 percent success rate and there's not too much room for growth," Hao said. "But we also have courses like these with lower success rates and something can be done to help those students." Disproportionately affected groups are the focus for the fourth objective, to raise their pass rate by 2 percent each year.
The objectives laid out in the plan are all supplemented by 11 focus areas that are the means to measure the objectives. Each objective will pull from multiple focus areas at any time to be completed.
"Each are meant to touch on and be a part of all the different components and link back to the objectives," Spor said.
Focus areas include preparedness, enrollment, instructional quality, instructional responsiveness, student support and diversity and equity.
Some focus areas are more specific to departments such as sustainability, safety, technological advancement, image and community relations.
Each focus area is broken up into three or more strategies. Preparedness, for example, focuses on Strategy 1.1 "increase college readiness through K-12 and adult education programs," Strategy 1.2 "improve the transition of enrolled students to collegiate courses," and Strategy 1.3, "increase students' participation in activities designed to facilitate their transition to the collegiate environment."
The strategic plan itself is supplemented by an annual implementation plan to break up what can or will be accomplished on a yearly basis.
"Not everything we are going to do in five years is done in the first year," Spor said. "Some are in a planning phases this year, some things may not start until the second, third, fourth or fifth year."
Spor said the plan is not a static document that never changes and will adapt to needs.
He said the plan will show that Citrus has been very active in the next five year period.
"We are doing our best to increase by those percentages each year," he said.
"If we can help students be better prepared with their college experience… they'll do better in class."
---
---