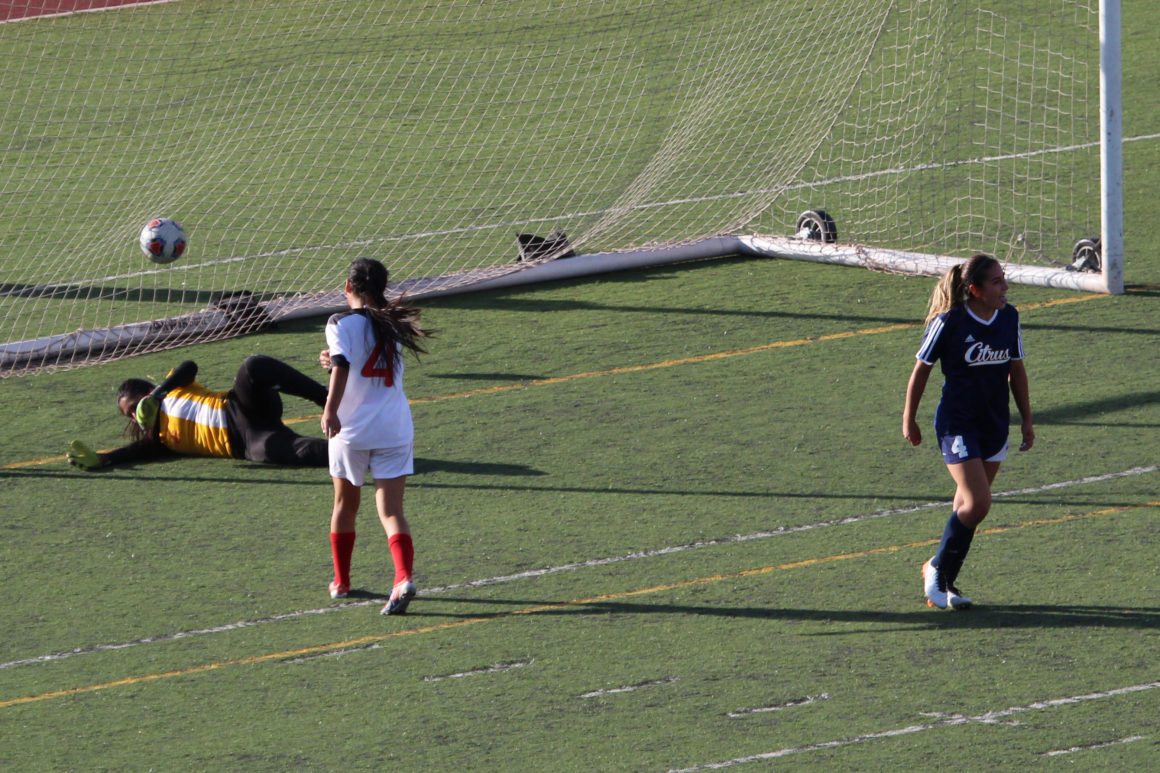 ---
The Citrus College women's soccer team defeated Glendale College at home, 5-0, on Oct. 7.
After a close victory (1-0) against LA Valley College in which Emily Fadem scored the lone, game-winning goal, the Owls' offense returned to Citrus Stadium and scored in bunches.
The win against the visiting Vaqueros is their second in a row, bringing the Owls' season record to 7-5.
"We were hoping to get out of here 0-0," Glendale head coach Jorge Mena said. "They're well-coached and a good team. With a lot of limitations, it's hard to compete against a good team."
The Owls have been dealing with limitations of their own. Citrus returned four out of six injured starters in the win.
"We're getting healthy," Citrus head coach Tim Tracey said. "We got two back today, and we'll have the remaining back a week from today."
Citrus dominated possession and field positioning, playing a complete game on offense and defense. The Owls handily won the shot differential, with 25 shots and 13 shots on goal to the Vaqueros' one shot and one shot on goal.
The Owls have allowed zero goals in the last two games. Sophomore center back Ana Balmaceda repeatedly stuffed potential runs by the Vaquero forwards, taking possession and clearing the ball into the Owls' offensive zone.
Citrus finished the first half 2-0 off a score (42′) by leading goal-scorer Jacqueline Mejia, No. 8, from beyond the penalty arc for her eighth goal of the season. The goal was assisted by Alexa Ruiz, who would later be assisted later by Mejia for a goal of her own.
The early lead allowed for some much-needed rest for the starters, with Citrus' subs keeping up the scoring upon entry.
"Our starters were able to score early, so we got to get our subs in," forward Devyn Bagwell said.
Bagwell scored (71′) a one-on-one in the goal area and walked off to celebrate with her team.
Three players scored their first goals of the season, including forward Alejandra Vargas (28′), midfielder Alexa Ruiz (63′), and substitute midfielder Mary Cordero (82′).
"We practice corner kicks all the time, and just I tapped it in," Cordero said.
CONFERENCE PLAY
"Conference starts a week from today," Tracey said. "Everything we've done up until now has been about getting to conference and winning. Being at full strength is going to be a good thing for us."
The Owls play Bakersfield College (6-4-2) Friday, Oct. 14 at Citrus Stadium.
---
---