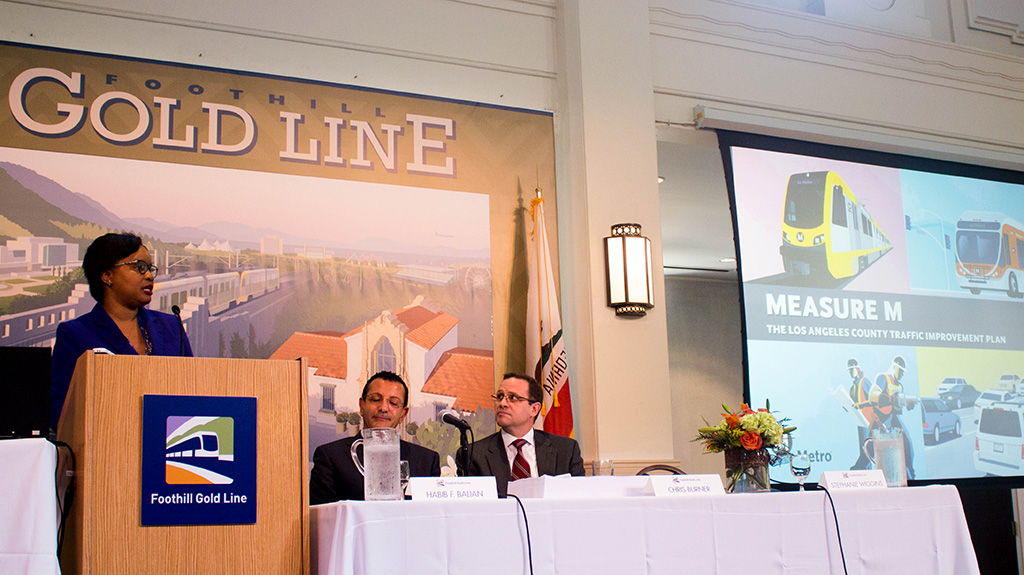 ---
Stephanie Wiggins, deputy CEO, Los Angeles County Metro, talks about the necessity of Measure M to fund the Gold Line expansion east next to panelists CEO Foothill Gold Line Construction Authority Habib F. Balian and Foothill Gold Line Construction Authority chief project officer Chris Burner at the State of the Project 2016 OCt. 15 at Pomona College.
The Metro Gold Line expanded its reach from Pasadena to the brink of Glendora this March and the tracks will not stop there.
Foothill Gold Line Construction Authority hosted their State of the Project 2016 conference on Oct. 14 at Pomona College to promote the 12.3 mile Gold Line extension from Glendora to Montclair, with talks of one day reaching the Ontario Airport.
The expansion of the light rail system will take the Gold Line from Glendora through San Dimas, La Verne, Pomona, Claremont and Montclair, moving its path into the San Bernardino County.
This project, however, relies almost solely on the approval of the Los Angeles transportation sales tax measure on the November 8 ballot called Measure M.
Mayor of Los Angeles Eric Garcetti was present as they keynote speaker putting the importance of Measure M to fund this project into perspective.
"If there's one thing that ties our cities together," Garcetti said to a crowd that included mayors, board members and members of congress, "its the traffic we are stuck in."
The Construction Authority is seeking $1.2 billion for the project up until the county line of Claremont if Measure M is approved.  This tax would come on top of the Measure R tax that funded the first expansion until it expires in 2039 or is changed by voters.
The second part of the project would be funded by San Bernardino county to take the rail from Claremont to Montclair.
During the opening session CEO of the Construction Authority Habib Balian was asked what plan b for funding was if Measure M did not pass.
"The federal government pot is so small, we would be 30 years out if we went after federal money," he said as there are not many other options.
Los Angeles County Metro Deputy CEO Stephanie Wiggins confirmed this timeline if Measure M funds were not approved saying "there has not been a viable plan b."
In addition, Chief Project Officer Chris Burner discussed the lay out of each station and the use of existing Atchison, Topeka and Santa Fe rail lines while also causing relocation of the Claremont Metrolink station to make room for the light-rail.
Panels on the Gold Line's effect on Higher Education, station building success and transit oriented development in the cities it runs through provided more insight on the benefits of this extension that has a projected finish time of five or six years if funding is secured.
In his speech, Garcetti pointed out that Los Angeles county residents spend up to 80 hours of their lives not moving in gridlock traffic.
"No matter who you vote for president, you're stuck in traffic," he said. "…these local measures, whether it our schools or homelessness or colleges, that's really what affects our lives more than anyone who is in the White House."
The Los Angeles County Traffic Improvement Plan, Measure M, needs a two-thirds majority vote to pass. The deadline to register to vote for this measure in the November 8 election is Oct. 24.
A full expenditure plan can be found at the Metro website.
---
---