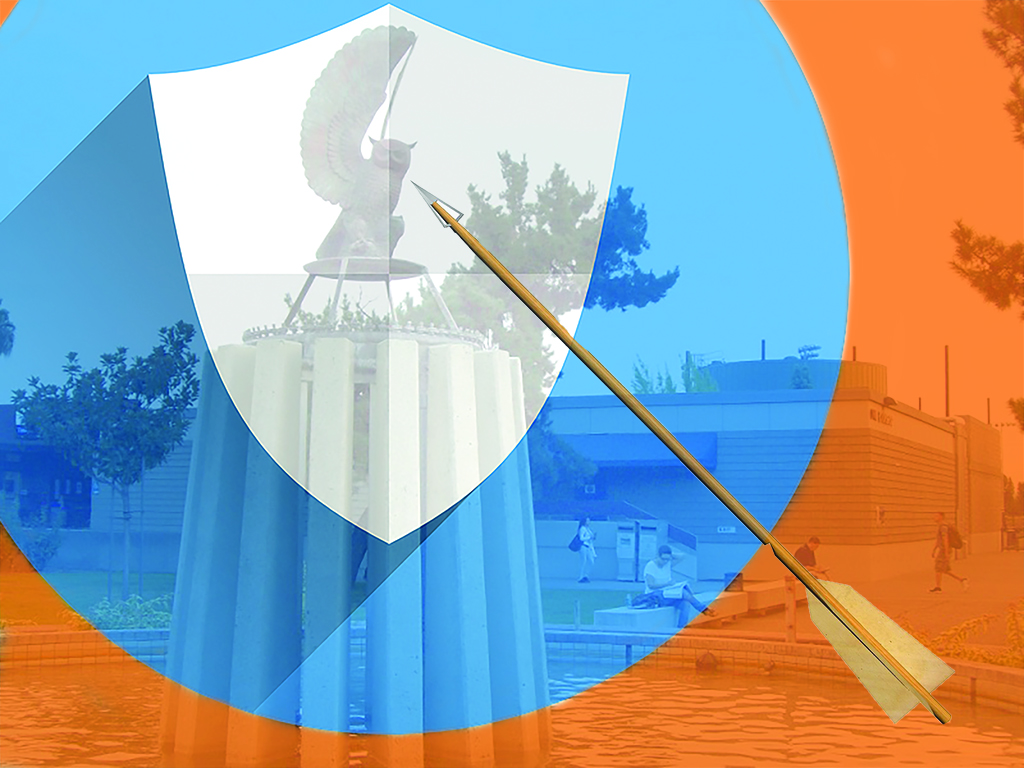 ---
Campus safety has released its annual security report which includes 2015 crime statistics at Citrus College.
Citrus' largest violation category, drug and alcohol violations, has dropped from 46 counts in 2014 to 26.
The Jeanne Clery Act, which was instituted in 1990, requires all colleges and universities, both public and private, to disclose campus safety statistics and information. The mandated report shows that Citrus' crime statistics are minimal in the majority of crime categories.
The zeros across many of the categories represent another year passing without a major incident at Citrus.
Incidents like the shooting at Umpqua Community College in Oregon and the more proximal University of California Los Angeles shooting earlier this year where a murder-suicide took place, are reminders of the fragility of campus safety.
Though her schedule keeps until 10 p.m. on school days animal science major Rachel Montoya said she has no complaints about her safety on campus.
"I notice a lot of campus safety supervisors patrolling late at night," Montoya said.
Psychology major Adriana McFarland also said she's noticed a lot more campus presence since she started at Citrus more than a year ago.
"There's always at least two police cars driving around when I leave at night," McFarland said.
In comparison to community colleges in the region, Citrus sits among the lowest in many crime categories, such having the minimal amount of vehicle thefts in the Citrus had only one reported car theft in the last three years, lower than other colleges in the area such as 36 car thefts at Cerritos College, seven at Chaffey College and six at Pasadena City College.
In addition to yearly crime statistics, the Clery Act requires campus safety to release timely warnings when criminal activity takes place on campus or off campus in surrounding areas.
Timely warnings are intended to raise awareness for students, faculty and staff provide an opportunity for any witnesses to report and come forward with any information in regards to criminal activity.
Of the timely warnings dated since October 2015, five out of six were related to sexual harassment.
Because of this, other students disagree with the safety of
Citrus at night.
Christine Brickner, Child Development major, said on the Citrus Student's Facebook page, she feels paranoid after getting out of her psychology class in the LH building between 7 and 10 pm.
Brickner said this is a huge concern to her and does not make her feel safe on campus.
"When I walk to my car I'm using a tiny flashlight on my key chain at times and I have someone on the phone with me just in case anything happens," Brickner said in a Facebook comment.
Sabrina Gonzalez, broadcast journalism major, added to Brickner's complaint.
"There should be more campus safety officers in the poorly lit parking lot so people can feel safer when walking to their cars."
General psychology major with a minor in social and behavior, Jessica Rios said there is poor attendance of campus safety during the night.
"I never see any at night and during the day I just see them lurking around by the parking lots or going across campus," Rios said in a Facebook comment.
While crime statistics and student safety are often correlated, creating a safe and secure environment is a chief concern for campus safety.
Officer Ben Macias, supervisor of Campus Safety, reassures all students who might be having doubts.
"We have staff here 24 hours a day and 7 days a week, so we always have staff here on campus," Macias said.
Officer Macias also said the Citrus Guardian app provides direct communication with campus safety and is accessible to any Citrus student. The app is free on the apple store and Google play for androids under the main app's name Rave Guardian.
Citrus Guardian includes a one-button access where a student can get direct communication with a campus safety officer. The app makes it possible to text or send an image on the mobile app of any suspicious activity on campus.
Macias said, "the lights are on timers and facilities worked on fixing the issue and it has been resolved." He also said brighter LED lighting has also been installed in the parking lots.
Macias said there are emergency call buttons on campus. One emergency call box is in parking lot S4.
"Through our strategic plan that is going to occur in the next five years we will be putting several of the blue emergency phones around campus," Macias said.
Macias said he strongly encourages students to go on the campus safety web page as well to see the annual security reports published.
"Most reports in 2015 and this year are drug violations by students. Rarely there are cases of violent measures on campus," Macias said "Citrus is a very safe place. Crime is minimal, violent crime is virtually non-existent."
By reviewing safety tips, having the campus safety phone number, downloading the Citrus Guardian app, staying in well-lit areas at night and being aware of surroundings, students can do their part to stay safe.
"Personal safety starts with you, so you have to do your part and if we are doing our part all will be well," Macias said.
---
---