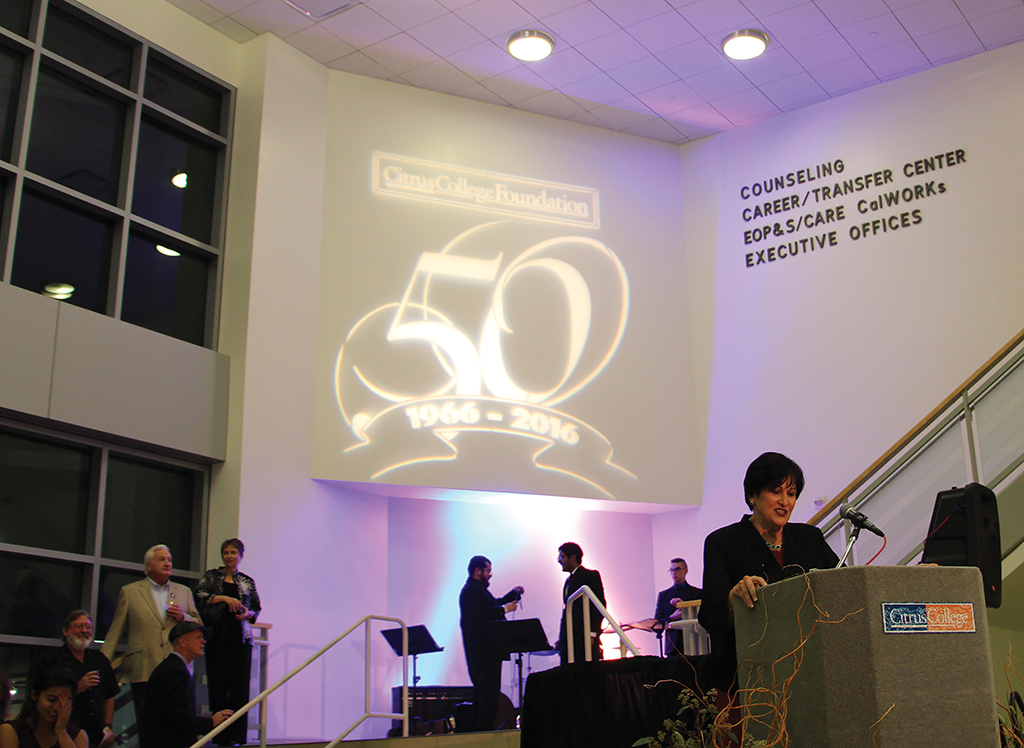 ---
Spotlights shined into the Glendora night sky and an outdoor ballroom was glowing in front of the newly constructed Visual Arts building.
A red carpet was rolled out on Nov. 4 to celebrate the Citrus College Foundation's 50th anniversary in the courtyard of the VA building.
More than 300 guests attended including donors, sponsors, faculty, administration and the Citrus board of trustees members.
The event raised over $40,000 thanks to sponsors and individual donors of the anniversary dinner and celebration. All the proceeds from the event will help fund the Citrus College Institute for Completion.
Foundation Director Christina Garcia said she was pleased with the mix of community members, students and alumni that attended.
"We had a lot students participate in the event to showcase what they're doing," Garcia said.
On display for guests were information tables of student organizations including the STEM program, Owls athletics, veterans success center, study abroad program and the honors program.
Over 125 volunteers, including Emerging Theater Tech students that helped light the evening sky, helped with the event's success.
Also, the Citrus Singers previewed the holiday season with three Christmas songs during reception held in the student services building.
Since 2000, the foundation has awarded more than $2 million in grants and scholarships to students.
Each year, scholarships ranging between $150 to $2500 are available to both current Citrus students and transferring students in financial need.
In 2016-17 alone, through the foundation's application and awarding process, more than 200 students have been awarded scholarships.
Professor Brian Waddington, the master of ceremonies, reflected on seeing alumni return to celebrate the event.
"It's really neat to see them move on and return to see how successful they are," Waddington said. "They are in careers now, doing great, it makes me feel old."
History major Jorge Urquiza serves as Associated Students of Citrus College Commissioner of Public Relations also attended with the ASCC board.
"It's a privilege that people came together 50 years ago in a positive way," Urquiza said. He added that without their support and help, he wouldn't be in the position he is in today.
The foundation is setup and designed to receive gifts in real estate, endowments, planned giving and in-kind donations.
---
---