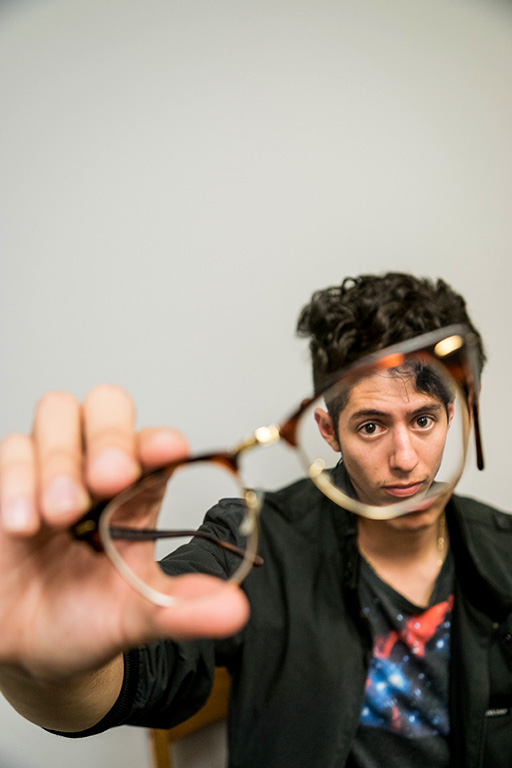 Communications major Kevin Alvarez poses with his glasses, Oct. 26, in the Citrus College Hayden Memorial Library. Alvarez excels in photography despite being colorblind, a hobby that relies on visual components such as color. Alvarez posts most of his work on his Instagram on @kava6.
(Megan Bender/Clarion)
---
Up until the age of 17, Kevin Alvarez thought he was just "a lazy idiot" who had never learned his colors.
Alvarez had just received a job at Party City and showed up in what he thought was protocol uniform: a black shirt and jeans.
The first time his Party City manager asked him to leave, Alvarez was confused but complied. He went out to Target and bought several of what he thought were black shirts.
The second day he was sent away again and told not to come back till he had a black shirt, not a burgundy shirt. That moment is when Alvarez realized he saw the world differently.
"I knew I was colorblind before that," he said, "I just didn't know how seriously to take it."
Alvarez, now 23 and a communications major at Citrus College, is also studying photography as a hobby in spite of his visual hindrance.
Colorblindness, the lack of ability to distinguish between colors, affects 8 percent of men and .5 percent of women. Colorblindness is hereditary and has no cure.
The National Eye Institute website said there are three main types of color blindness caused by defects of the three cones in the eye that respond to blue, green and red light.
Red-green colorblindness is the loss or limited function of the red or green cones in the retina, Blue-yellow colorblindness involves the loss or limited function of the blue cone. Complete colorblindness, which is rare, means all three cones are damaged and those diagnosed can only see black, white and grey.
Alvarez, who cannot really distinguish between most colors very well, said he is not sure what kind of colorblindness he suffers from. Instead he relies on context and memory to guess what he is seeing.
"It opened my eyes more to perspective," he said,  "and how two people can see the same thing but in the end they don't see the same thing at all."
Even so, he still has a favorite color, black.
"The way I'm able to tell black, grey and white, is because there's no in between with those three," he said. "Whereas blue, purple and violet, I can't even figure out, I don't have a spectrum I can see."
Alvarez said he attributes photography to being the reason he matured and took school seriously and is constantly amazed how photography changed the way he sees things.
"It opened my eyes more to perspective," he said,  "and how two people can see the same thing but in the end they don't see the same thing at all."
Photography relies strongly on visual components of sight such as light, composition, perspective and color.
The standard color space photographers work with is known as sRGB, the standard red, green and blue color space.
Adjunct photography professor and professional photographer Dana Attebery said not being able to see colors the same way everyone else does can create major hurdles to overcome in life and photography.
Attebery said there are many different standards for color due to the many ways colors are presented, but photographers work within sRGB.
"With sRGB, we are all able to be on the same page as to what sunset looks like, how  a red apple is suppose to appear to all and how the blue sky naturally appears," Attebery said.
"Unfortunately, these standards are not made for the eyesight of someone who is colorblind."
For Alvarez, who can't see most colors or their spectrums, photography is about repetition.
"I'm just following the rules of photography," he said. "It doesn't mean that I'm good at it…I've done it enough times to know what to look out for."
Alvarez does not adjust the coloring of his photos outside of what he is able to see. This means he must make sure the lighting of each photo he takes is just right.
"I needed to really make sure being color blind did not affect me while editing photos or taking photos," Alvarez said. "I needed to find a way around that."
Though he thinks Alvarez is humble, Alex O'Donnell, his friend of almost 13 years, said Alvarez has taken an interest in photography more than anything else he has tried and excelled in it.
"I know he's going to school and changed his mind about a lot of different things throughout his student career," O'Donnell said. But, in spite of this, photography seems to have stuck as a hobby.
"I did it because I thought it was going to be a challenge for me," Alvarez said. "And it is, but I feel like I've found my rhythm now."
Alvarez's co-worker and friend Alexandra Almendarez said he possesses "a great amount of motivation."
"I think whatever sparked him to be more invested has truly carried him to become the best version of himself," she said.
Almendarez said Alvarez has always been private about his colorblindness so no one would treat him differently.
"It's never really hindered him at all," she said.
"I haven't seen what I'm missing out on," he said. "So it doesn't bother me."
Alvarez said he will continue to take any and every opportunity opportunity to take photos. More of Alvarez's photography can be found on his Instagram profile, kava6.
UPDATE 12/2:
This story has been updated with the color of shirt Alvarez bought
---
---