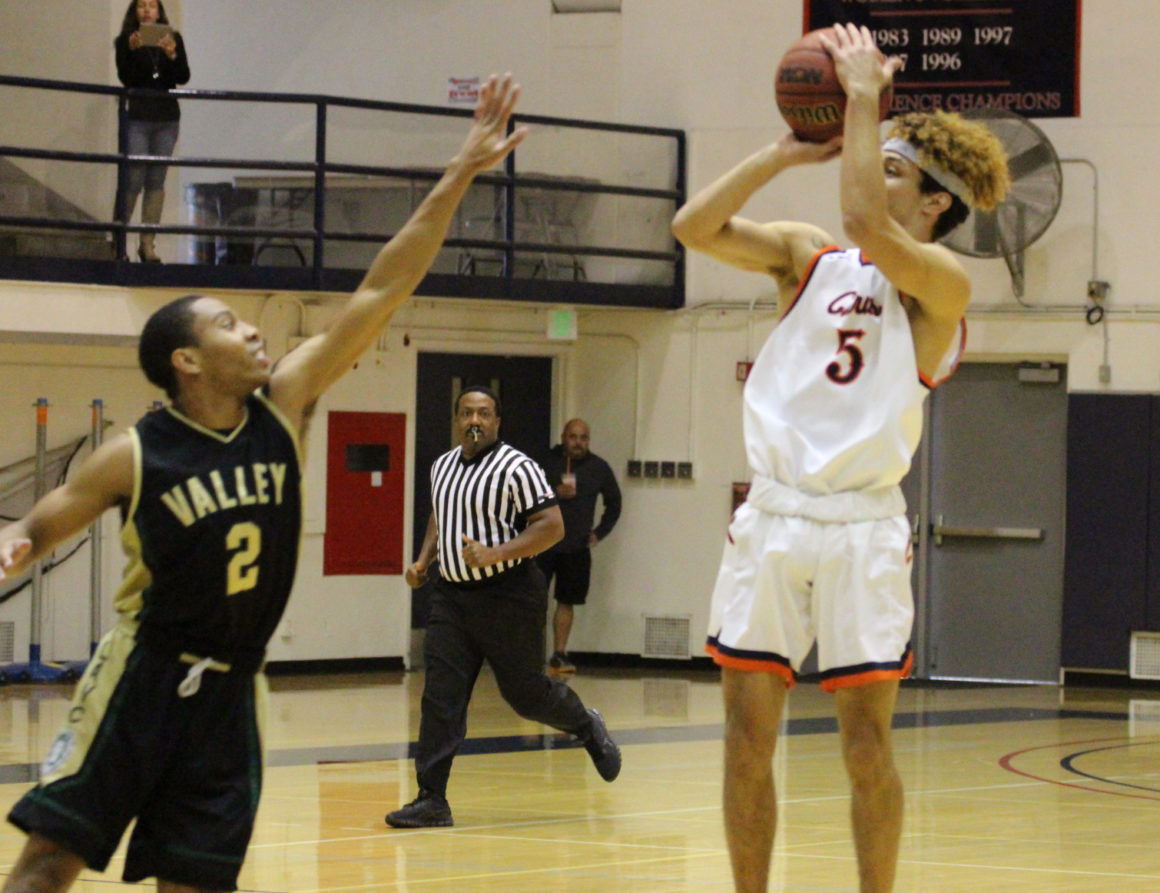 ---
The Citrus College Owls men's basketball team saw their six-game winning streak in jeopardy. The Glendale College Vaqueros had quietly erased a late double-digit deficit in the second half to get within two.
Then the Owls did what they have done all season: Somebody stepped up when they needed it. This time it was freshman forward Khalil Williams who found himself open in the corner for the dagger three-pointer. The Owls were back up by seven with under two minutes to play.
Citrus went on to score the final nine points of the game to defeat Glendale 79-68 at the Owl's Nest.
The Owls won their seventh straight game for first-year head coach Brett Lauer to improve to 22-5 and 7-1 in the conference.
Owls sophomore guard Kenneth Cyprian, who scored a team-high 16 points, talked about Williams' game-sealing three.
"We believe in each other and we know that when that time comes, any one of us can step up in the right moment and make the play," Cyprian said.
Williams, who finished with 13 points, said the team trusts each other offensively and defensively.
"We always pump each other up, even in practice so we just keep each other going, knowing it's just us out there and it's us that gotta make plays and gotta get the W's out there," Williams said.
Glendale shot 54 percent from the floor in the first half, but 14 turnovers to the Owls' three helped Citrus take a 51-37 lead with them at the half.
Vigen Jilizian, head coach of the Vaqueros, said the turnovers hurt them in the first half.
"We don't value it as much as we should and we dig ourselves a hole, but you gotta give them credit," Jilizian said.
Freshman forward Alexios Ziska provided a spark off the bench for the Owls, making three three-pointers in the half.
Citrus got off to a good start in the second half with Cyprian hitting a three-pointer to extend the lead to 17. The Owls extended the lead to 19 before Glendale began chipping away at the lead.
Freshman guard Jordan Matthews led the comeback for the Vaqueros, with 20 points on 10-of-15 shooting.
"He's not going to quit," Jilizian said. "Our guys aren't going to quit, but we just gotta be a little smarter and follow a game plan, which we just haven't been able to do for 40 straight minutes."
Citrus survived Glendale's late push thanks in part to balanced scoring and 38 bench points. Williams said the team-first camaraderie is "awesome."
"If I have a bad night, I know somebody's going to step up for me and if anybody else has a bad night, I'm going to step up for them," Williams said. "We have so many players here that have been outed from different programs, so when we come together, we know our skillset, we know we can do big things."
Williams spent the summer playing in the Drew League in Watts, Calif. The Drew League attracts the best players around the United States, including L.A.-native NBA players like Nick Young, James Harden and Paul George.
"It's very fun," Williams said. "When I get my minutes in, I try to do my best, but it's always awesome to see all types of NBA players and collegiate D-I players, just to play against good talent, it's always great."
Williams and his teammates will host Antelope Valley College (18-9, 5-3) at 5 p.m. Feb. 15.
With the Owls looking to avoid a letdown after seven straight wins, Cyprian said it will come down to how they prepare.
"Have a good week of practice and stay hungry and humble," Cyprian said. "Don't get cocky, too arrogant. Just keep working at it and competing."
---
---