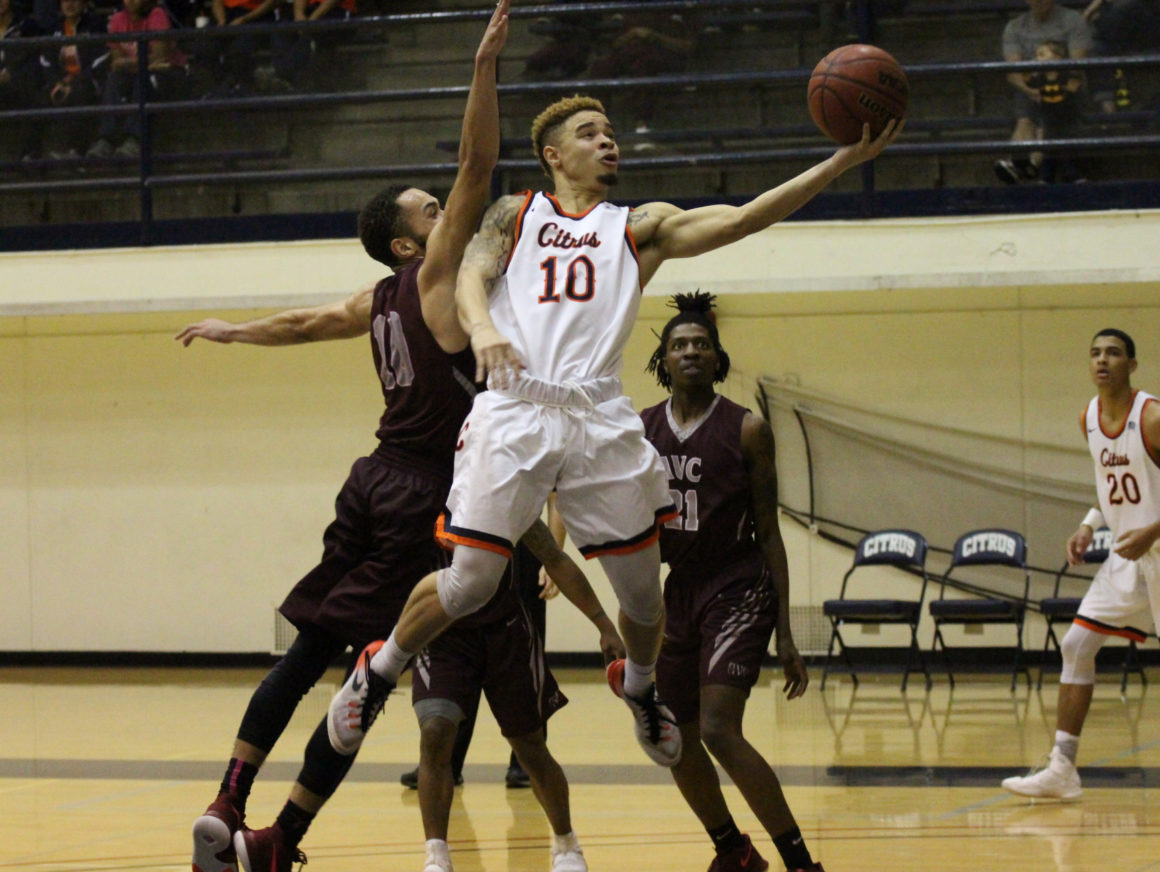 ---
After a successful 23-6 season, the Citrus College men's basketball team earned a trip to the postseason and now face the same reality the other 18 teams who advanced will face: Win and move on or lose and go home.
The Owls will enter their home game Feb. 24 knowing what is at stake. It could be the last time all of the players plays alongside each other. Despite the outcome of the postseason, the players said they have developed a bond that goes beyond basketball.
"It's a lot more than just a game to us now this year," Citrus sophomore forward Tyler LaCour said. "It's a brotherhood, so we want everyone to succeed."
With the arrival of new head coach Brett Lauer, the returning sophomores had a new voice to lead them while also looking to build off last season's success that saw Citrus upset No. 2 seed San Bernardino College in the second round of the playoffs.
Sophomore forward Calvin Martin said this season has been "a lot more fun" and the team is playing together as a family.
The camaraderie of the team was on display during Citrus' recent eight-game winning streak. The bench was vocal and animated in every game. Every shot made was followed with a celebration from the bench.
Lauer has not been afraid to play all 11 active players and the team has bought into playing selfless.
"We are rooting for our brothers," Martin said. "It doesn't matter who takes the shot, we all want it to go in, and we are excited and want that person to take the shot."
Having seen teammates from last season move on to play at the university level this year, sophomore guard Kenneth Cyprian said playing for Citrus "stays with you." After last season, Caleb Richey, Mark Williams and Ryan Wiley transferred to universities to play basketball and have continued to follow the Owls' success this season.
"When you come to Citrus, it is almost like a family bond and it continues and stays with you as you move on to the next level," Cyprian said. "When we move on, we are going to be keeping up with these guys coming up next year rooting for them. I know they are going to be rooting for us."
On the court, Cyprian said he knew this season's team had a chance to be special after Citrus avenged an early loss to San Diego City College and won the Fullerton tournament in the second week of the season.
"We beat a lot of good teams in that tournament," Cyprian said. "Beat Fullerton in their place, we got revenge on San Diego, beat a good Bakersfield team. And you can see how hard we played, how close we were and it could only get better from there."
Citrus finished the regular season with their best record since the 2010-11 season and were awarded the No. 6 seed in the California Community College Athletic Association postseason.
After winning eight games in a row heading into the final game of the season, Citrus had an opportunity to clinch the Western State Conference East division with a road win, but Barstow defeated Citrus 77-74 on Feb. 18. With the Owls' defeat, both teams finished with identical conference records of 8-2, sharing the conference honor.
With four players returning from last season, sophomore guard Donn-Christian Corbin said the team can learn from last season's team that advanced to the third round of the playoffs as a No. 18 seed as they prepare for this postseason.
"Experience is key," Corbin said. "It gives us a head start knowing to go in there, knowing what we gotta do."
In order for the Owls to advance further than the third round, Cyprian said the team has to "come out with great focus and we know what it takes to kind of get to that round and just play together."
With head coach Patrick Johnson stepping down after last season, LaCour said there are similarities and differences to this season's playoff team and last season's.
"This year, it's a much faster tempo," LaCour said. "It's a lot more intense this year than last year, but they bring the same culture."
Cyprian said both Johnson and Lauer brought a lot of energy, so the players could feed off of it and want to compete hard for them.
No. 6 Citrus College will look to keep its season alive when they host No. 10 Cerritos College at 7 p.m. in the second round of the playoffs.
---
---