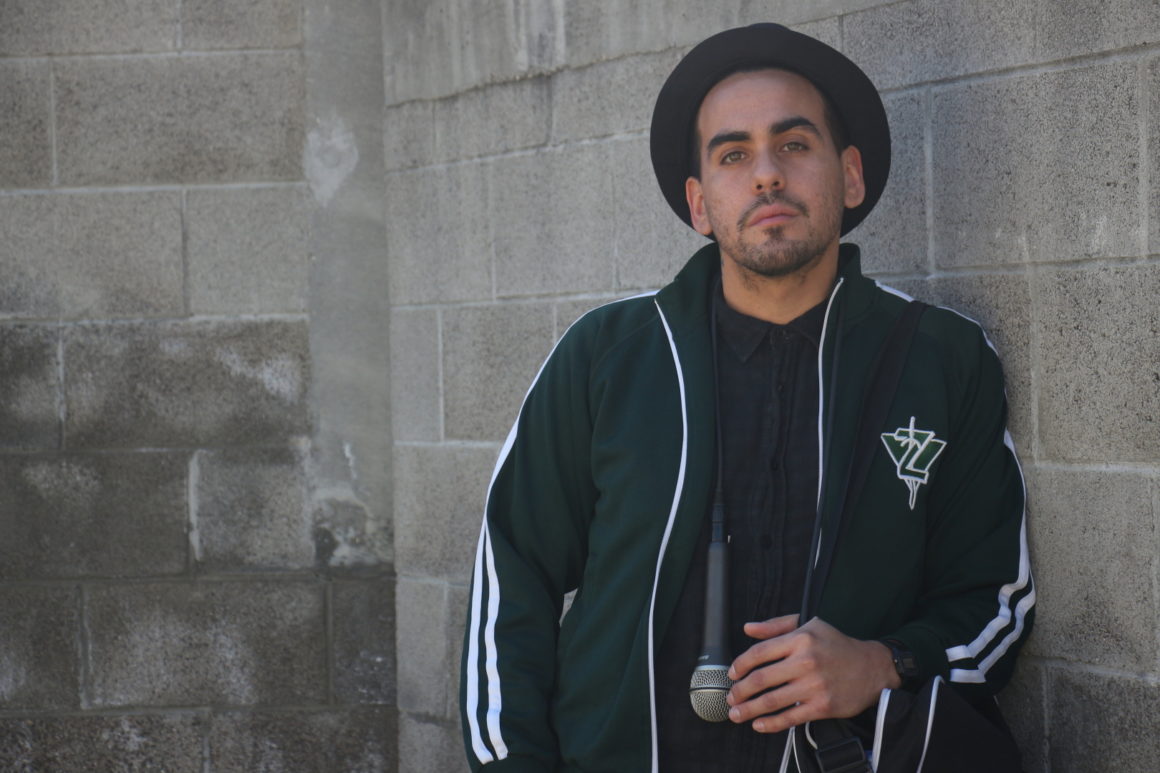 ---
While not only being a student at Citrus, but also working two jobs, helping his community and keeping up his relationships, Mario Gonzalez still finds the time to be an aspiring musician in Los Angeles.
Driven by dedication and a good heart, Gonzalez pursues his passion for music as a hip hop artist. Through his music, he strives to spread his message of struggle and hope to his listeners and the people that enter his life.
Gonzalez utilizes a classic vibe and powerful lyrics to make him stand out in the hip hop scene under the alias Hope.
His fresh, raw sound is reminiscent of hip hop's past. His preference for an unprocessed sound is complemented by a smooth delivery of lyrics that comes with a message of struggle designed to invoke hope in his listeners.
Dedicating himself to his ambitious vision for his music with such a busy schedule demands a lot of dedication.
"Drive and motivation," Gonzalez said is what keeps him going.
Gonzalez finds inspiration in everything he does and the people he keeps close.
"I've managed to keep people around me who inspire me, move me, motivate me to keep going," he said.
Gonzalez also gives back to the people who enter his life and listen to his music, offering his own bit of inspiration.
"I try my best to pay it forward and do the same for those I cross paths with," he said.
Gonzalez's desire to help others synergizes well with his dedication to pursue his dreams despite the challenges he may face. One of those challenges is time management.
"I had to make time where I didn't have time," Gonzalez said.
Not only was his busy schedule eating up his time, it was also conflicting with the schedules of those he was working with.
Gonzalez met this challenge by giving it his all and taking it upon himself to bring the production together.
"That's one of the struggles, managing everything," Gonzalez said. "It's exhausting, but the reward is amazing."
Bobby Arciga, who worked with Gonzalez as his audio engineer, said working with Gonzalez was inspiring.
Seeing Gonzalez manage the project and actively matching everyone's schedule helped motivate his team.
"We all have dreams," Arciga said. "But few really put the work and effort into moving towards those dreams."
The effort that Gonzalez had made on his projects is what drove the production of the "Sunday Blues" EP.
Gonzalez and Arciga have known each other since high school. Though they had different tastes, Gonzalez was impressed with the quality of Arciga's productions.
After wanting to work with each other, but never getting around to it, Arciga started engineering for Gonzalez every now and then after he had worked on a guitar track for one of Gonzalez's songs.
One day Gonzalez came to Arciga with his ideas after Arciga had graduated from the Recording Technologies Program at Citrus in 2013. From there, they started working on the "Sunday Blues" EP.
Gonzalez took a unique approach to his music. He looked at what known artists did in their music and strived to "do the opposite," he said.
"I look at what the audience is urging for and try to come correct in pleasing their need," Gonzalez said.
This led him to using more organic sounds with almost no effects, Arciga described the sound as "raw."
This way of going about his music does not stop at his sound, It also extends to his lyrics. Gonzalez challenges the common concepts and behaviors most other artists promote and endorse in their music with his own.
This helps set him apart from other artists by taking a different stance in hip hop music.
He doesn't stop there with his music. Gonzalez said in his Soundcloud profile description he wants to "give hope to people through music."
The lyrics he writes comes from personal stories in his life and he said he feels his music can reach out to others.
His EP "Sunday Blues" tackles the topics of materialism and domestic violence and how they can damage a person and their relationships. By touching on these issues in his music, Gonzalez connects with the listeners he wants to help.
"I plan to reach as many people as I can, impact people's lives," Gonzalez said.
As the name implies, Gonzalez wants to help those facing these kinds of issues in their lives as Hope.
Ruben Cruz, who helped Gonzalez organize the music video production, said, "He was born to make music, share his passion and provide light to those who are in darkness."
Gonzalez even goes beyond music to help others in troubled situations. He is part of a counseling program called Just Us 4 Youth, based in Pomona.
Just Us 4 Youth works closely with the Pomona School District to offer at-risk youth in their schools and youth in probation mentorship from many people like Gonzalez.
Park West High School is one of those schools. Troubled students are court ordered to attend the school.
"These kids are victims of broken homes," Gonzalez said. "They have so much heart, they are gifted."
By using art and recreational activities and being someone that they can talk to, Gonzalez helps give these youths a better future.
"Kids look at you like 'who are you'," Gonzalez said. "It's pretty tough at first, but once you establish that bond as friends, that's when you can start the healing."
Gonzalez has inspired the lives of many kids through this program and has given them someone to turn to in there time of need.
"The name Hope suits him properly," Cruz said.
Gonzalez can be found on social media at @hopeismusic and @othersideent.
---
---