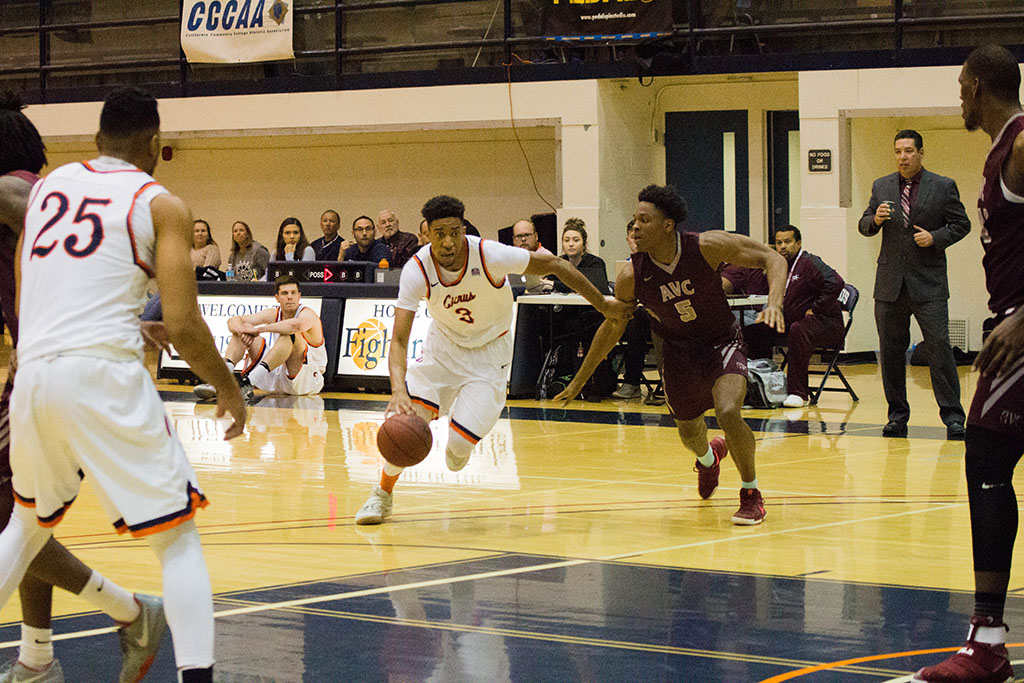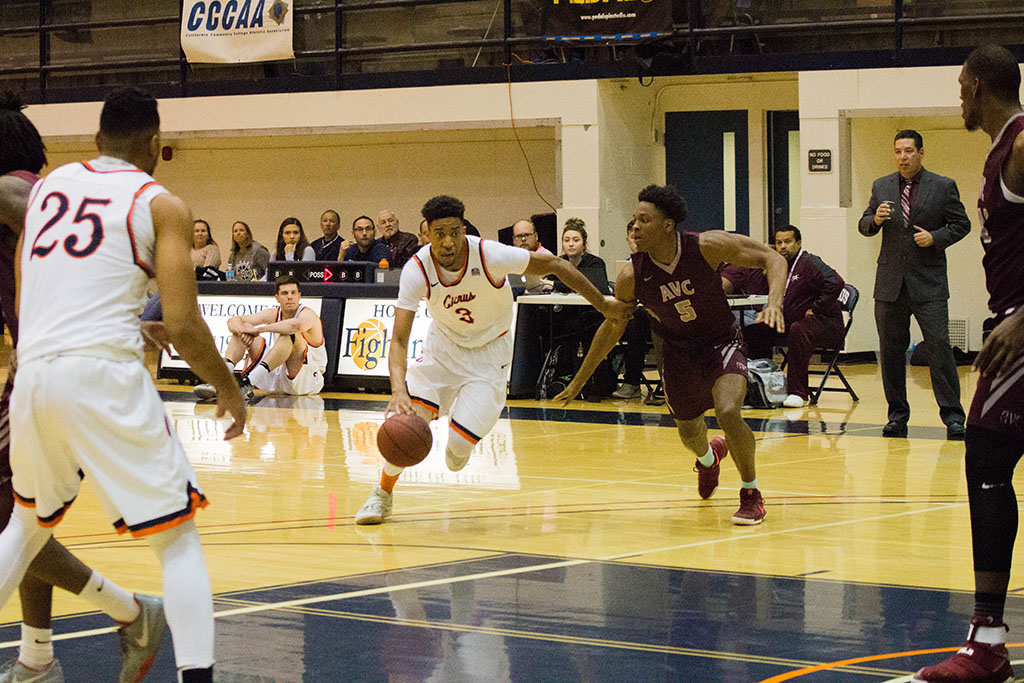 ---
The Citrus College men's basketball team's season came to an end with a third round playoff loss to Antelope Valley College for the second straight season.
This Owls' loss hurt more. Citrus had the home court advantage this time around, the Owl's Nest a daunting place for a visitor to win in the playoffs. The Owls had already defeated the Marauders twice in the season and entered the game having won nine of its last 10.
And with an opportunity to take the lead on two free throws with 13 seconds to go, Citrus freshman guard Jeremy Smith, who shot 85 percent from the free throw line for the season, missed two free throws setting up final seconds of drama.
Antelope Valley raced up the floor and got the ball into the hands of their playmaker, sophomore guard Reggie Byers, who made a deep three-pointer with 1.3 seconds left. A final Hail Mary throw from Citrus freshman forward Andrew Ammann was intercepted and the dream of advancing to the state championships was over.
"We fought our hearts out, but we came up short," first year head coach Brett Lauer said after the loss. "But as a first year head coach, you couldn't ask for a better, more unselfish group."
Citrus thrived all season in Lauer's uptempo style, outscoring opponents 83.2-72.8 en route to a conference championship and 23-6 regular season record.
After defeating Cerritos College in the second round of the playoffs with big performances from sophomore forward Tyler LaCour and Smith, Citrus matched up with Antelope Valley in the brackets again. The two teams had met at Citrus only 17 days prior, an 81-72 Owls victory.
"They were going at us, attacking the rim, aggressively just attacking," Byers said after the loss back on Feb. 17.
This time, it was Antelope Valley who were the aggressor, outrebounding Citrus by a significant 53-33 margin and holding Citrus' outside shooters to 9-for-33 from long range.
The loss was devastating for the sophomores, who were ready to learn from last season's experience and advance further in the playoffs this year.
"It was a tough loss, but I'll never forget these memories we have made together this year," Citrus sophomore guard Kenneth Cyprian said. "It has been a fun ride playing here."
The season did not end the way the Owls wanted, but it was still a successful season in terms of their accomplishments.
Lauer became the third head coach in three seasons and immediately turned a 16-14 team with only four returning players into a powerhouse in the state, winning 77 percent of its games. The Owls were unbeaten at home until the playoff loss to Antelope Valley.
Smith had a phenomenal season, leading the Owls with team-highs of 15.8 points per game and 4.2 assists per game in his first season.
Citrus forward Khalil Williams was another freshman who played a big role in the team's success. Coming off the bench, Williams averaged 9.5 points per game, second on the team 4.9 rebounds per game and a team-high 1.9 steals per game.
The Owls will have at least three new starters next season, as sophomore forward Calvin Martin, LaCour and Cyprian move on.
Cyprian finished the season averaging 12.3 points per game and made a team-high 74 three-pointers.
LaCour averaged 10 points per game and Martin averaged 7.9 points per game and a team-high 8.4 rebounds per game.
Citrus finishes the season with a 24-7 record.
---
---