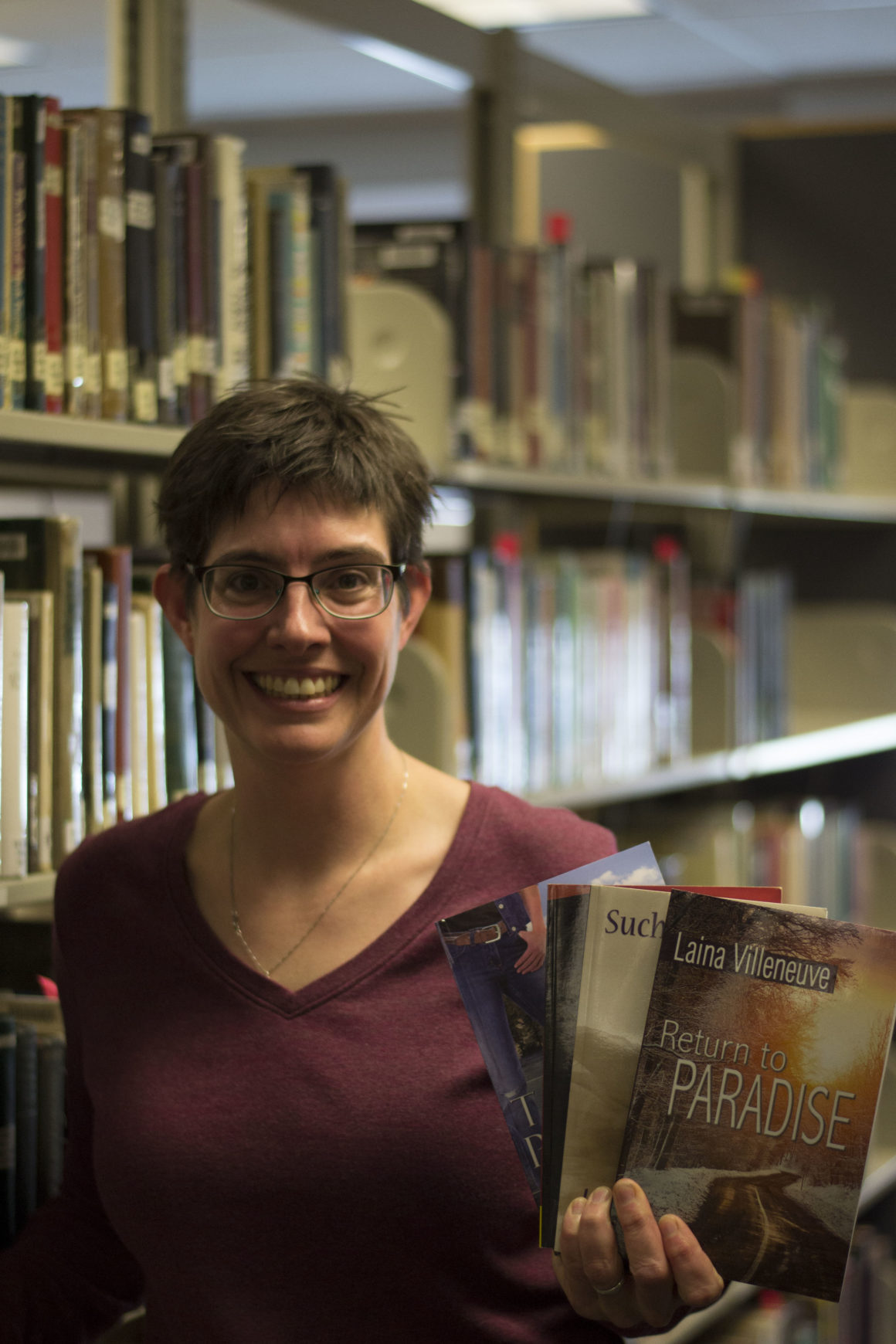 Professor Anna Villeneuve holds up her book "Return to Paradise" and three more of her novels on March 3 at the Hayden Memorial Library. Photo by Michael Quintero / Clarion
---
Before professor Anna Villeneuve's lesbian romance novels reached the shelves of the Hayden Memorial Library, not much from the genre was present at the library.
Villeneuve is an English professor who published her first book, "Take only Pictures," in 2014 under the pen name Laina, a combination of her and her wife's first names.
She and her wife brainstorm concepts and characters together, as well as edit. The past four books and oncoming fifth have been a collaborative effort.
Villeneuve has read "Romeo and Juliet", "Wuthering Heights" and many other books with heterosexual love. As a person she can still empathize with and understand heterosexual characters.
Villeneuve said she does not expect her work to have mainstream appeal, but can see "ripples" it has caused in her community.
"You throw the stone in and you don't know how far it's gonna go," Villeneuve said.
Professor Roberta Eisel, English teacher, has read all of Villeneuve's work and praises them for their storytelling.
"I don't think it gets in the way for readers who don't happen to be lesbian," Eisel said. "I think there's enough adventure in there, it didn't read like only romance or only lesbian romance."
Villeneuve has received feedback on her books from colleagues at Citrus College and said she feels lucky to be in the community she is in.
"Not only did I find gainful employment in my field right after I got my AS, I've also unexpectedly gained from my community college emphasis in this book 'career' I have going now," Villeneuve said. "I owe a lot to my community college degree."
Malinda Lo, an author and co-founder of Diversity in YA, estimated that mainstream publishers are releasing more LGBT+ young adult novels. Lo found that there had been a 59 percent increase of LGBT+ books from 2013 to 2014.
Heterosexual main characters and romances still dominate in literature, but there are authors determined to make their fiction more diverse and include LGBT+ characters and their struggles.
Villeneuve was published by Bella books, a "close-knit" publishing company that specializes in lesbian romance. Authors on the Bella books website will read each other's work and offer advice.
"If you can reach out to people who write the same style, most authors are really, really open to say, 'here is some advice'," Villeneuve said.
Writing novels is a hobby for Villeneuve, but her career as a teacher and her family comes first. She reads fantasy novels to her 9-year-old son and goes on family vacations over book fairs.
Although she has an interest in creative writing and women's literature, Villeneuve has no current plans to teach either class because she feels that the current professors handle them well and new faculty should have their chance to teach such courses.
Villeneuve does occasionally make an appearance in other classes as a guest author and teaches classes related to creative writing off campus. She recently taught a class at the Golden Crown Literary Society conference, which is for LGBT+ writers. She has also visited the California writer's club to host a class on how to revise a book.
Her background in journalism, riding horses and teaching has inspired content and affected her method of writing. Due to teaching children's literature, Villeneuve is considering branching into writing fantasy in the future.
As an author, Villeneuve has experience with editors and heavy criticism, which she said she believes has improved her sensitivity while grading her students' work. She seeks ways to give helpful criticism that does not make the recipient defensive.
Villeneuve is currently editing her fifth book, which is tangentially related to her previous stories, meaning past characters may make an appearance.
She intends to be more inclusive and diverse with her characters in her newest book.
All of Villeneuve's books can be found at www.bellabooks.com. Copies of "The Right Thing Easy" and "Take Only Pictures" can be checked out at the Hayden Memorial Library.
Villeneuve will be doing a book reading at The Ripped Bodice in Culver City on June 11 for Pride Week.
Correction 2:33 p.m. 3/24/17: The cutline has been updated, acknowledging professor Villeneuve is holding four of her novels.
Correction 2:39 p.m. 3/24/17: The first paragraph has been reworded after originally appearing as if Villeneuve advocated for her novels to appear at the library. Villeneuve is thankful to Citrus College for not having to hide who she is or what she writes, she said in an email.
---
---