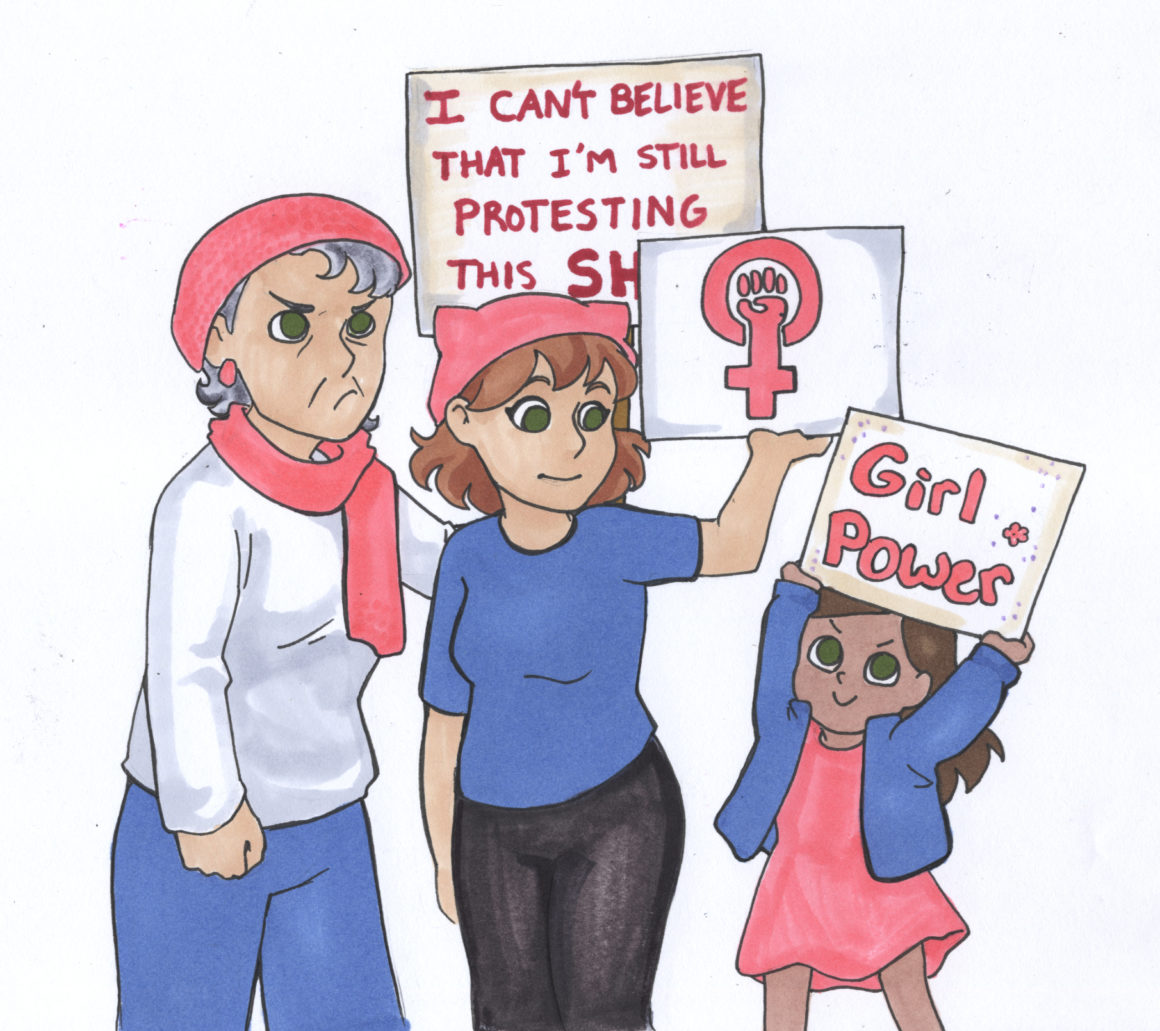 Illustration by Emily Hermosillo / Clarion
---
"HEAR OUR VOICE" is the last line of the official mission statement of the Women's March and on Jan. 21, that voice was projected loud and clear across the country and the world. The outpouring of support for civil rights that have followed every regressive action taken by the President Donald Trump administration since the Women's March suggests that it signaled the beginning of a greater politically aware and active culture.
Though there has not been another gathering like the Women's March since, the organization has called for continual individual political action, 10 Actions in 100 Days, hoping to inspire grassroots political involvement.
Officially, the Women's March organization called for a nationwide strike where women were encouraged not come in to work on March 8, A Day Without a Woman, to specifically show unity behind women and minorities through economic protest. It is important to note that March is also Women's History Month and any action in support of women serves to further the fight for equal rights.
While the Women's March on Washington was a single day event, the spirit of the rallying protest is nothing new to this country. In fact, the grassroots movement owes its name to the march on Washington D.C. where Dr. Martin Luther King Jr. gave his "I Have a Dream" speech.
The day after Trump was sworn into office, the Women's March drew civil rights protesters, activists and supporters in the millions out onto the streets of the U.S. and abroad. The contrast of these protests in relation to the inauguration just prior, made it decisively clear large swathes of the country would stand for women's rights, progressive stances and social equality.
The global movement was in direct response to the election of Trump. For many Americans, he represents a legitimization of socially regressive stances that seek to impose upon the rights of our people and the well-being of our country.
It is unsurprising, then, that it was America's women who led the march under this banner. Throughout the president's entire candidacy, Trump continually let his toxic opinion of women be known. From shaming Fox News anchor Megyn Kelly for a perceived debate slight, to being implicated in multiple sexual assault cases himself, Trump's persona has been that of chauvinist, never once atoning for his damaging rhetoric against women.
Although the Women's March stood for justice in the inequality faced by all marginalized people, it is important to keep in mind the many obstacles women continue to face. Unequal pay, the rampancy of unpunished sexual assault, the debate on pro-life vs. pro-choice, and stagnant traditionalist views of a woman's place in society are issues that plague women in our nation today that have real consequences for their prosperity.
The urgency and legitimate fear that many women and our other marginalized communities feel in today's social atmosphere must be paid heed by all Americans. These communities feel anxiety in the direction we seem to be headed, justifiably so, as discrimination has always been a reality of our country.
To those of us who may not experience impactful social biases, we must be willing to understand these real anxieties to better assist those fighting for equal treatment.
The legacy of the Women's March on Washington must be a continuing movement in support of civil rights and progressive platforms. America must come together and let it be known that these causes are of the utmost importance to our health as a people and a nation.
As reported by the United States Election Project, in the 2014 midterm elections only 35.9 percent of the country turned out to vote, resulting in a GOP majority in the House and Senate. Grassroots progressive movements must institute politicians by the people, for the people and we must remember to take our politics seriously on a local and federal level each election cycle.
If there is one lesson to be learned from the Women's March day it is that we cannot only rally together on one day to achieve true equality for the women and marginalized citizens. We must continue to vote, protest and voice support in favor of all America's women and marginalized to attain equal treatment and representation for these communities.
Written by Malcolm Castelli, with approval of the Clarion Editorial Board.
---
---