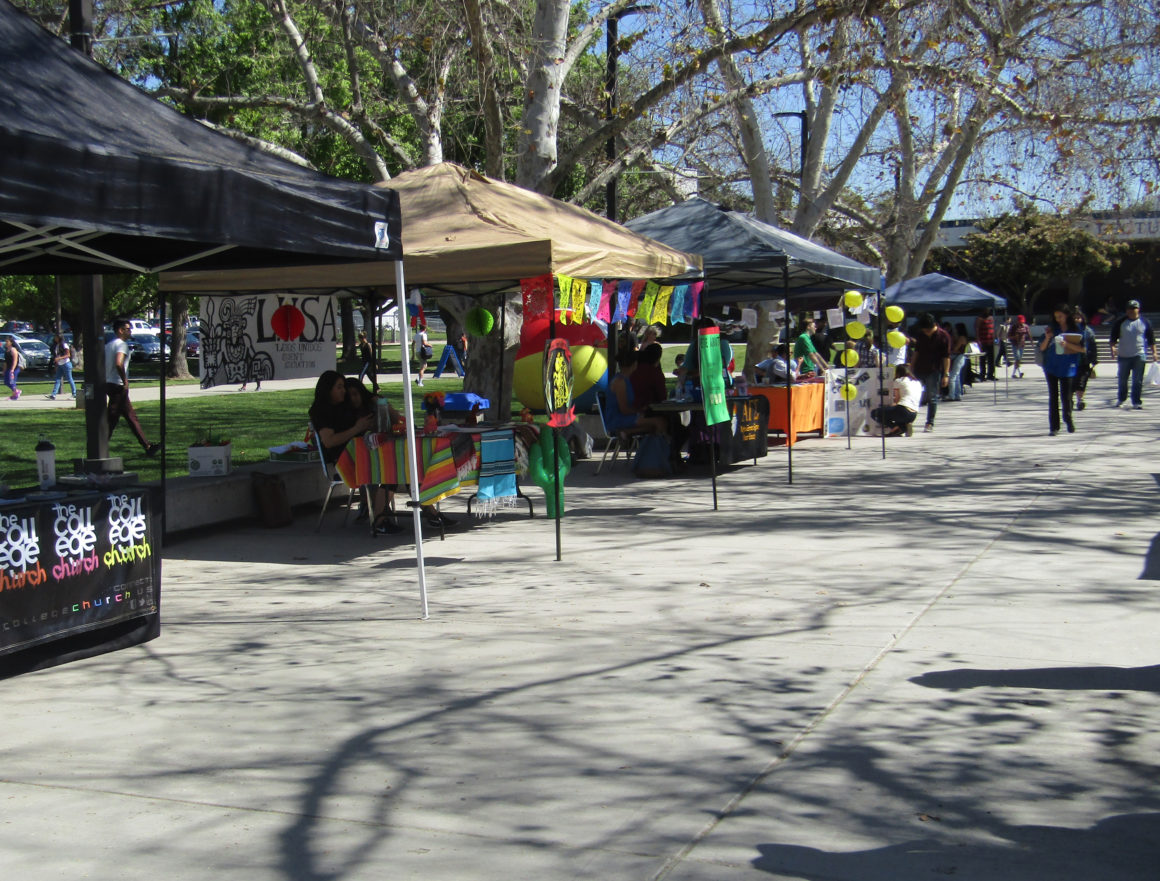 More than 20 student groups participated at Club Rush with decorated booths to promote their clubs on March 13 at the Campus Center Mall. Photo by Adriana Aguilar / Clarion
---
More than 20 student clubs participated at Club Rush to promote their clubs, encouraging students to join on March 13 and 14 at the Campus Center Mall. The event is held every spring and fall semester.
Club members answered students' questions about their clubs at booths decorated with the intent of drawing the attention of passing students. The club theme for the spring event was "Game of Thrones."
From the Gamers Guild Club, a club for table-top board gamers and UNO tournaments, to the Swing Club, teaching the fundamentals of swing dancing, students had a variety of clubs to discover at the event.
Each club had a different focus. From educational clubs to hobbies, cultural clubs, religious and political clubs, students had the option to meet people who share a similar passion as them.
Armando Medel, a member of the Latinos Unidos Students Association club, encouraged students to join a club.
"I wanted to be a part of a club because a club is enrichment, personal enrichment," Medel said.
LUSA is a club for educational culture enrichment that meets from 3:30 p.m. to 4:30 p.m. every other Tuesday in SS 165. The club helps support DACA students and works with Azusa Mayor Joseph Rocha to help out in the community.
The Citrus College Real Estate club was created to teach students about the home-buying process and provide information on their real estate career options.
Kendrick Kim, faculty advisor for the club, said he started the club along with students because he saw a "need from the real estate department to talk to the general public about the home-buying process."
The club meets from 3 p.m. to 5 p.m. every Thursday in the Fishbowl at the Hayden Library. The club plans to have a spring home fair on April 23, where Federal Credit Union will collaborate with the club with guest speakers in attendance.
The College Church Club meets at 1:15 p.m. every Wednesday with live worship and a service on campus.
Citrus student Damian Diaz said he wanted to join the College Church Club because his "passion is reaching out to people."
The Native American Student Association educates students about Native American cultures, as well as bringing awareness of ongoing issues Native Americans face.
"I wasn't too immersed in my culture, so I used the club as an outlet to know more about my people, to not be in the dark about them," Isabella Reyes, N.A.S.A. member, said.
The club meets from 11:30 a.m. to 1 p.m. every Thursday behind the ED building.
---
---