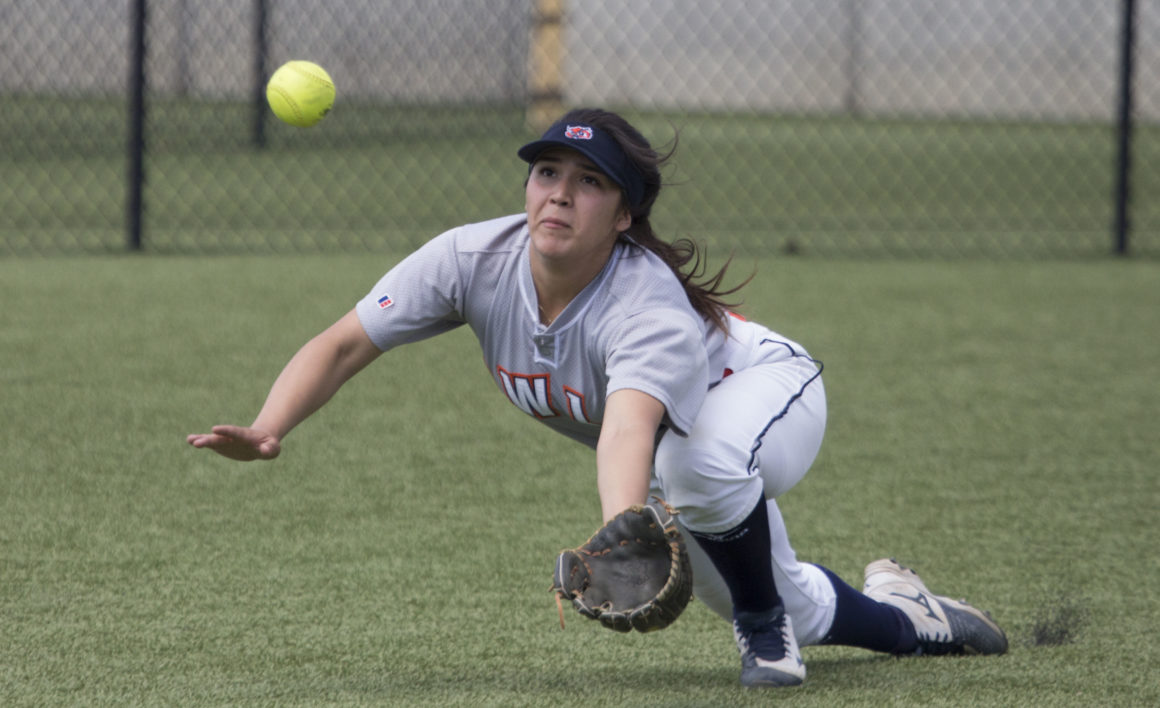 Citrus freshman outfielder Seanna Jimenez attempts to make a catch in the outfield in a 9-1 victory over Glendale College on March 23 at Citrus College. Photo by Edward Ramirez / Clarion
---
The Citrus College Owls softball team defeated the Glendale College Vaqueros on March 23 at the Nest.Citrus came into the game with the better record (11-7, 1-1) to Glendale's (4-9, 2-2) and were in control from the beginning.
The Owls played calm the entire game, which head coach Jackie Boxley said was the reason for their victory.
"We're better when we're relaxed," Boxley said
The Vaqueros had a tough time against the Owls, unable to score in the first three innings.
Glendale head coach Sal Pizzo said errors hurt the team in the loss.
"We couldn't catch the ball," Pizzo said. "Obviously when you make eight errors, you're not gonna be in any game. It's frustrating when most of those players were pretty routine, so that's what did us in for sure."
Sophomore catcher Celina Spathias hit a double in the bottom of the first, bringing in freshman outfielder Seanna Jimenez to put the Owls on the scoreboard first with a 1-0 lead.
Freshman outfielder Valerie Ortiz ran batters Jacquelyn Preciado and Jimenez in before Molly Montell hit a single with bases loaded, scoring Ortiz.
With bases loaded again, freshman infielder Jocelyn Alvarado hit a single to score sophomore outfielder Jade Nua, putting the Owls on top, 5-0.
In the bottom of the third, Ortiz hit a single, bringing Karissa Martinez in to score to make it 6-0 before heading to the fourth inning.
Freshman shortstop Aneyda Flores scored the first run for the Vaqueros in the top of the fourth off a double from freshman outfielder Daisy Gardea.
With bases loaded twice in the fifth inning, Ortiz, Spathias and Alvarado all scored to end the game 9-1.
When it comes to improvement Coach Sal said he knew what his team was going to work on for their next game.
"Definitely defense, but I think when you make routine errors it's more about focus than fundamentals."
Boxley credited Ortiz for leading the team to victory with two runs, two hits and two runs batted in.
"Valerie was killing it and tore it up," Boxley said.
Ortiz, who led her team to victory said she was not overthinking her strategy when she was at bat.
"I didn't really have a game plan," Ortiz said. "I was just going through the motion, trying to get runners in. It's good to get runners on base, that's my main focus."
Citrus will play a makeup game at 1 p.m. on Friday, March, 24 at the Nest against Pasadena City College (16-7, 4-1), whom the Owls have had a tough history with in their last few meetings.
"I told the girls that they beat us in the last two years, but we're gonna take care of business here, because it's our house and we're gonna defend our house," Boxley said. "We just want to come out and play hard."
---
---