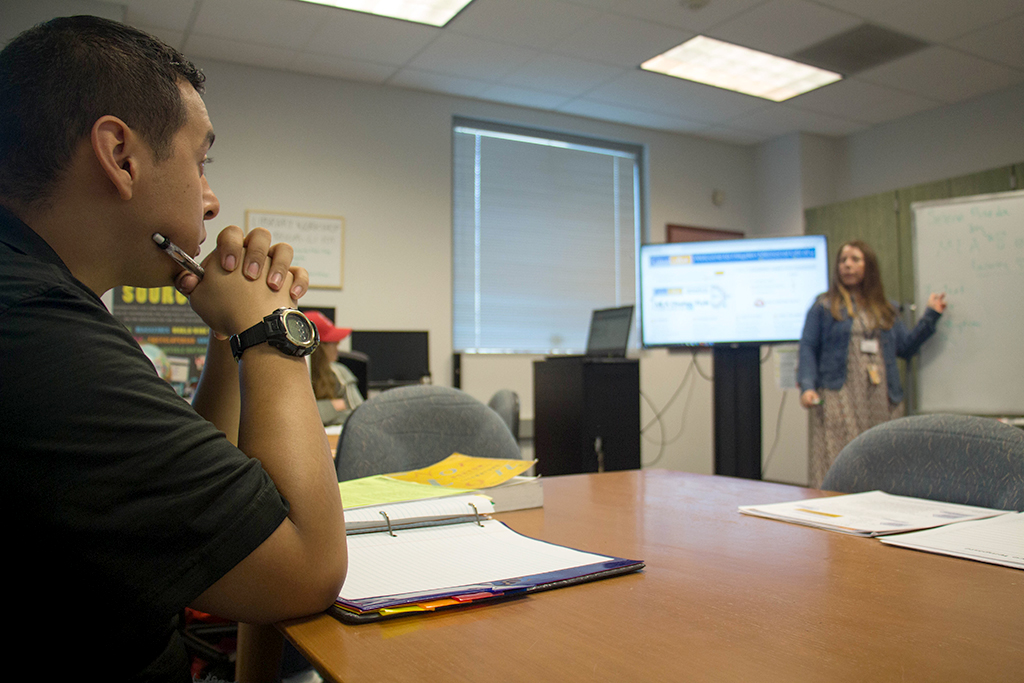 Citrus student Michael Vasquez listens during librarian Selene Pineda's MLA workshop lecture on April 4 at the workshop room inside the Hayden Memorial Library. A variety of workshops are available to students during the spring semester. Photo by Robert Delgado / Clarion.
---
One of the largest resources available to Citrus College students on campus is the Hayden Memorial Library.
In this study haven, librarians provide a variety of workshops during the semester.
The workshops take place at different days of the week and times, so it is easier for students to find time in their schedule to attend the workshop they want or need.
Workshops are hosted to help students with writing assignments by teaching them how to correctly cite and find sources according to required styles and to avoid plagiarism.
In contrast to 2016, workshops are only going to be provided during spring and fall due to the lack of student equity funding this year. This is an 80 percent decrease in workshops offered from fall online education and technical services, Selene Pineda, librarian, said.
The type of workshops they offer are based on what students ask the most when librarians are helping them and by faculty recommendations based on student needs, Pineda said.
"Since many students were asking about different types of workshops, including resume and career ones, we have partnered with career counselors to offer career workshops at the library since we do have space for it," Pineda said. "The career counselors facilitated few resume workshops last fall and they will be offering more career workshops this semester at the library."
Students can also make suggestions of what type of workshop they would like to take by either going in person to the reference desk or online via email or chat on the library homepage, Sarah Bosler, public services librarian, said.
"Students usually have questions on citations plus they usually get extra credit for attending," Pineda said.
Professors such as Dale Salwak have offered extra credit for going.
Pineda said based on surveys conducted last year at the end of each workshop, as well as verbal feedback, student response was positive, saying that the workshops are helpful.
"(Students) asked that we offer them at a wider variety of times and days, different days of the week, more in the evening, etcetera,"
Bosler said. "In the past, we tried to offer them at varying times, but with limited faculty available to teach them, the schedule is limited."
Students can find the workshop schedules at http://libguides.citruscollege.edu/library.
---
---