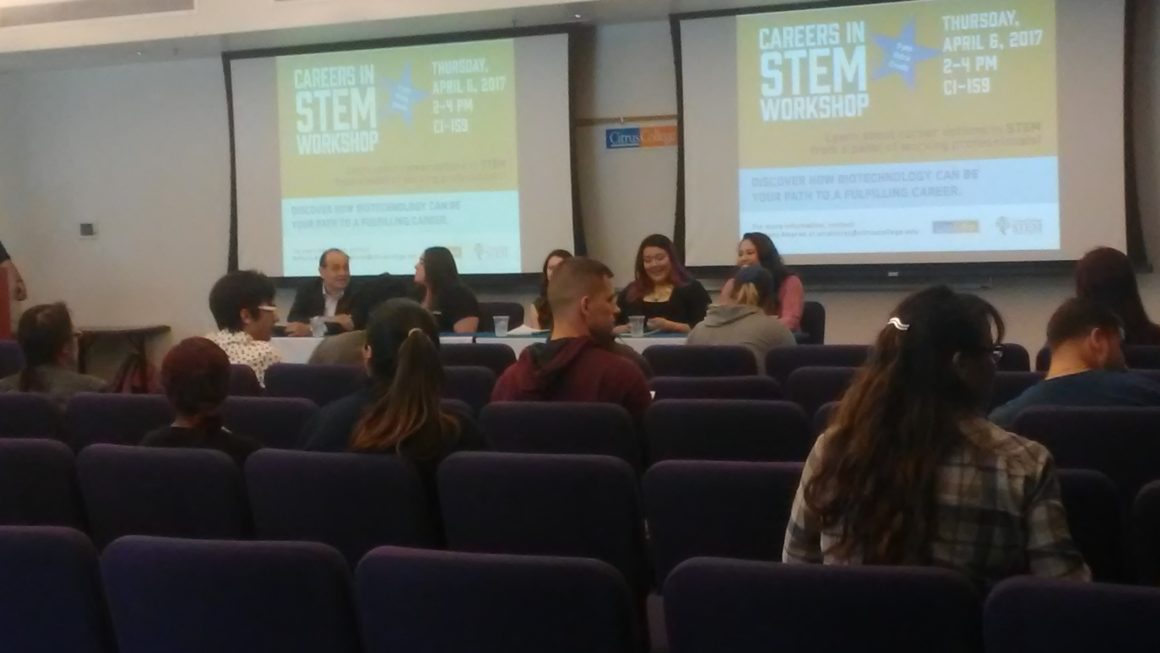 Panelists consisting of Citrus graduates answer students' questions about the Citrus College STEM program on April 6 inside room CI 159. Photo by Adriana Aguilar / Clarion
---
Citrus held a STEM workshop for students to hear panelists discuss various career opportunities with the STEM program on April 6 inside room CI 159.
The panelists consisted of Citrus graduates who had taken the Citrus College STEM programs.
The panelists were Yvonne Murillo from Grifols Biologicals Inc., Rachel Goodwin from Prolacta Bioscience, Mikaela Gutierrez from Eurofins Eaton, Willie Zuniga, who is the president at Grifols, and Karla Kizuka from Oak Crest Institute of Science.
The panelists explained what skills will help students with their future career in various STEM careers.
"If you plan on pursuing a career within biotechnology or anything of that sort, I suggest that you remember that you are your own advocate," Gutierrez said. "If you want to make yourself learn, you have to make sure that you put yourself out there to make yourself learn that."
During the workshop, each panelist had a turn to present their jobs to students as examples of careers that are available at their work site and also for anyone who is in STEM.
Students were told that someday they could work at these various types of jobs if they pursued a career in STEM.
The panelists described what work life was like at their jobs and what they did on a regular day at work. The panelists talked about the paths they took from the college education they received at Citrus to where they are now at their careers and on to their plans for the future in regards to their careers.
The panelists had the students come up to them with questions in regards to the interview process and what it took to work with a company like theirs.
"I honestly believe that if people are willing to work with you, they are willing to work for you and I follow that phrase," Zuniga said. "We literally are interviewing every single day at school, at home, at a restaurant, because you never know who your next boss is going to be."
Students asked questions about how fast it takes to advance in their careers at the jobs they thought of pursuing, how fast paced or slow paced each career was and if it was a job where they worked alone or with others, as well as personal questions that were more related to a specific career or careers.
"I started with more than just the basics, I started with general knowledge," Gutierrez said. "Because of the program, I was fully equipped. Definitely take advantage of all the opportunities you have here at Citrus. I had no clue I was going to be as well prepared as I was within the program. Students are taught a lot about big equipment and various skills and knowledge that they don't get at other schools here at the STEM programs at Citrus College. Starting the program has really helped me to see what the job will be like this program, the STEM program will one hundred percent fully equip you or an industry,"
The panel discussion ended with the panelists concluding that a career in STEM has many opportunities.
"I was already headed down the STEM path and the workshop solidified that once you choose a STEM career you can hear of other opportunities too," Citrus student Brittany Garcia said. "I liked that the workshop was very interactive, giving people time to ask questions and ask the president of an international company, Willie Zuniga, questions as well about opportunities at Grifols. It was a huge thing for students to learn about the options and it was really encouraging."
---
---