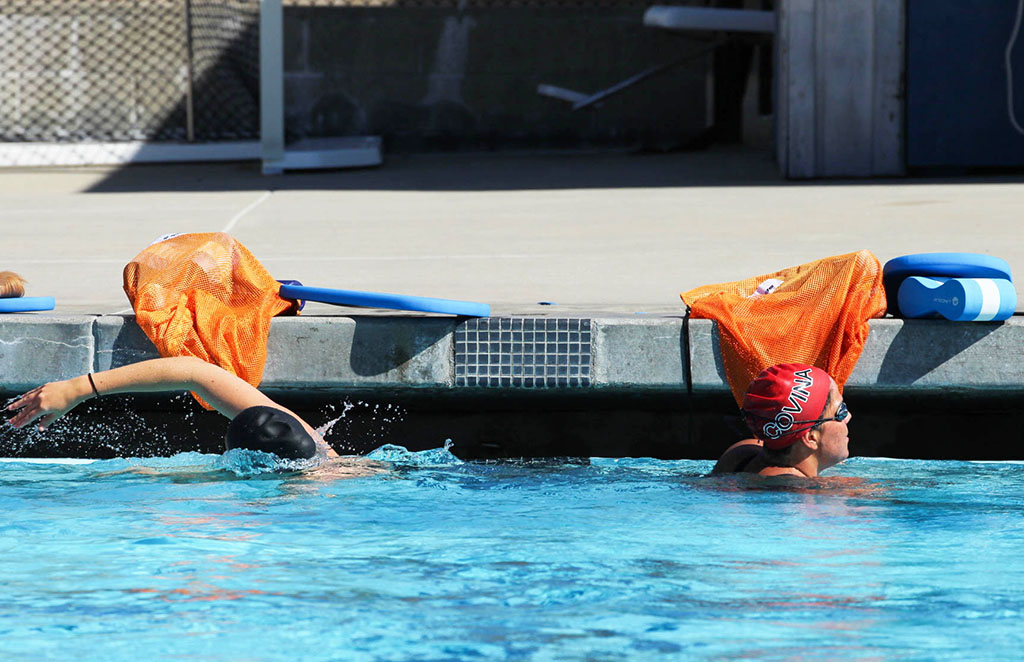 ---
In April 2016, the Citrus swim team needed a solution after a disappointing season.
One year later, first season head coach Jennifer Spalding became the answer as she transformed a struggling roster into an ambitious team. Spalding's intense practices and prevalent motivation provided hope to a young team.
The 2017 swim season officially ended during conference championships in Santa Maria on April 20-22. The Owls went from ninth place to fifth place and scored 315 points at conference, 140 more points than last season.
Spalding's rigorous training during the majority of the season and taper during the last weeks before conference prepared the team for the three day meet.
"Our regular training is usually 10,000 yards at practice each day," Spalding said. "With tapering, we go as little as 2,000 to 3,000 yards heading into conference."
The most noticeable improvement was the amount of time dropped from each individual swimmer. Freshman Saara Zigic swam two individual events and two relays during conference. Zigic dropped 10 seconds during one of her individual events, the 200 breastroke with a time of 3:04.46.
She said she dedicated her impressive feat to all the hard work and effort she put into the sport.
"I had the determination to do the best I could during championships" Zigic said. "The support, enthusiasm and tapering during the last few works have helped immensely."
Zigic's teammate freshman Megan Card swam a total of six events during the final meet of the season. Card swam the 200 backstroke and made it back to finals placing third with a time of 2:20.96. Card said support was the leading factor in the team's success.
"I love my voice from cheering on all my teammates" Card said. "We all support each other. You need that cheering to push you to go faster and try harder."
Spalding's coaching expertise created a positive impact during a short amount of time.
"It's been fun watching them drop so much time" Spalding said.
Although the 2017 swim season has concluded, the Owl's have a bright future ahead. After one year of Spalding as head coach, the swim team's momentum indicates ample success in seasons to come.
---
---