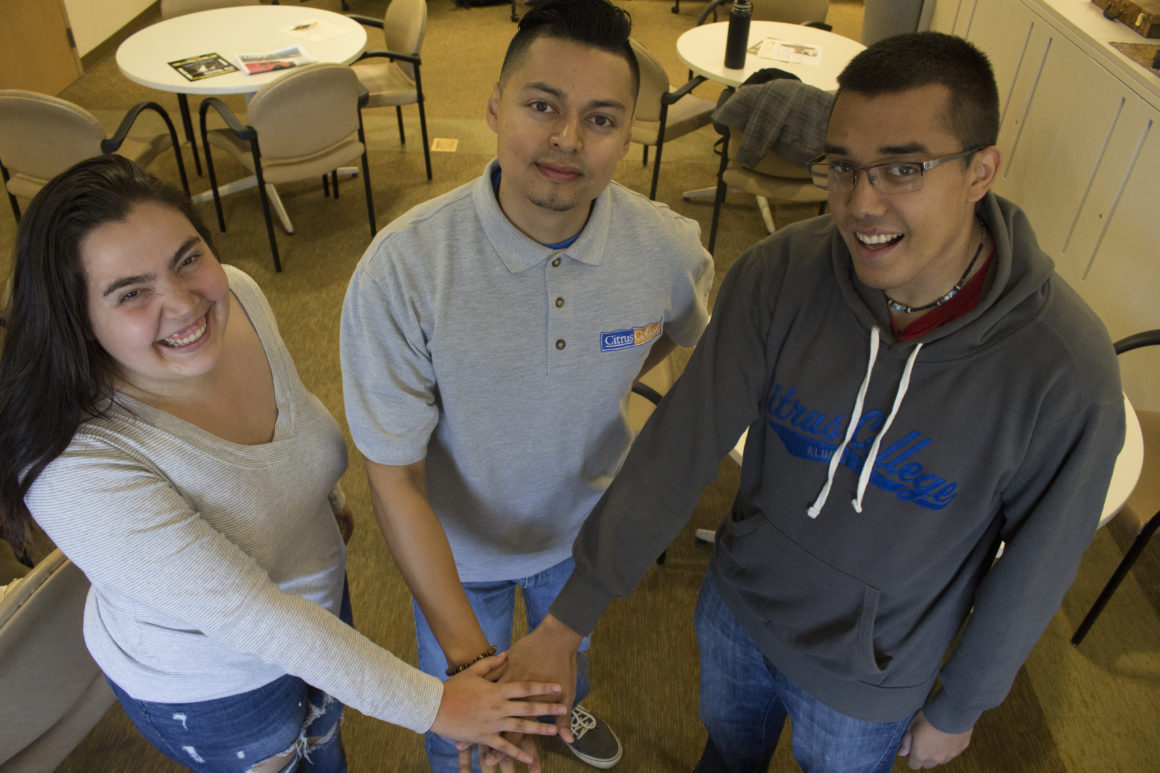 (Left to right) Phi Theta Kappa President Beatriz Santos, graduate student intern Angel Cruz and PTK and program coordinator Alex Bazaar are the founders of the Peer-Friendship program. The three created the program to develop relationships between international students and honor society students. Photo by Rosi Di Stefano and Megan Bender / Clarion.
---
Peer-Friendship program is an International Student Center and Honors Program collaboration that consists of bringing international students and residents students in the Honor Program to cultivate personal friendships with one another and gain benefits for both sides.
"It's kind of hard for us to build friendships with American students, because there is not a connection," Angel Cruz, a graduate student intern, said he heard from international students. "We try to build sense of belonging on campus, but we really don't know how to."
Phi Theta Kappa students must do a "College Project" every year, a service program in association with the college administration. The Peer-Friendship Program was created by Beatriz Santos, president of the honor society PTK and program coordinator Alex Bazaar.
"I know it must be hard to venture to a foreign country," Bazaar said. "They might feel lonely or homesick, they have to learn the culture and the language. The Peer-Friendship Program looks to make it easier for them and at the same time give them a friend to break the ice with, and also, provide resources and information that would help their educational journey."
Both Cruz and Santos explained the benefits for the international student and the resident student, saying that interacting and developing a friendship with somebody from a completely different culture would be a learning experience that not everybody is exposed to.
As of right now, there are 13 honor students working as mentors, each one of them has one mentee.
Santos said there is a particular mentor/mentee relationship that she has seen developed as a strong friendship.
"Brenda and Dulce, they formed a really cool connection, and that's kind of the goal of it, if two out of the 10 pairings we make become actual friends, that is kind of a lot, is hard to find somebody that you can come across and become really good friends with".
Brenda Cuadros, an international student from Peru participating in the program, said the Peer-Friendship program helped her to understand the American lifestyle and college life through her mentor, Dulce Alvaro.
"I feel very fortunate having Dulce as my mentor, from the first day, she helped me feel welcome," Cuadros said. "She would always keep me updated with the events, she assists me organizing my schedule and advises me with classes and professors. We always go out and have fun. We went to Universal Studios together on spring break, for example."
Cuadros said she would recommend the program to other international students because they can have good experiences and meet people like her mentor, Dulce, that later could turn out to be your best friends.
At 12 p.m. on May 10, the Peer-Friendship program is going to have an event called "The Scholars of Tomorrow," where they are going to be providing more information about the program and also about the Honors Program and Honor Societies.
The event is taking place at the International Student Center lounge located in the SS building.
---
---