---
Blackboard Learn has graced the computer screens of Citrus College for 15 years. This summer, Citrus will integrate a new learning platform.
Canvas Learning Management System is a learning platform that serves 90 out of 113 California community colleges.
California's Online Education Initiative named Canvas as the top choice by community college students, faculty and administrators.
With Blackboard's contract expiring at the end of this semester, Dean of Social and Behavioral Sciences Dana Hester decided to move to Canvas.
"The government and state legislature partnered with OEI to fund colleges who would switch to Canvas for free for two years," Hester said.
Furthermore, Hester said that if Citrus did pay for Canvas, it would still be 50 percent less than what was being paid for Blackboard.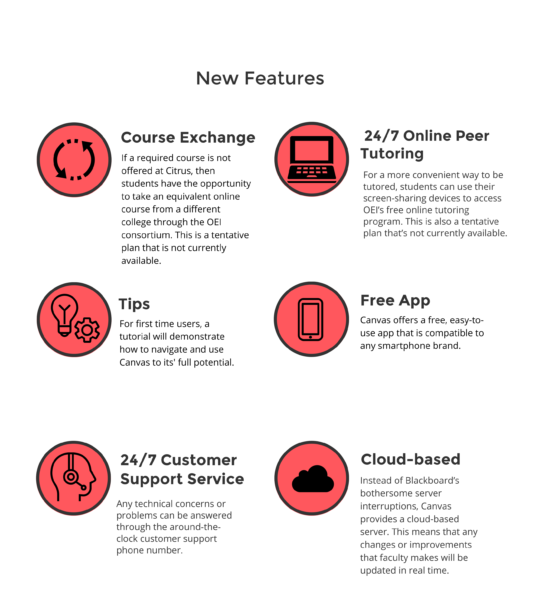 "We're excited about this because we have this body of experience from colleges around the area, such as Pasadena City College, who've gone through the transition from Blackboard to Canvas," English professor Beverly Van Citters said.
Hester said though Canvas has similarities to Blackboard, the features are easier for professors to use for distance education classes.
"It has all of the same features that Blackboard does, the grade book and discussion boards," Hester said. "But with online courses, the technology is much easier for faculty to use.
"If a faculty member has dates attached to the course schedule that they would like to set up, it would all have to be done individually on Blackboard," Hester said. "So, if you made a date change in the calendar then you'd also have to make it in the syllabus and then you'd also have to find where it was in the module."
On the other hand, Canvas is more intuitive in which it automatically updates everything related to that date change.
"The support from Canvas is much more comprehensive," history professor Senya Lubisich said. "You are able to do more robust things."
For instance, in Blackboard, Lubisich said that it takes her about a day and a half just to change dates and transfer her coursework from one semester to another.
To test Canvas, she timed herself to see how long it would take her to do the same thing.
"I imported my content over and Canvas had a little button that let me adjust the due dates," Lubisich said. "So, in 60 seconds, my entire course was copied over along with all of the tests and assignments that was moved and adjusted."
One difficulty that Van Citters noticed from her students was the fact that they could not access Blackboard's discussion board through Internet Explorer.
Alternatively, Canvas is compatible to mostly any search engine.
"That sounds awesome and I can't wait," business major Megan Bunda said. "I struggle with the fact that Blackboard was noticeably slower when I use Google Chrome."
Another frustration she has is with Blackboard's app. The app often defeats its own purpose: to notify students.
To prepare for its debut, Hester said administration is aiming to give professors their new course shells this month in order to make Canvas available this summer.
---
---