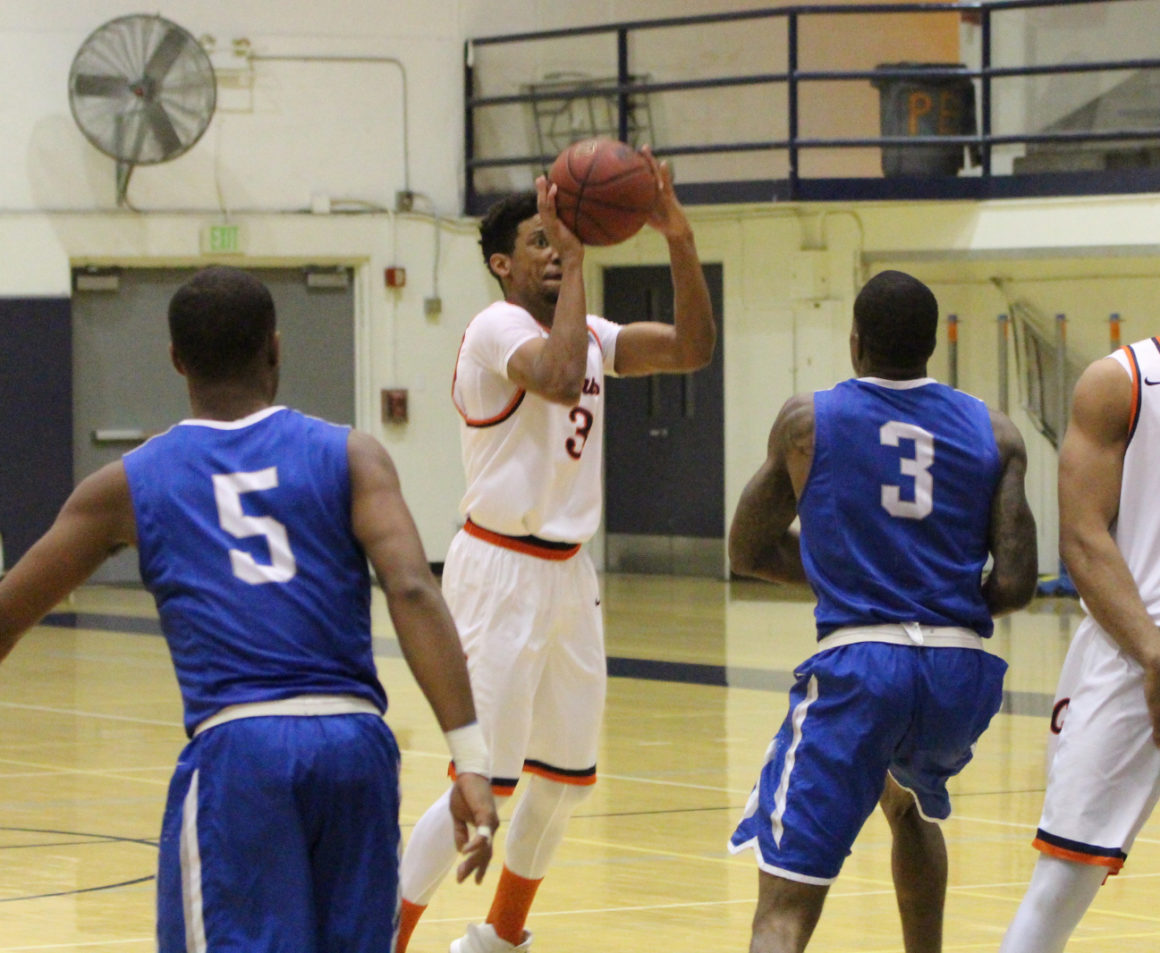 ---
After a 24-7 campaign and third round finish for the Citrus College men's basketball team, four players earned scholarships to continue playing basketball at the university level.
Kenneth Cyprian, sophomore guard, and freshman forward Khalil Williams earned scholarships and will transfer to California State University, Los Angeles.
"To begin a new chapter in my life with someone I've built a tremendous bond with is pretty amazing," Williams said. "Our chemistry will show when we play with each other on that Cal State L.A. basketball court."
Sophomore forward Calvin Martin will transfer to Sacramento State University and sophomore forward Tyler LaCour will transfer to Concordia University.
Williams and Cyprian will bring Cal State L.A. the experience of having played around NBA talent.
Cyprian played at Chino Hills High School alongside this year's NBA top-three draft prospect Lonzo Ball for two years.
Williams will return to the Drew League in the summer, the recreation league in Los Angeles that has attracted NBA players such as Paul George, James Harden and Nick Young.
"To be around so many talented players from different levels is good," Williams said. "The Drew League will either make you or break you."
With players in the NBA like Cal Poly San Luis Obispo and current Laker David Nwaba and California State University, Long Beach's James Ennis, the two Cal State L.A.-bound players look forward to the opportunity ahead of them.
"I know it'd be one hell of a story," Cyprian said. "But I also know it's extremely tough to get to the NBA. I would be undrafted, mainly because I'm at a D-II school, ball out at summer league and then ball out even more to make it to training camp and survive roster cuts along the way."
Williams said the thought always runs through his head.
"I always think, 'What if?'" Williams said. "This is why I'm working so hard now to see if I can be that 'next guy.' It's definitely a dream of mine so I'm working towards making that dream a reality."
In the short term, Cyprian, who plans to major in communications with an emphasis in broadcasting, and Williams, who plans to major in kinesiology, are both focused on the upcoming season.
Cyprian said the recruiting process was an exciting period for him and his family. After visiting the campus and meeting the coaches, Cyprian made his decision.
"I just took the recruiting process a day at a time, talked it over with my family and close ones and then prayed about it," Cyprian said. "Came away with Cal State L.A. being the best place for me on and off the court."
Cyprian plans to add five pounds of muscle to his 6-foot-4-inch, 185-pound frame. He also plans to work on his  athleticism and improve his ball-handling and shooting.
Cyprian finished his Citrus career second all-time in three-pointers made with 156 on 37 percent shooting from long range, fourth all-time in school history. Cyprian is also the first Owl in school history to start every game during his two seasons.
Williams said the family environment at Cal State L.A. helped him make his decision.
"I just knew right away that it would be the school for me," Williams said. "From talking with the coaches to meeting the players, it was just a great family environment and that's why I chose them."
The 6-foot-2-inch, 180-pound freshman provided a push for the Owls off the bench all season, scoring 9.5 points per game.
Williams said he will remember the relationships he developed with his Citrus teammates and coaches the most when reflecting on his time at Citrus.
Williams and Cyprian agreed Cal State L.A. head coach Jim Saia will help them grow both on and off the court.
"He's coached really talented guys before so he knows what it takes to be on their level," Cyprian said.
Cyprian and Williams will join a Golden Eagles team trying to improve from a 14-16 record during the 2016-17 season.
---
---