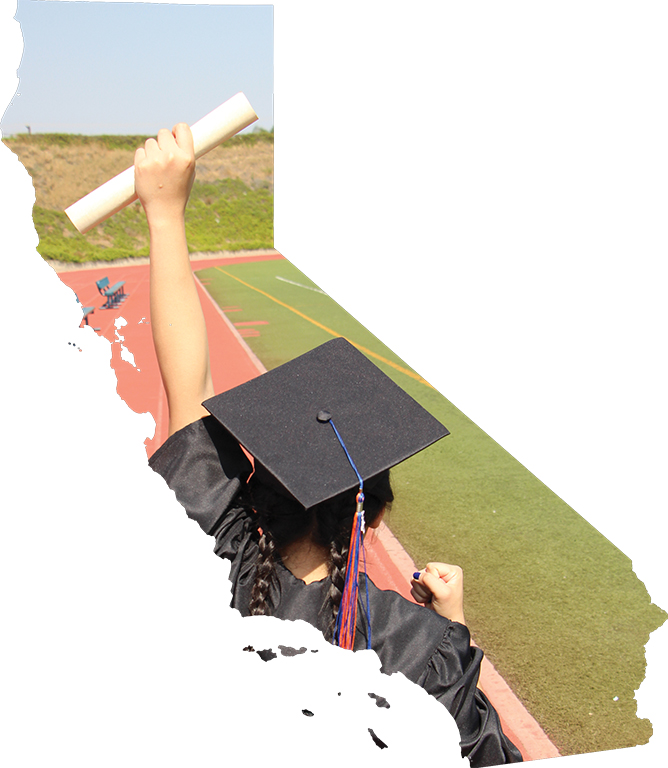 Photo Illustration by Megan Bender
---
The recently released Student Success Scorecard revealed that the first-time Citrus College students in 2010-2011 had an overall completion rate of 50.5 percent.
The rate decreased from the 2009-2010 first-time students' overall completion rate of 52.9 percent.
According to Lan Hao, Ph.D., director of institutional research, planning and effectiveness, a completion rate is a percentage of first-time freshman "who have demonstrated intention."
To show intention, the first-time student would have needed to enrolled in at least six units and passed a math class within the first three years of enrollment.
"Not everyone on campus is included. Someone who comes to take a yoga class will not be included in the [scorecard data]," Hao said. "Intent is not the goal, it's the enrollment behavior."
Once a student has displayed intention, their completion will be measured by one of the following: earn an A.A/A.S. degree or certificate, transfer, achieve transfer prepared status, which would be to complete 60 units of UC/CSU transferable units with a 2.0 or higher.
"When I looked at the averages, for this year that was reported, 2017, we're above our own average of looking back over the prior five years," said Arvid Spor, Ed.D., Vice President of academic affairs. "It's not so much that the students didn't do as well in this last go around, it's just that the year before that there were some pretty strong numbers that were recorded."
Although the rate for Citrus College went down from the previous year, it was still higher than the statewide overall completion rate of 48 percent for the 2010-2011 cohort.
The Student Success Scorecard is a structure that's sole purpose is to measure the various rates of success for all 113 California Community Colleges in six-year increments.
The success is measured across gender, age and ethnicity. The report is conducted and issued by the California Community Colleges Board of Governors.
While Citrus College is above the statewide average overall completion rate, Pasadena City College still surpassed Citrus with a rate of 54.4 percent. The rate for Mt. San Antonio College is equal to the statewide rate.
In the fall of 2012, Citrus' Phi Theta Kappa honors society approached the administration about making Citrus "A College of Completion."
"The students came forward with the idea of having completion as a primary goal tied to Barack Obama's of students completing college," Spor said.
The Student Success and Support Program was funded in spring 2014 and the I Will Complete College program was created fall 2015. There won't be any concrete data to see overall progress until 2022, Hao said.
Out of Citrus' total student population of 20,002, American Indian/Alaskan Natives make up 0.2 percent and have an overall completion rate of 25 percent. Out of the statewide total student population 2,355,825, American Indian/Alaskan Natives make up 0.4 percent and have an overall completion rate of 38.4 percent.
Pacific Islanders at Citrus make up 0.2 percent and have an overall completion rate of 37.5 percent. Statewide, Pacific Islanders make up 0.4 percent and have an overall completion rate of 42.6 percent.
Students 40 and older make up 5.6 percent and have an overall completion rate of 32.1 percent. Statewide, students 40 and over make up 15.6 percent and have an overall completion rate of 32.2 percent.
"Sometimes you cannot compare data from one snapshot to another snapshot. It's better to examine data from a historical longitudinal perspective," Hao said.
Hao explained that the trends of the past four cohorts average out to 47.5 percent, making the 2017 scorecard overall completion rate an improvement. Hao said the scorecard reports don't give the specific number of students in each demographic of a certain cohort.
While the report showed the seemingly low completion rates of the American Indian/Alaskan Native, Pacific Islander and 40 years and over demographics, it did not mention the even lower number of students in each.
In the 2010-2011 cohort, there were less than 10 American Indian/Alaskan Native students, making them too small of a group to report accurately. It was the same situation for Pacific Islander students. But for the students 40 years and older, there were 28, which was also too miniscule to be significant.
"That's what you'll see a lot of effort that we do with our student equity," said Jim Lancaster, Ed.D., dean of curriculum, career, technical and continuing education. "It's really to help make a difference in helping the underrepresented minorities and close the achievement gap."
Lancaster said the six-year cohort data released with the student scorecard is sometimes a little too outdated for the college to really act on it. He said it's beneficial to interpret in-house data.
"Some of the best data we have is some of the data that comes out of the Institutional Research office," Lancaster said. "We're looking at more three-year data… so we can really determine if we're making the right changes institutionally to change the trajectory of student success measures like persistence and completion and those kinds of things."
---
---