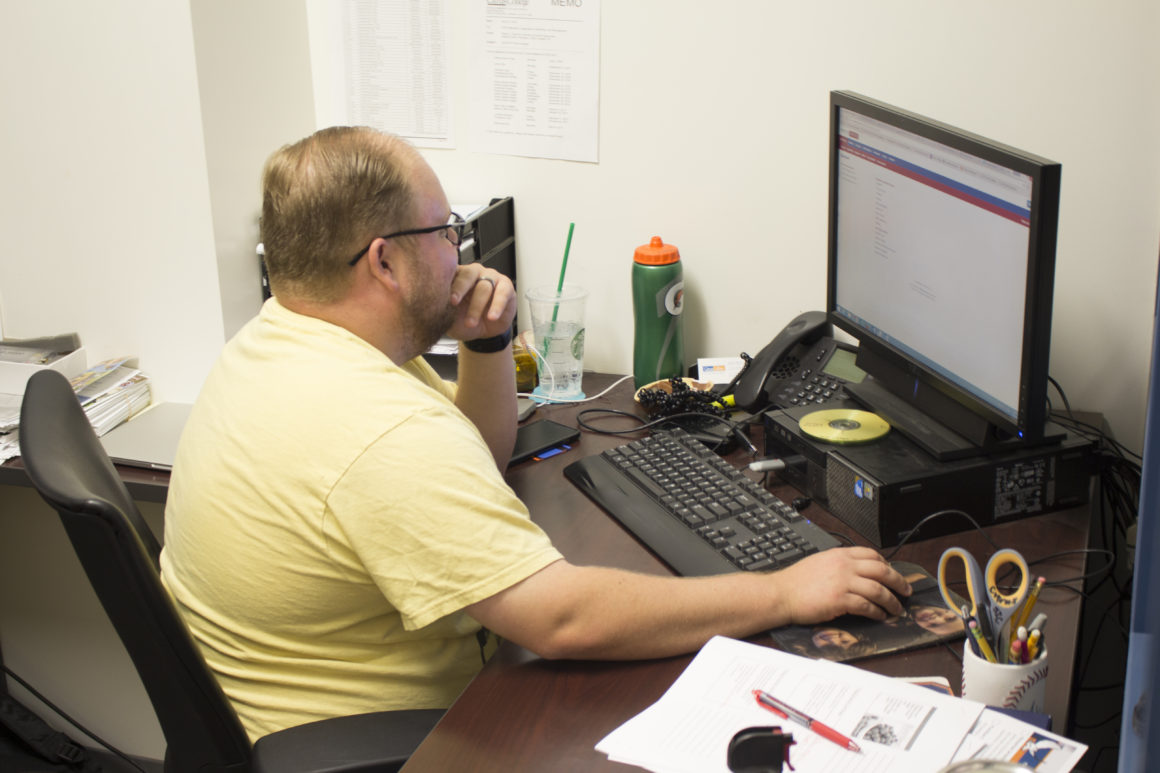 ---
Announcing, keeping statistics, updating records, rosters, schedules, and more, Andrew Wheeler always has work to do for the 15 (soon to be 16 next spring with men's swimming) sports at Citrus.
Citrus College Athletics has grown tremendously in the last 11 years since Wheeler stepped foot on campus as the Citrus College Athletic Department's Sports Information Coordinator in 2006.
Wheeler, a class of 2006 graduate with a Bachelor's Degree in Communications and a 2010 graduate with a Master's Degree in Physical Education from Azusa Pacific, has always had a passion for sports from a very young age.
"I kind of figured out in third grade that I had peaked athletically," Wheeler said. "I played sports throughout high school, but I knew that I probably wasn't going to be a college or professional athlete, but that didn't change my love for it. When I went to college I went there with the intention of finding a job where I was going to work in sports."
After doing both sports radio and writing in college, Wheeler was unsure of what path to take until his fiancé saw a posting for the position to be the Sports Information Coordinator at Citrus, which Wheeler then applied for and got the job.
The responsibilities and tasks that Wheeler handles are Citrus Athletics social media sites, media inquiries, photography, production of game day activities, promotions, making sure any records and histories of Citrus Athletics is updated consistently. The Citrus College Owls athletic website, which is an important resource for the athletic department, received over one million unique visitors last year.
Because of all the responsibilities that Wheeler has to take care of here at Citrus as the Sports Information Coordinator, the hardest part of the job is the time he spends away from his family who have supported him every step of the way.
"I do have a young family," Wheeler said. "And there's a lot of hours, a lot of weekends, a lot of nights, but they understand what I do here and why I do it."
Not only does Wheeler take care of the athletic department at Citrus, but he is also finishing his third presidential term for the California Community College Sports Information Association, which entails keeping California community colleges aware of any new trends in the profession such as changes, rules and regulations.
"It's all about keeping everyone informed of what's going on and trying to get them involved," Wheeler said.
Citrus has a great selection of sports at which gives Wheeler a full perspective on all the teams from the busiest athletic season, which is fall, all the way to spring.
"That's kind of the nice thing about this job," Wheeler said. "You get a variety, so it's not just one thing constantly."
With the amount of student-athletes who sign every year to play at four-year institutions, Wheeler says he's proud to know that he was there from the beginning of the student-athletes who come to Citrus and move on.
"We have some great student-athletes that are fun to interact with and it's just a joy to work with them," Wheeler said. "My favorite thing about this job is seeing our student athletes move on to four-year universities and compete. It's fun to see all the hard work pay off."
Some of the student-athletes who have signed to continue their athletic careers include men's basketball's Tyler LaCour, Kenneth Cyprian, Calvin Martin, Khalil Williams and women's basketball's Marisa Brown.
Though Wheeler did not attend Citrus College himself, he strongly believes in the quality of education that Citrus has to offer.
"I think the thing that is most valuable to me is the value of a community college education and what kind of role it can play in people's lives," Wheeler said. "This is a great place for a lot of people and I wish I would have known that when I was a college student starting out. What a great place it is to learn and there's a lot of opportunities for you to grow."
Most recently, it was announced that Citrus added a men's swim team for next spring, which Wheeler said he is excited to see the team begin their competition and bring more success for Citrus athletics.
"I think it's a great opportunity for our men's water polo student-athletes to continue their conditioning in the spring," Wheeler said. "It's also going to be a great opportunity for us to draw in more student-athletes from around the area who may have not been intending to come here prior because we didn't offer that as a sport."
"I think people would be surprised at the level of competition at which most of our sports play, and the skill and the time our student-athletes put in, whether they are out practicing or in the classroom," Wheeler said. "It's like having a full-time job and a lot of our student-athletes work part-time jobs on top of all that, so they put a lot of time and effort into it, and it's fun to see all the rewards pay off."
Wheeler has shown his love for sports by making sure that Citrus is seen in a positive light for both athletics and academics and he will continue to do so for as long as he can.
---
---