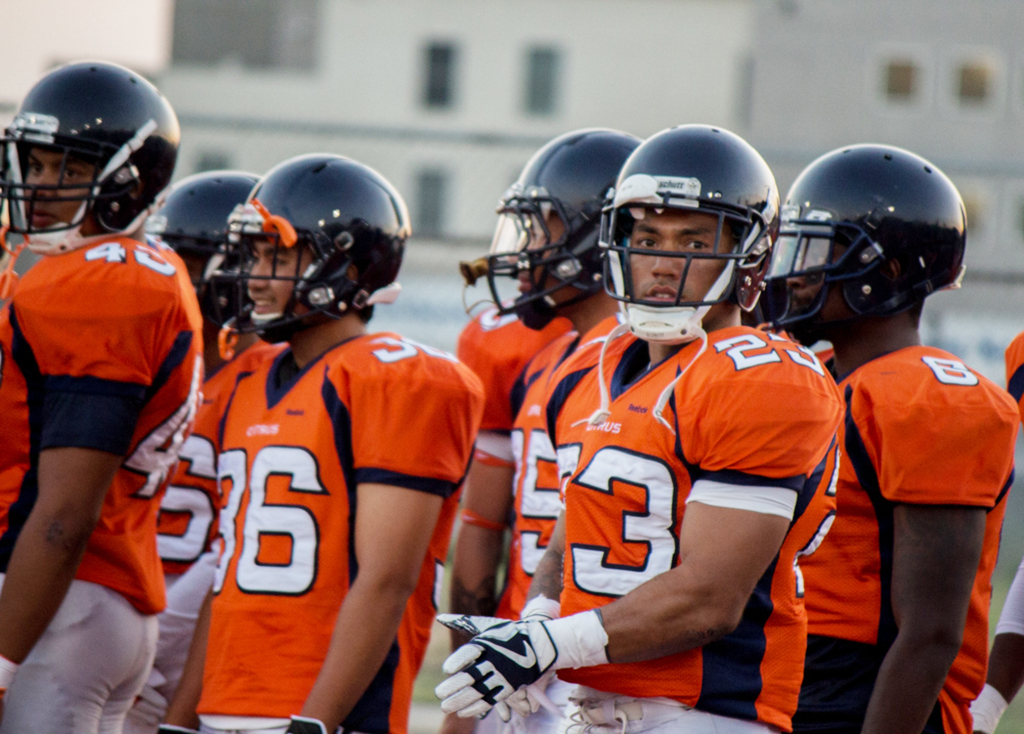 ---
The Citrus football team and their coach Ron Ponciano know the feeling of starting off a season strong, but midseason injuries plagued the Owls'.
Despite promising talent on both sides of the ball, and a strong start, things quickly fell apart for the Owls in 2016, a season plagued by injuries that amounted to a 3-7 final record.
The Owls have made changes to avoid a repeat and are looking to make a statement as well as finalize a starting roster for the 2017 season.
Gabe Pigee, sophomore safety, defensive leader and team captain said many of last year's problems were due to the inexperience and lack of cohesion.
"I feel like this team is more experienced and headstrong," Pigee said in a text interview. "I definitely believe we are more grounded and having returning players makes the process easier."
The majority of 2016's starters at skill positions were freshmen, several of whom have returned, with a new attitude.
"I feel like this defense is more mature and disciplined…I have matured, learned how to slow things down, and that allows me to trust my defense more and focus on my job," Pigee said.
"Coaching is a huge part of why we want to play football," Pigee said. "No one wants to play for a coach who doesn't truly love his job and the people around him."
Few coaches have exemplified such a passionate approach as Owls head coach Ron Ponciano, now in his 14th year leading Citrus football.
"We have turnover because of opportunity, the goal is to move guys on," Ponciano said.
Offensive coordinator Tanner Farwell joined the Owls from Los Angeles Valley College, a team that was undefeated in 2016, with two bowl titles in the last two years.
"I love the system we have," sophomore Jacob Bystry said. "We are really coming together as a team and trying to hold each other accountable as a unit."
On the defensive side of the ball comes former NFL defensive end and Citrus defensive coordinator Jarron Gilbert, who has coached the Owls' physical defense.
"We're more experienced on defense," Ponciano said. "There have been great strides and improvements."
At the assistant coaching level comes Jake Sandoval, who Ponciano credited as one of the main reasons for the amount of depth on the roster, thanks to his recruiting.
"You can always tell by the number of players that the talent level is higher," Ponciano said, referring to the caliber of players Sandoval has brought to the team.
The players and staff were not the only changes to come to the football program during the offseason.
A stricter and more intensive workout regimen, as well as streamlined practices have players and coaches motivated to display the results of an eight-month-long offseason.
"The workouts are a lot better, focusing on movements and strengthening muscles that are key in translating to on the field performance, the workouts have helped bring out the extra efforts and accountability amongst us players and it's adding to our discipline every day," Bystry said.
"Citrus' weight program has been the difference maker," Ponciano said. "Other teams recruit out-of-state guys, so in order to keep up, physical training is important."
The Citrus football team participated in a double scrimmage against two top junior college teams in the Mt. Sac Mounties and East Los Angeles College Huskies on Aug. 23 at Citrus Stadium.
It was the Owls' first competition as the team prepares for its first game of the regular season at 6 p.m. on Sept. 2 at Chaffey College.
Though not an official game, with only one 12-minute quarter against Mt. SAC and East L.A., the scrimmage was the first test for the Owls.
Many players are hoping to earn their place among the starters for the upcoming season.
Although a scrimmage against last year's National Division Central Conference Co-Champion Mounties and the Patriot Bowl winning Huskies, two teams who are not in Citrus' division, can only be so telling of the season to come, it would be telling for the coaches more than fans.
"We've never gone into a scrimmage trying to scheme other teams," Ponciano said. "We want to see who will hunt, who can play."
Talent was never an issue for the Owls, boasting 12 players on the 2016 Southern California Football A ssociation All-Pacific list.
The team is ready to take that talent and their more strict and regimented training cycle, and translate it into wins.
The majority of the scrimmage was spent in base packages on both sides of the ball, regularly cycling players in and out at all positions.
Multiple players who are proven playmakers, including Bystry and running back Devin Floyd, did not make appearances, however, the night was not without its share of Owl highlights.
Despite a slow start against Mt. SAC, an impressive leaping interception in the end zone by veteran safety Jeremiah Vasquez got the momentum going for Citrus with a 20-yard return.
The offense followed up later in the night with multiple successful drives and a score through the running game.
It was the Owls' defense that really showed its depth however, especially among the line, never giving up a run of over four yards throughout the night even with the backups in, a notable accomplishment considering their competition.
"It was a huge learning tool," Pigee said.  "It went a long way in helping players understand the blueprint."
If Citrus is able to hold their own against two of the best teams in junior college football, their chances against the rest of the schedule are promising, with none more confident in the Owls than their coach.
"We will be physical, we will not compromise at Citrus, we never have, and we never will," Ponciano said.
The Owls will host Santa Ana College at 1 p.m. Sept. 9 at Citrus Stadium in their home opener.
---
---