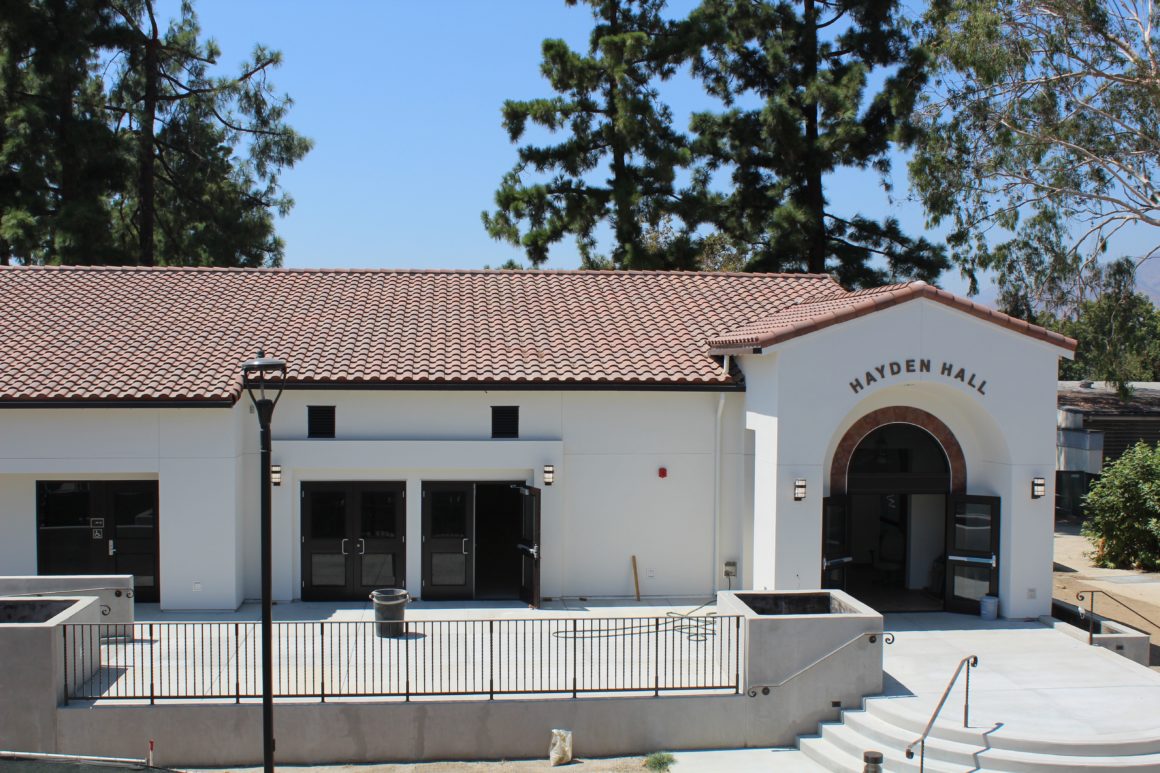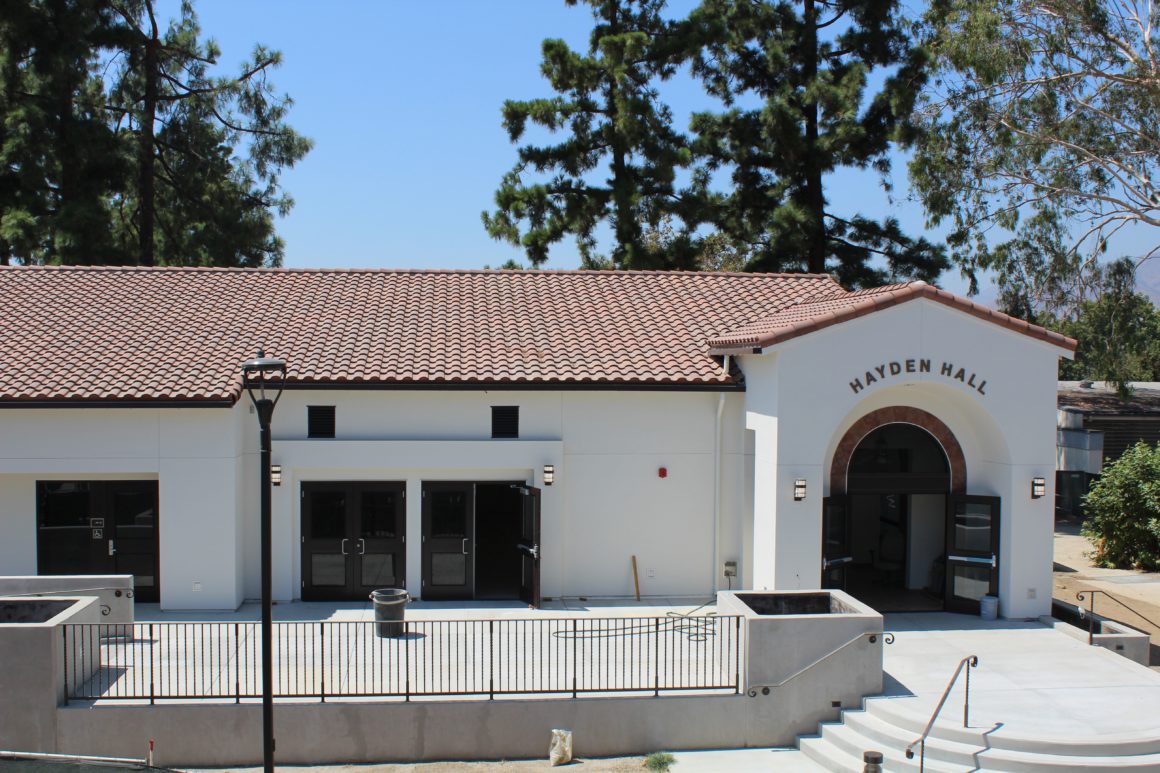 The exterior of Hayden Hall shows the progress of the renovated 83-year-old building on Aug. 21 at Citrus College. The hall will be officially dedicated Oct. 3 and will serve as a meeting place for faculty. Alex Lomeli / Clarion
---
Hayden Hall, the newly-renovated building on the northeast side of campus, reaches its final days of completion, according to Director of Facilities and Construction Fred Diamond.
The building served students over its eight-decade lifespan as a lecture hall and health center, according to an excerpt from the Online Archive of California. Now, Hayden Hall's new function will be an official atheneum or library/conference hall for all Citrus faculty, Diamond said.
Faculty meetings will continue to take place in various offices around campus, however, the brand new Hayden Hall will serve as a functioning space for meetings to accommodate more faculty conferences.
As a result of the extra space, the Citrus College Faculty Association and Academic Senate will now have offices in the hall, Vice President of Finance and Administrative Services Claudette Dain said.
Built in 1934 and opening the following year, the 83-year-old hall was scheduled for a rebuilding and modernization with a budget of $4 million as part of the Facilities and Master Plan, a 10-year plan created by a Citrus College committee that laid out new constructions to be done for the campus in order of priority of importance.
The sequencing of projects on this plan is based on need and to make sure the least amount of disruption to the campus is achieved, Dain said.
After the process of approval between boards, committees and the state of California, Hayden Hall was ready for construction.
The hall stands with its original foundation and exterior fully renovated. Aside from the foundation, the building was stripped of everything on the interior and is newly upgraded to meet the seismic standards of 2017, Diamond said.
According to on-site construction finisher Gerardo, placing the rebars in the hall's foundation to reinforce its seismic strength took hours, making it the most difficult process for some of the onsite workers.
With the work of the construction firm Horizon and Diamond as the general overseer, Hayden Hall's one-year renovation is on time with completion being 99.5 percent done, Diamond said.
Although full completion is expected in September, its official dedication will be on Oct. 3.
Until Oct. 3, students should expect to see construction crews cleaning and finishing minor details.
However, they may still take a look at the almost completed building.
Dain thanked the community who supported Measure G and the state for its 50-percent contribution by award funds through the state Department of Finance and the Community College System.
"I am very pleased with the Hayden Hall renovation project," Dain said.
Dain credited Diamond with the project.
"The architect and contractor both performed well, under the oversight of our Director of Facilities and Construction, Mr. Fred Diamond."
Now with an end in sight, Hayden Hall's 83-year lifespan will continue  as a new and improved faculty conference building for Citrus to use for decades to come.
---
---