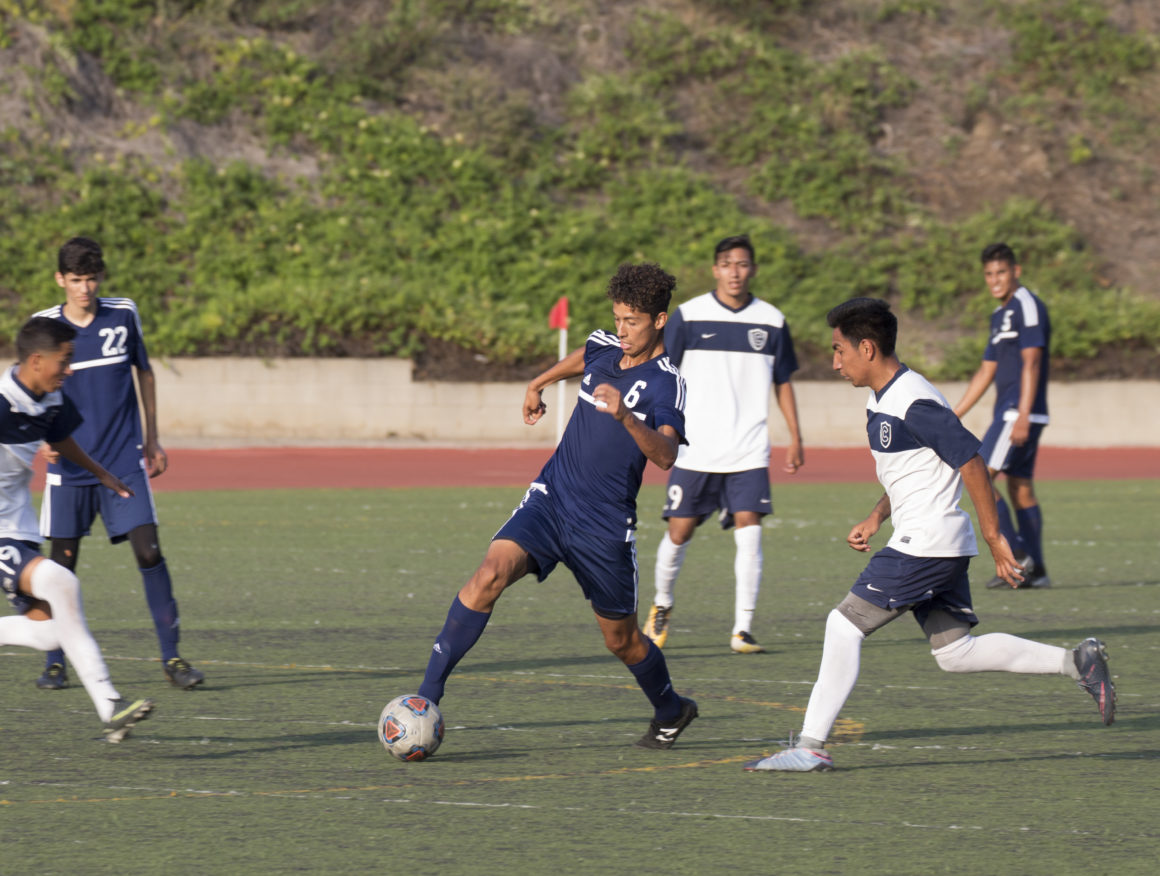 Citrus freshman midfielder Eduardo Contreras-Herrera controls the ball between two Cypress defenders on Sept. 19 at Citrus Stadium. Photo by Steven Garcia / Clarion
---
The Citrus College Owls had to settle for a 2-2 draw with the Cypress College Chargers on Sept. 19 at Citrus Stadium.
The first 30 minutes of the game were frustrating for Citrus, as the Owls missed multiple chances. Freshman Patrick Luevano shot a ball wide to the left in the 13th minute and a header shot from freshman Sergio Gonzales went left.
"That's a problem the coach has to deal with all the time," Citrus head coach Fred Bruce-Oliver said. "We'll work on it, talk about it and we hope that when we can get in the game we can make it happen."
The tie-breaking goal came in the 33rd minute when Citrus sophomore Joel Rosales put a header behind the Cypress net making the game 1-0 for the Owls.
The Owls extended their lead less than 10 minutes into the second half when freshman Gilberto Vega successfully converted a penalty to make the game 2-0 in the 53rd minute.
Seven minutes later, Cypress cut their deficit in half after Citrus sophomore Alexander Vasquez Rivera put the ball in his own net. Cypress equalized the game when freshman substitute Kevin Ornelas sent a free kick past Jorge Quinones in the 90th minute.
"It was pretty good, I just got in like ten seconds beforehand and I just wanted to shoot it," Ornelas said.
It was Cypress's first draw of the season and they are now 4-3-1 with 13 points. It was the Owls' second draw of the season, holding a 1-3-2 record with five points.
"We were happy with it," Cypress head coach Michael Stauber said. "I was happy that we were able to get back in the game behind 2-0. I don't think we deserved it, we got outplayed today and a draw just flatters us, but we will definitely take a point on an away game."
Citrus dominated the game in the first half, outshooting the Chargers 18-3, but in the second half, the Chargers outshot the Owls 9-8.
"They stepped up the intensity and pressure," Bruce-Oliver said. "And we did not handle it very well."
The Owls play Moorpark at 2 p.m Sept. 22 at Citrus Stadium.
---
---