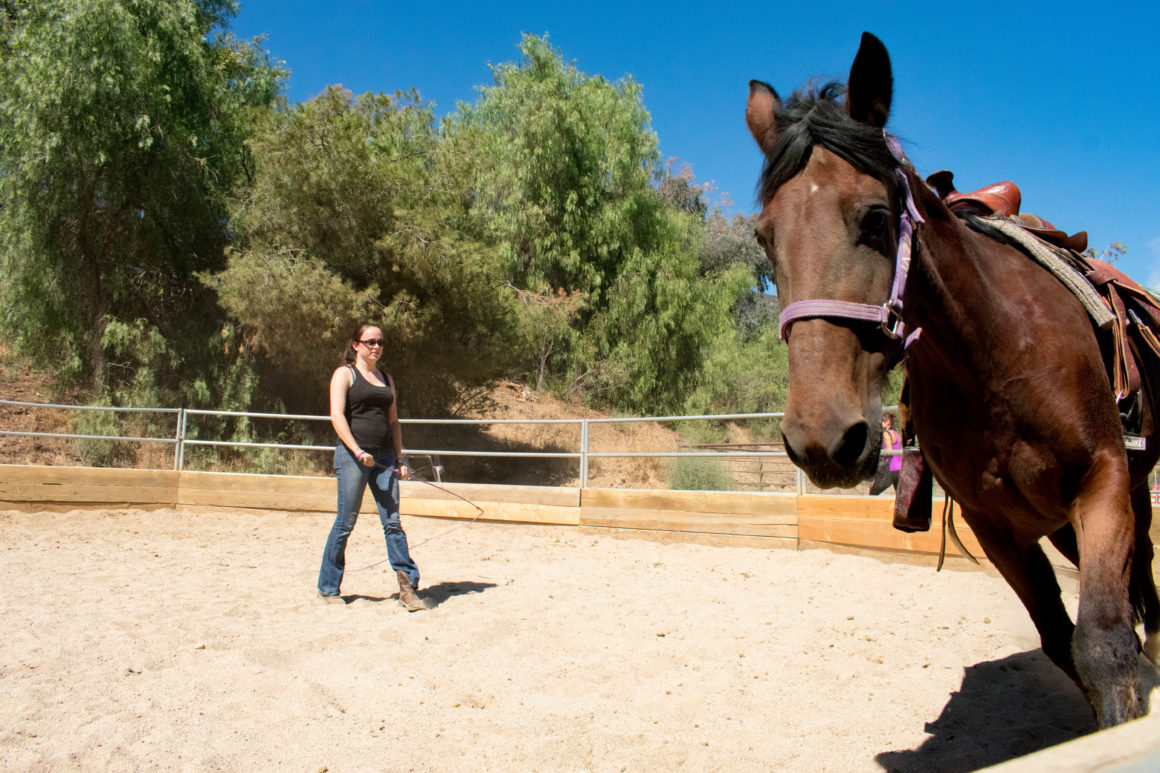 Trisha MacFarlane, animal science and health major, lunges her Bay mustang mare Jazzmin as a warm up before riding her Sept. 25 at Marshall Canyon Equestrian Center in La Verne. MacFarlane suffers from epileptic seizures and finds working with her horse Jazz healing. Megan Bender / Clarion
---
On any given day Trisha MacFarlane, 29, passes as the average student and woman. During her week she attends school, work, church and repeats. On the weekends, MacFarlane visits her horse Jazzmin, spends time with friends and goes to church again.
But on any given day, she is at risk of what the average student and woman is not. On any given day, MacFarlane could suffer from an epileptic seizure.
Up until July 14, 2017, she had been seizure free for four months. She had another seizure shortly after in August. Her short-term goal for days without a seizure is down to one month.
The Diagnosis
MacFarlane, an animal science and health major at Citrus College, was diagnosed with epilepsy in 2004 during her sophomore year of high school.
"I wouldn't talk about it," she said 13 years later, recalling the summer she found out. "Only my close friend knew, and her family. But I never told any of my teachers."
The diagnosis came after emotional trauma and stress when her father suffered terrible injuries from a work-related accident. Her already present tremors, uncontrollable shaking of hands were red flags of epilepsy. The shaking grew worse and she began to have seizures.
"The stress and trauma in my life was increased because I had no idea what was going on when we found out my dad was hurt," she said. "I had no idea why my mom wanted to talk to my friend's mom, no idea why I had to spend the night at her house."
The shock of seeing her father in the hospital ate away at MacFarlane and the stress of his caretaking began to take a toll on her.
"When we would leave the hospital, I would break down crying," MacFarlane said. "Then there was the stress when he came home and having to help him with everything he needed while being in high school and trying work on passing my classes and hanging out with friends."   
Not soon after his incident, she and her mom visited the doctor and were informed of her condition.
The Seizures
Epilepsy is the neurological dysfunction and strange signaling of brain cells, causing uncontrollable shaking of the limbs and other symptoms ranging from mild to dangerous.
"In order to be considered epileptic you have to have more than one seizure not caused by another medical condition," MacFarlane said.
The National Institute of Neurological Disorders and Strokes said anyone could develop epilepsy, "about 2.3 million adults, more than 450,000 children, and adolescents" in the United States live with the disorder.
There are different types of seizures those with epilepsy can suffer from. MacFarlane suffers from simple partial, complex partial, absence seizures and occasionally, grand mal seizures.
According to John Hopkins Medicine, seizures such as simple partial seizures are localized to one area on one side of the brain. Because of this, someone suffering from simple partial seizures remain conscious.
"My eyes glaze over, my body is shaky, I have tremors, which are technically part of the seizures… or if I try to walk, I'll fall." MacFarlane said, describing her symptoms.
She said this is not normal of what others believe seizures entail.
"It's like being frozen," she said. "I can see myself, but it's like I'm not there, I'm very confused, I understand I'm having a seizure, but that's all I can understand."
MacFarlane said the last time the paramedics came to her house they asked her age, birthday, height and weight. She said she was able to process this information, but it took a long time for her to get the words out. During a previous incident, all she could get out was her height over and over again.
"I knew in my head what it was, but I couldn't get it out," she said.
The Balancing Act
MacFarlane said her seizures are closely related to her stress level and eating habits. Her memory is greatly affected by her epilepsy, making studying a more difficult task.
"School is a lot harder for me compared to most people," she said. "It's stressful and I'm still finding ways to remember things."
She often finds herself frustrated when she sees others, like her brother, who does not need to study as much to pass their classes. She said doctors have told her that her brain has a hard time with problem solving and memory.
MacFarlane's best friend since she was 12 years old, Ashley Dumka, said she could see how epilepsy affected MacFarlane.
"Having epilepsy has changed her drastically." Dumka said. "As a student, she has expressed to me how difficult it is for her to focus and that the stress levels she's exposed to make her more prone to seizures."
Dumka said she notices MacFarlane is more depressed and easily frustrated. MacFarlane said she often makes multiple outlines of class and personal notes in order to retain the content of her studies.
"Just listening in class, I won't retain information," MacFarlane said. "Even if a teacher gives me her notes, I still have to write them down again to remember."
Balancing her proneness to forget what she learns on top of the stresses typical of a college student creates challenges for MacFarlane. To maintain some Zen, she turns to her church.
"I wasn't raised religiously, my mom was Roman Catholic, but always wanted us to choose our own," MacFarlane said explaining her discovery of her faith. "I'm the only one in my family who goes to church and I'm very involved."
MacFarlane began attending Christ's Church of the Valley in San Dimas, her best friend suggested she go to church to deal with the anger she was building up. Since then, she has incorporated prayer into her everyday routine to combat social anxieties average students face everyday.
For treatment, she takes pills and uses the medical benefits of cannabis oil by placing a couple drops under her tongue, twice a day. Despite the potential controversy of being religious and using a marijuana-based product, MacFarlane prefers the oil drops to the large pills that are supposed to control her seizures.
The longest MacFarlane has gone without seizures is eight months.
The Bay Mustang
Three years ago, MacFarlane purchased a 15-year-old Bay mustang mare off a Facebook ad and the two have been inseparable ever since. MacFarlane said taking care of her 18-year-old horse Jazzmin, or Jazz for short, helps her heal. Jazz is family to MacFarlane and means everything to her.
"She's my therapist," she said. "She helps with my stress and anxiety, even though sometimes she causes some anxiety."
Working with Jazz keeps MacFarlane's seizures away for longer periods and leaves her head clearer.
"She helps me cope with my depression," she said. "She knows just what I need when I need it."
The bond between MacFarlane and her horse keeps her busy and focused. Visiting Jazz allows her to get out of the house and work out. Her boyfriend, Anthony Huerta, works with MacFarlane around his schedule to take her to see Jazz as often as possible.
"She knows how to push and challenge me and we both are learning and growing together," MacFarlane said. MacFarlane is currently re-training Jazz to be more focused during riding.
When MacFarlane works with Jazz, she leads with patience. Jazz shows MacFarlane an equal amount of patience when MacFarlane mounts her.
"We have a really good bond and she'll follow me everywhere," MacFarlane said. "She's my big shadow."
Even still Jazz shows mustang spirit and it takes some time for the two to get their work out going smoothly.
The Future
One of the biggest concerns MacFarlane and her parents share is finding a partner and if this romantic interest is ready to take on a life with her. Having epilepsy means she will need someone to know and understand what is happening when she experiences a seizure so potential partners are help her.
Huerta has done well keeping up with MacFarlane and said he sees how she does not let her epilepsy stop her.
"She loves to work on DIY projects like cat and dog beds," he said. "She also loves to go out and have a good time with her friends and family."
He said her epilepsy has allowed her to become involved in other things as well.
"She's become a big advocate for epilepsy and is always willing to spread awareness," Huerta said. "(MacFarlane) is always involved in epilepsy walks, events, blog posts…"
She tries to spread awareness when and wherever she can. When diagnosed, her doctors did not give her enough information to battle her condition confidently. Everything she discovered about epilepsy and her seizures she found by researching on her own. MacFarlane said she wants to help others going through similar situations.
"One big thing I learned, that they should have told me about, was SUDEP which stands for Sudden Unexpected Death in Epilepsy," she said. "There are so many different types of seizures, but you have to know everybody's body reacts differently."
The Epilepsy Foundation said SUDEP is one of the more common causes of death in people suffering from uncontrolled seizures.
MacFarlane also has a passion for working with animals. With dreams of being a veterinarian, she grew up concerned epilepsy would severely hold her back. She has already worked for two different vet clinics and owns and cares for Jazz.
No matter what career choice MacFarlane makes, she said Jazz will be an important part of her life.
"As far as making a career or major choice I used to not know what I can do because of the epilepsy." MacFarlane said. "I used to be afraid if I end up going into animal medicine my hands would be too shaky to draw blood or give vaccines and I've always been told I was too small and timid to work with horses and large animals."
She said she has reached a point where she refuses to let epilepsy control her life.
"I want to prove others wrong," MacFarlane said with determination in her eyes. "I want to live life and do something I am very passionate about and love doing."
---
---