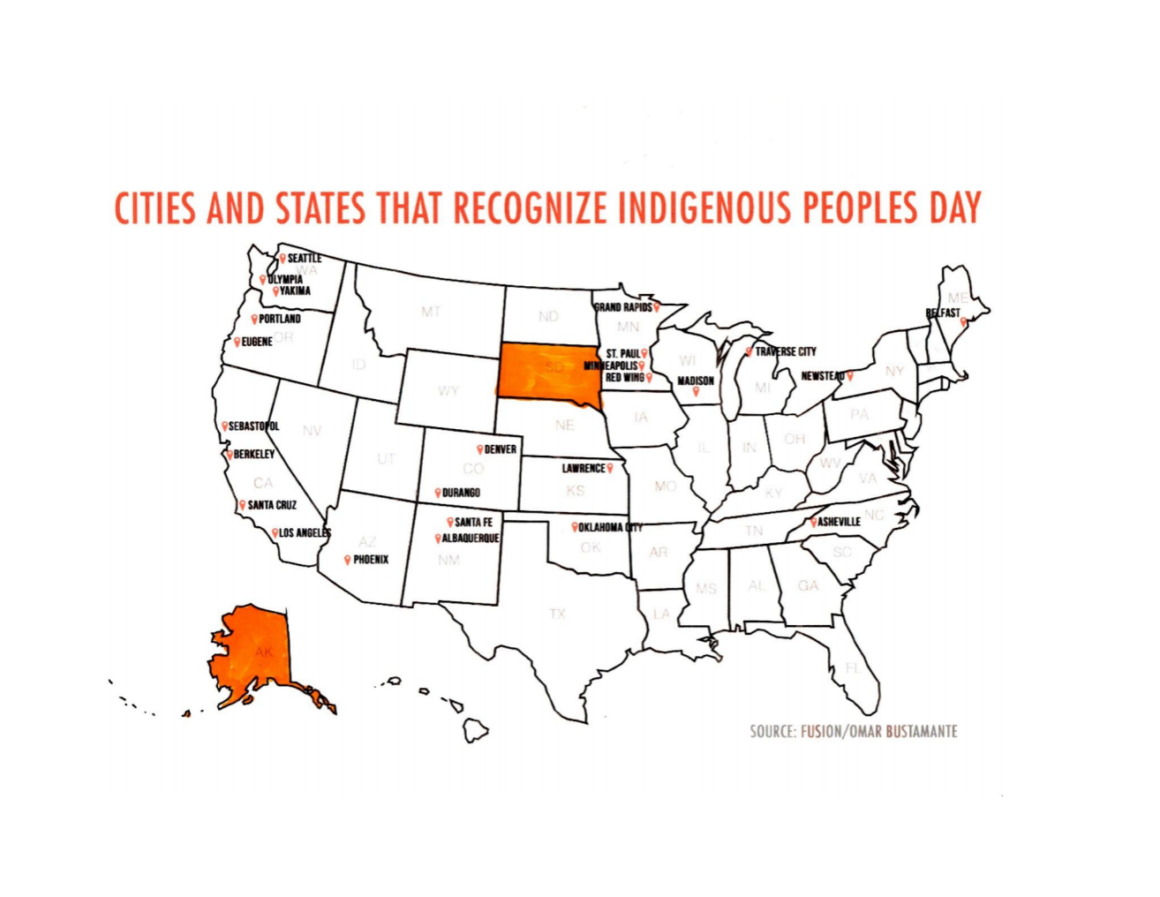 ---
The Los Angeles City Council voted 14-1 to replace Columbus Day with Indigenous Peoples Day on Aug. 30, joining a multitude of cities and states that have abolished Columbus Day.
Oct. 9 is now a celebration of Native Americans and their culture.
The American movement to abolish Columbus Day began in Berkeley in 1991 and has spread to Seattle, Portland, Phoenix and 21 other cities with the most recent addition of Los Angeles.
Alaska Governor Bill Walker recognized Indigenous Peoples Day on June 24. This makes it the second state to abandon Columbus Day after South Dakota, where they celebrate Native Americans Day.
Though four cities in California recognize Indigenous Peoples Day, California as a state does not.
Armando Meded, president of Latinos Unidos Student Association at Citrus College, said the change is a source of relief for those who have struggled to change the false narrative he said Columbus Day represents.
Columbus was a catalyst for the annihilation of the majority of Native Americans and their culture during European colonization; much like Hernan Cortes' expedition that caused the fall of the Aztec empire for Spain's conquests. North America had a wealth of cultures of both first nation and Latino before foreign invaders divided up the land.
"For the city of Los Angeles to replace Columbus Day with (Indigenous Peoples day) is a step toward reparations," Fernando Flores, a L.U.S.A. club member and activist, said via email. "A majority of the residents in Los Angeles, specifically the first nation people from all over the Americas, have been pained by this day since its inception."
World history and behavioral social sciences professor Senya Lubisich said she believes this is an advancement of history's narrative.
"The borders and boundaries that we have are fluid," Lubisich said. "Indigenous populations did not observe or recognize the borders we have today."
Lubisich said she thinks individual groups of indigenous people should be recognized for their contributions and culture, especially if the celebration of Indigenous Peoples Day spreads beyond Los Angeles County.
"To give those different groups names would be a powerful thing, rather than the generic terms of how we simplified their history and contributions," Lubisich said.
LUSA remains busy with upcoming Hispanic Heritage month events such as slam poetry night Nov. 16 and a Días de Los Muertos celebration that demonstrate hispanic culture and give people an opportunity to express their injustices and emotions freely. Both events will take place at the Campus Center Mall.
For more information on indigenous cultures off campus, several museums across the L.A. County are featuring art created by hispanic and Latino artists.
Hand crafted objects made by indigenous groups will be on display in the "Golden Kingdoms: Luxury and Legacy in the Ancient Americas" exhibit at the Getty Center in Los Angeles. Admission is free.
The event "Talk on Pre-Columbian History Talk" with Xóchitl Flores-Marcial, assistant professor at Cal State University, Northridge, has free admission and takes place at 6 p.m. Oct. 12 at the Vernon Neighborhood Library in east L.A.
The Pre-Columbian History Talk is one of the many events linked with "Pacific Standard Time: LA/LA", a collection of museums, events, and art exhibits from L.A. to San Diego, featuring Latin american and Latino art.
---
---