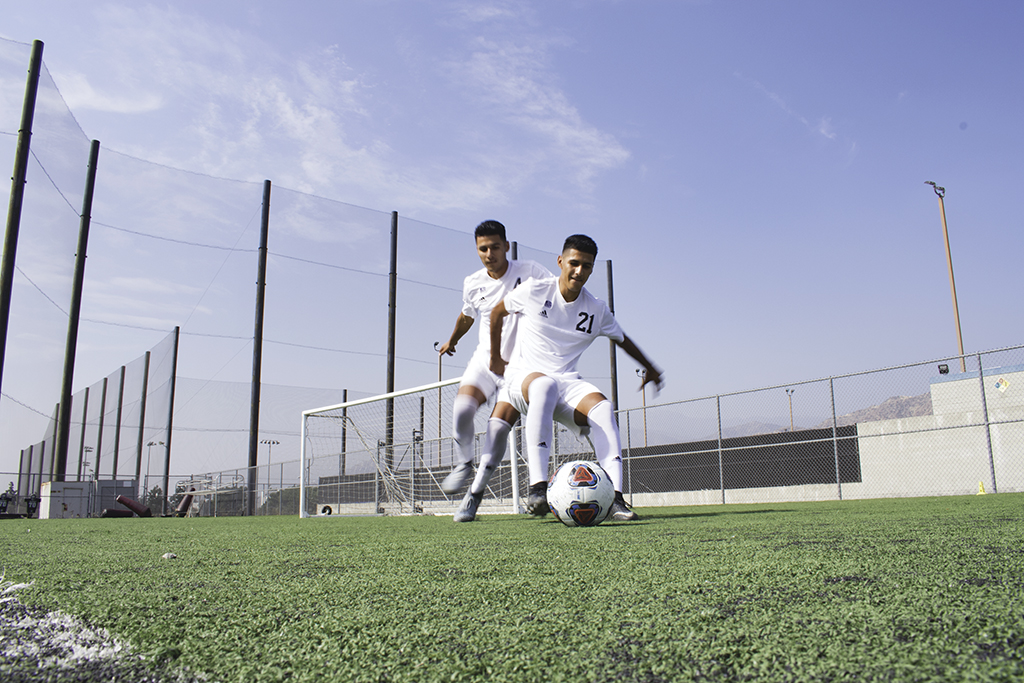 Joel Rosales, right, defends the ball from his twin Noel Rosales, left, in while playing around on Oct. 19 on the football practice field at Citrus College. Both 19 years old, Noel Rosales and Joel Rosales have been playing soccer on the same team since they were 6 years old.
---
Joel and Noel Rosales live and breathe the game of soccer and nothing has separated the twin brothers since a one minute difference at birth.
"We have played soccer since we were six years old," Noel said. "We have played together for 13 years, always on the same team and never against each other."
Joel and Noel have been playing for the Citrus Owls men's soccer team for the past two years under head coach Fred Bruce-Oliver.
In two seasons, Joel has scored 11 goals and three assists in 31 games played while Noel has scored three goals in 15 games played.
Joel plays up top as a striker for the Owls and Joel plays the center-back position at the back.
"Joel is a strong, lethal forward who can out body almost any defender and give us the time and space to not only find him in the right spaces to score, but to help others," teammate Ramon Gutierrez said. "Noel is a very calm defender who is aggressive and smart on the ball and he is one of our leaders in our defensive play."
"Noel and Joel help the team in so many ways, they are both great leaders and will do anything to get the team a win," teammate David Alas said.
Coming out of high school, Joel and Noel decided together they would not play soccer at the collegiate level to focus on their education. They also both realized they were making a mistake.
"We changed our minds because we realized how much we love the game and how empty our lives would be without it," Noel said. "Soccer makes us forget everything when we are out on the field and it lets us focus on the game we love."
Joel and Noel both study business at Citrus and both are working on transferring to Cal Poly Pomona.
Forever in sync, the boys know how much their education means to them.
"If given the opportunity, I would love to play there, but I'm going there for my education," Noel said.
"I would love to play there, but I want to focus on my education before soccer," Joel said. "Who knows what will happen though."
Joel and Noel said they have had many awesome experiences playing soccer for Citrus.
Joel reflected on a hat trick against Compton College, saying his three goals and one assist was the "best moment of his soccer career at Citrus."
Noel also reflected on his athletic career at Citrus remembering the moment he and Joel both scored two goals in the same game describing it as the "perfect game and perfect day."
"Our college career has gone by quick, so we are both making the most of every opportunity we get," Joel said. "Soccer has become a natural thing to us. It's in our everyday lives, because we love the game."
---
---