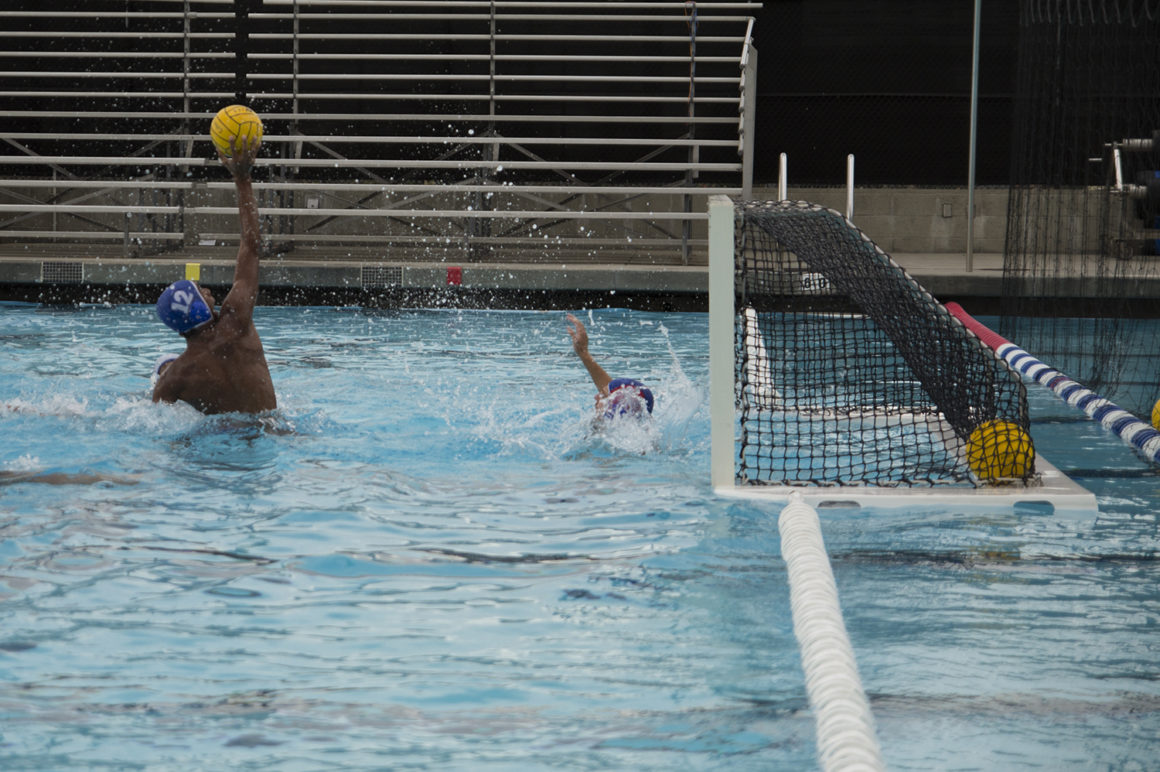 Freshman guard Keith Green, left, shoots on freshman goal keeper Spencer Norconk during a scrimmage on Nov. 3 at Citrus College.
---
Although men's water polo lost to LA valley in the western state conference championship final in overtime 15-14 on November 4, their season is far from over.
Owl's men's water polo rolled through Cuesta College 14-9 in first conference championship game on Nov. 3.
Team captain Jonathan Wong lead the Owl's with six goals in the 14-9 victory over Cuesta College. Wong has also been hot during conference play scoring 29 goals in five games.
Going into conference championships, head coach Kenny Clements said winning lies within the players.
"Pretty much it is up to the guys if they want to take a mature approach and win," Clements said.
Owl's are still undefeated at home, but on the road they are 3-1, and have an overall season record of 22-6.
"It's not easy to get a group of players, and some we have never coached before to be on the same page, and have chemistry in only 10 weeks," Clements said.
Although the Owls beat Cuesta in their first game in conference championships, day two brought the men's team a much tougher match-up against LA Valley where the Owls lost 15-14 in double overtime.
Former player and assistant coach volunteer James Adams said the game could not get more intense.
"Double overtime is the wildest a game can get and we kept fighting and so did LA Valley," Adams said.
Adams said it's a great match-up and that's why it is such a close game each year.
"Both teams are super talented. I think we both prepare to play each other a lot every year," Adams said. "La Valley is extremely physical and challenges Citrus to come out and play their hardest right from the first quarter."
This is the fourth year LA Valley has outplayed Citrus by one point in conference championship finals.
Sophomore attacker Markus Naranjo helped the Owls with two goals and three assists against their loss to La Valley.
Naranjo said the tough loss will help fuel them for the next round.
"That loss should motivate us a lot harder when we're feeling tired during practice, Naranjo said. "It will make us hungry for a win against any team we face."
Naranjo said that reflecting on their mistakes during their loss will also be key for the future.
"We need to reflect on that game with a purpose. I need to work on my driver defense, and mentally we just need to stay focused as we prepare for Socals," Naranjo said. "This upcoming week will be important for practice as we prepare for regionals."
The Owls will continue their postseason during regional championships on Nov. 9 to 11 at LA Valley College. Game times to be announced.
---
---