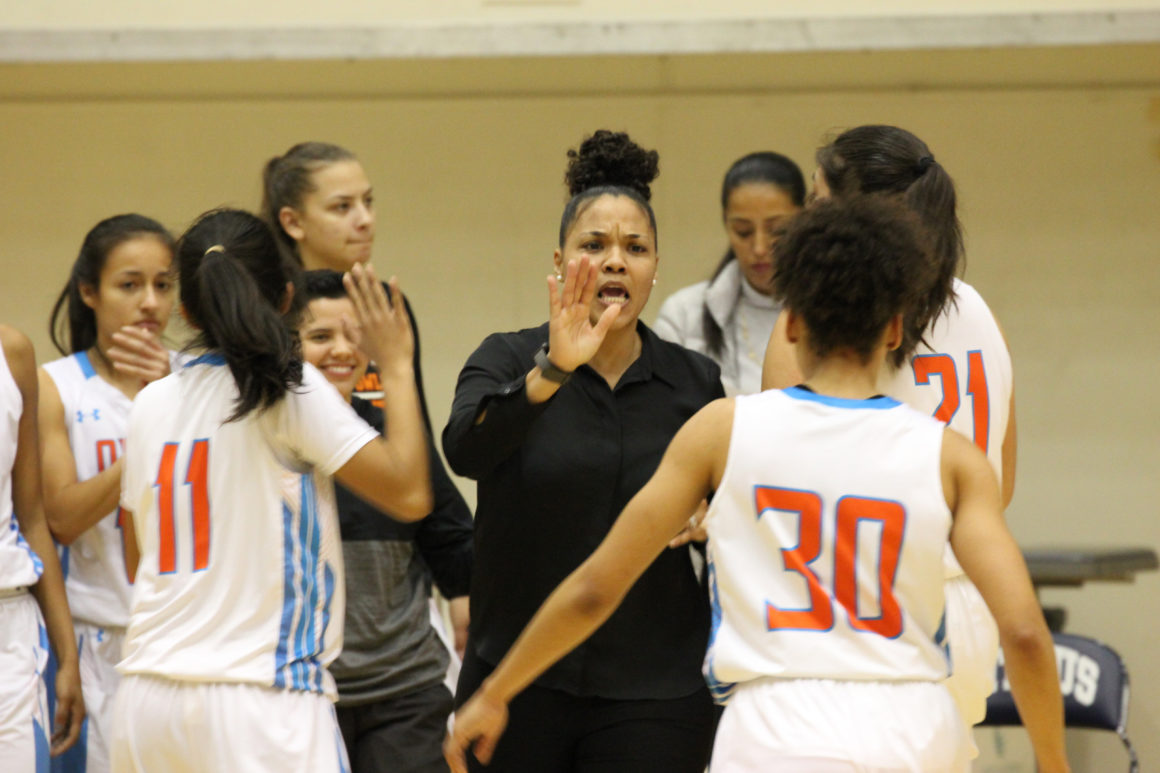 ---
The Owls began their preseason on Nov. 3, which will continue up until Jan. 13 when conference play begins. Every preseason game will be played away and head coach Linnae Barber said the team will execute their performance even better when they play at home during the regular season.
"I think it's exciting," Barber said. "I think they'll just play better at home. I feel like we're gonna do some good things this season and especially if we make it to conference championships then the girls are gonna have to learn how to play on the road."
Last season, the women's basketball team finished with a 7-19 record. There were 10 Owls on the team last season. This season there are 17 players, 15 of which are freshmen.
Coach Barber, who is in her second year as head coach, gives credit to her new squad who are hungry to turn Citrus into a powerhouse name for women's basketball and revamp the program.
"Our freshmen are young but they're learning so much," Barber said. "It's all new starters, everything is going to be fresh. We have so much diversity as far as positions. I have all the pieces and they are working hard day in and day out."
Freshman Kyannie Brown, a nursing major, was the MVP of her conference while at Montebello high school where she averaged a double-double. She will be the starting center for the Owls. Brown said she is happy to be an Owl and is ready to start her college career.
"I'm nervous but I'm excited," Brown said. "I'm so glad that Coach B gave me this opportunity to play here. I feel really confident in this team and we're capable of a lot of things."
Brown had 10 points, six rebounds, five steals and three assists in her first collegiate game against College of the Canyons on Friday, Nov. 3.
The biggest competitors for the Owls are College of the Canyons and Mt. Sac, which were the first two games Citrus faced in preseason on Friday, Nov. 3 and Saturday, Nov. 4. Coach Barber, a former player and coach of College of the Canyons, expressed to her team before preseason tip-off that if they could beat both teams back-to-back then they would be more than ready for their following opponents.
"College of the Canyons is one of the top teams in the state and then we play Mt. Sac, which is the number one team in the state," Barber said. "So, if we can beat those two teams in the beginning of the season then the rest of the season should be easier."
Citrus won against College of the Canyons 78-75 in overtime and lost against Mt. Sac 67-46 the following day.
The Owls struggled in conference play last year, finishing 3-7, which was not good enough to qualify for playoffs. They were 2-6 at home. This year, Barber is concentrating on conference more, especially when it comes down to two specific schools.
"Just because of how things went last year, I'm really focusing on conference this season," Barber said. "Our biggest competitors in conference are LA Valley and Antelope Valley because those are always the top two in our conference."
Marisol-Chavez Delgado, a biology major, would have played and finished her sophomore season on the team last year, but she tore the labrum of her shoulder in the season opening tournament, unable to finish the rest of the season. Now a returning veteran, Delgado is ready to step up her game and lead the freshmen.
"I'm so excited," Delgado said. "It was a little frustrating at first to sit out last season but I saw it more as a lesson to learn more about basketball. My basketball IQ has gotten higher."
Delgado posted a double-double with 10 points and 13 rebounds in the first preseason game against the College of the Canyons.
Barber is pleased with Delgado's return and said that her presence on the court is going to help the team greatly.
"She's gonna do some damage this year," Barber said. "She's ready to go. I even have her out playing the wing spot so she'll be playing a small forward. Taking last year off really helped her because she was able to watch and now she'll be able to perform."
Last season the Owls struggled on defense, averaging 21.7 turnovers per game and losing by an average of 19.5 points. Barber said defense is something that this young team is still working on but that they should have no trouble getting the ball down to their own basket.
"Our main weakness is understanding defense, specifically angles, the girls are used to playing in a zone with their hands up, but my assistant coach is a defensive coach and he's showing them the angles, how we're gonna guard people and how we're gonna switch it up. Our strength is that we're gonna be able to score because we're able to run and slow it down."
Although last year was a rough season for the Owls, this is a new young team and mindset that is up for the challenge, and coach Barber strongly believes her team will surprise the fans, taking the program to another level.
"We're gonna win some games," Barber said. "We're definitely gonna win more games than last season. I think people are actually going to come to these games and see the excitement and the energy from these girls."
The Owls will face Irvine Valley at 2 p.m on Thursday, Nov. 9 at Pasadena City College.
---
---