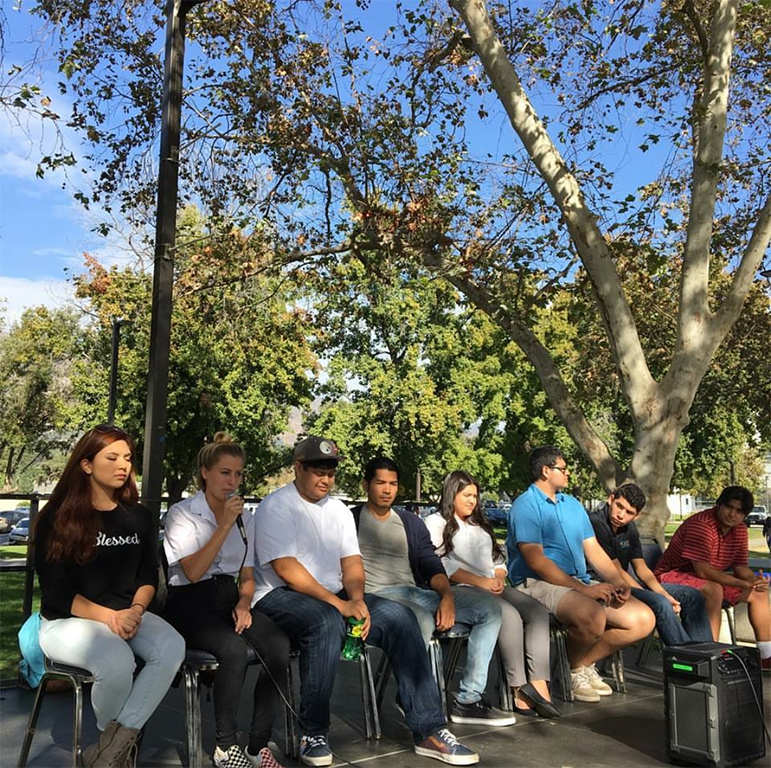 Candidates for senator seats line up on Nov. 5 at Citrus College. Photo courtesy of Genaro Gascon
---
Elections for student government begin at 9:30 a.m. Nov. 28 at the Campus Center (ED 170).
Students can also go online at OrgSync.com to cast their votes. Voting ends at 8 p.m. Nov. 29.
The Associated Students of Citrus College currently have 13 applicants for the seven senator seats for student government.
Yachi Rivas is running for reelection as student trustee and is contested by candidate Thomas Galapin.
The senators running for reelection are: Anthony Cofield, Christian Miranda, Joshua Strong, Samantha Ziegler and Thomas L.M. Winberg.
New senator candidates are: Dani Stalnaker, Devanae Moreno, Fernando Flores, Ivan Garcia and Makayla Pedrozo.
Current student President Favian Fragoso served a senator position for two terms.
Fragoso said last semester less students were casting votes because they found it too difficult to create a profile and navigate the website.
The voting process has been changed so that the login information is the same as Canvas. A link to OrgSync.com was shared to students via their Citrus college email.
"I've only been able to see the ones that have made themselves known," Fragoso said. "There are others who to me right now are just a name on a piece of paper."
Fragoso said he thinks this contributes to lack of voter participation. The highest voter turn out that Fragoso has seen was about 400 votes.
However Fragoso said he was happy that more people are applying for the positions.
The previous semester only had seven applicants, enough to fill the seven seats with no competition.
Because of the lack of competition, Ian Rodriguez will assume the role of vice president, which was left empty.
Fernando Flores, fine arts major, is one of the 13 running for senator.
"If there is something you want to change in your school, it's important that you get involved in some way, because it kind of opens your eyes to how this parallels to things happening outside of school as well," Flores said.
Fragoso recommends students be engaged in student government to:
Explore interest

Build connections

Gain hands on experience

Being aware of how student fees are spent
"Best of luck to all the candidates running," Fragoso said.
---
---