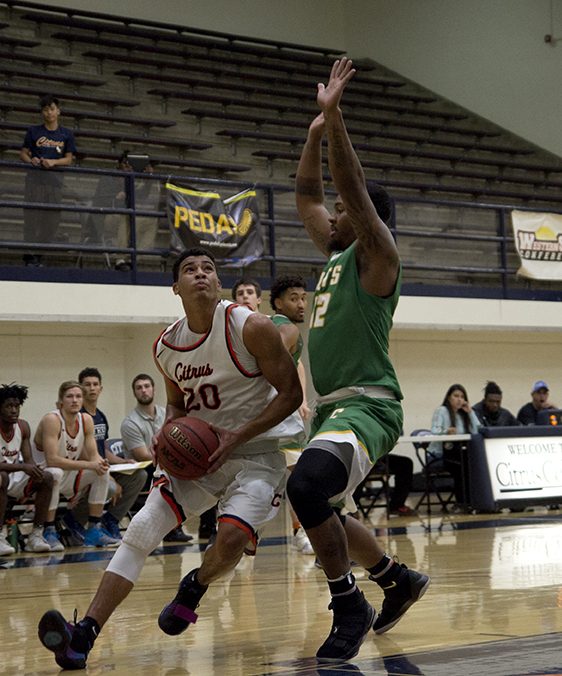 ---
Men's basketball improve their record to 10-2 after sweeping the Citrus Invitational from Friday, Dec. 1 through Sunday, Dec. 3.
Point guard Jeremy Smith, came through again making two clutch free throws in the last seconds of the third game to beat Cuesta College 89-86.
Smith has turned into a team leader in this hot start for the Owls, averaging 20.3 points a game and shooting over 30% from the field.
Head coach Brett Lauer praised Smith for his performance so far this season.
"Jeremy has matured a lot everywhere, and is becoming more of a leader and a mature point guard," Lauer said.
Smith is not the only athlete contributing to this seven win streak. Forward Kyle Gray and Guard Miles Crawford have been playing exceptional basketball.
Crawford had a career high game against Cañada College scoring 29 points to start off the tournament on Dec.1
"I felt locked in today, I meditate before every game and my shots were going in today," Crawford said.
Team chemistry has been huge with the Owls, with their ball distribution and shooting 35% percent from three point range.
"New people were shy at first, but after some team bonding and beach trips everyone feels confident on the floor," Smith said.
Even when Smith has a off game there is always another teammate ready to step up. Forward Austin Clarke was the hero of game two, scoring 31 points against East Los Angeles College.
The Owls will have their first conference game against L.A. Valley College at 5 p.m. on Jan. 13 at Citrus College.
Looking forward to conference play, Lauer said the team needs to be patient, focusing on one game before the next.
"It's all about competing taking one game at a time, and letting it rip," Lauer said.
Till then, the Owls have the month of December to improve their team play, which Smith is ready for.
"We are doing good right now, but there is always room to improve play as a team," Smith said.
The Owls will next play L.A. Pierce College at 5 p.m. on Dec. 9 against at home.
---
---