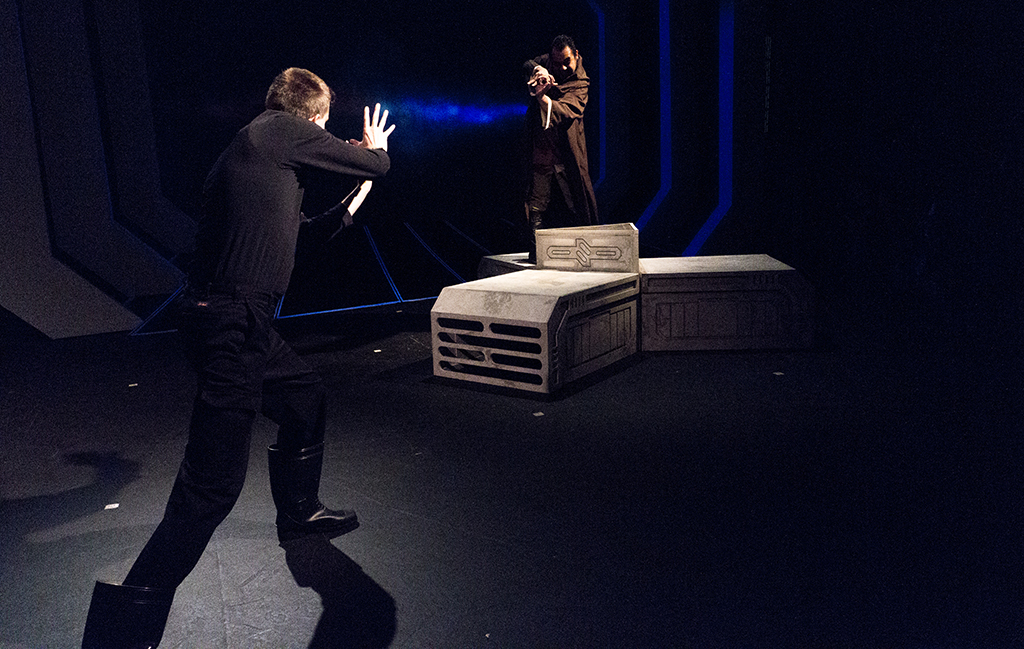 ---
Two years ago in a community college somewhere far, far away, Craig Tyrl decided on his own mash-up rendition of Shakespeare's Twelfth Night in the style of Star Wars.
Twelfth Night: A Galactic Farce production is the first of its kind.
"I had thought about it two years ago and worked on the full adaptation in the summer of last year to make all of this happen," Tyrl said. "The production is exactly like the title, a Galactic Farce. Lots of horseplay, plot implications and adult theme humor."
Tyrl, who is directing the performance, teaches an Acting Shakespeare class at Citrus College and also teaches at California State University Fullerton.
Based on the original Twelfth Night written by William Shakespeare, this adaptation switches the names of original characters with that of Star Wars characters.
"It is still true to its Shakespearean language, although the full adaptation has made it easy for the ear," Tyrl said. "It'll be the most fun Shakespeare play ever done."
"Everybody is talented and on the same page," Actor Ryan Jones, who plays Han Solo, said.
"Everybody is so close and everybody brings something to the table in the process of this production," Actor Aaron Bess, who plays Lando Calrissian, said. "We are the galactic friends, we are different pieces of the puzzle that makes one beautiful work of art."
Jones said Tyrl is a unique instructor with lots of energy and is very vocal and very hands-on.
"Craig pushes me to try harder," Bess said. "He wants me to be the best possible version of myself and he inspires me to want to become a professor in a collegiate level."
"I have performed before for the Student Showcase Scenes from the End of the World which was written and directed by students, but I have not done a production like this before," Jones said.
Costume designer Carin Jacobs was very crafty with Do-it-Yourself costumes to recreate characters such as C-3PO and Chewbacca.
The production falls just behind the unofficial holiday known as "Star Wars Day," chosen to be celebrated May 4 to play off the popular phrase from the franchise, "May the Force be with you."
Tyrl said Shakespeare is still at the heart of the play despite the Star Wars twists and the audience can expect a lot of raunchy and zany humor. "Expect the unexpected and to be brought into the show," Bess said. "There is lots of fourth wall breaking."
Tickets are $10 for students, $10 for seniors and $12 for general admission and can be purchased online or at the Box Office.
---
---